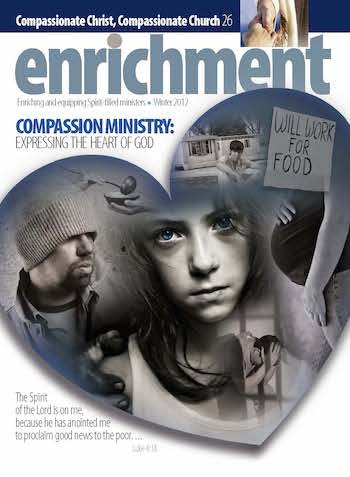 Downloads:
Love, Forgiveness, And Powerful Acts Of Service
by Chuck Spong
---
Recently, my pastor made a statement that grabbed my attention: "Love and forgiveness and powerful acts of service — this is what the church looks like."
People have a widely divergent view of what the church is and what it should be. Each person brings a wide range of experiences and relationships that can dramatically color our view of the church. If we rely on our own history, perspectives, and interpretations, we will fall short of God's plan for the church as a redemptive agent in our fallen world.
Where do we find an accurate portrayal of what God intends for the church? What are our standards, benchmarks, and metrics — the measure of the life God destined us to live? What can guide our well-intentioned efforts through an evolving culture with an ever-increasing rate of change?
Our most solid foundation is God's Word. Its principles provide a framework of how our lives fit into God's story. These same principles transcend current trends, passing fads, and even successful church programs that have outlived their effectiveness. Without a biblical theology of serving, our efforts will be "blown here and there by every wind of teaching" (Ephesians 4:14) and subject to a variety of factors.
In today's culture, the word compassion brings many things to mind: serving the poor, caring for those in need, sharing our resources, and community service. It is culturally popular to volunteer to serve the under-resourced. As Christ followers, our motivation must run much deeper than serving our community. This is a worthy goal, but not the foundation for our efforts. Instead, we must build our efforts on biblical truth to become a biblically functioning community.
Scripture has a recurring pattern of God's activity among His people:
God speaks to individuals (just like you and me).
The depth of that encounter results in radical life change.
These individuals then impact others.
As a community of faith, we need to ground our efforts in Scripture. There, we find insights on how the themes of compassion and justice are woven into the Bible and directly tied to grace. We also discover that as our serving flows out of an encounter with Christ, this opens the hearts of others for the redemptive work of God in their hearts.
An Encounter With Jesus
As our church's serving activity has increased, I have felt the Spirit's nudge about the centrality of a vibrant relationship with Jesus being at the heart of our activity. The Bible is the dynamic story of God's activity among His people. God comes to individuals, and the depth and intensity of that encounter radically changes their lives.
Look at Moses, Daniel, Paul, Lydia, and ___________ [insert the name of your hero of the faith]. God changed their lives forever. These were not minor course corrections — a simple tweaking of their weekly schedule, a modifying of their routines to make room for a 2-hour window of serving once a month, or a choice of one activity over another. Both the encounter and the daily surrender of their lives resulted in a radicalfaith that changed the trajectory of their lives and everyone around them.
Our motivation for love, forgiveness, and acts of service (no matter how well-intentioned) must come from nothing less than a pure, surrendered response to the love of God "poured into our hearts" (Romans 5:5). Without a vibrant walk with God, we are simply adding to our moral to-do list and in danger of the entrapments of religion; i.e., thinking we can earn our way into right standing with God through our actions — even noble actions.
Tim Keller, pastor of Redeemer Presbyterian Church in New York City, a church with a vibrant ministry of compassion and justice, states: "Jesus declares not that He has come to reform religion but that He is here to end religion and to replace it with himself." In his book Generous Justice, Keller says, "There is a direct relationship between a person's grasp and experience of God's grace [an encounter with Christ], and his or her heart for justice and the poor." Without this deep encounter with Christ, our actions will be just that: actions that are not grounded in something deeply significant, and, ultimately, our efforts will dry up.
My prayer has not been, "Lord, help me to love out loud," or "to serve my fellow man," or "to make a difference in our city." Instead, I pray, "Lord, I ask for a daily experience of the compassion, grace, and truth of Jesus that becomes the heart from which my life flows." This is a foundational perspective that frames my days that flow out of relationship with Him.
A Life of Serving
In May 2008, our pastor preached his first message about the vision for our church — becoming integral to our calling as a community of faith as a benchmark for how we approach ministry — nameless, faceless, and placeless.
NAMELESS: that we would be so Kingdom-oriented, so focused on the activity of God, that it is irrelevant who gets the credit, save God alone.
FACELESS: that we would be so full of the light and love of Christ that people would see Him (the face of Christ) in us.
PLACELESS: that ministry would happen not only on our church campus but also in every corner of our city.
We have a biblical basis for selfless serving in Philippians 2:1–4: "Therefore if you have any encouragement from being united with Christ, if any comfort from his love, if any common sharing in the Spirit, if any tenderness and compassion, then make my joy complete by being like-minded, having the same love, being one in spirit and of one mind. Do nothing out of selfish ambition or vain conceit. Rather, in humility value others above yourselves, not looking to your own interests but each of you to the interests of the others."
Philippians 2 provides Jesus as our model for serving. In another passage Jesus frames His ministry. Rather than drawing a spiritual line in the sand or inviting people to the Temple for a religious service (or any number of other approaches), He draws on themes of compassion and justice: " 'The Spirit of the Lord is on me, use he has anointed me to proclaim good news to the poor. 
He has sent me to proclaim freedom for the prisoners 𠊊nd recovery of sight for the blind, 
to set the oppressed free, to proclaim the year of the Lord's favor' " (Luke 4:18,19).
Later, Jesus defines the standard for our lives by how we treat the overlooked and forgotten of our society. When we stand before God to give an account for our lives, Jesus reveals how strongly the Father values people, particularly those on the fringes: " 'Then the King will say to those on his right, "Come, you who are blessed by my Father; take your inheritance, the kingdom prepared for you since the creation of the world. For I was hungry and you gave me something to eat, I was thirsty and you gave me something to drink, I was a stranger and you invited me in, I needed clothes and you clothed me, I was sick and you looked after me, I was in prison and you came to visit me." … The King will reply, "Truly I tell you, whatever you did for one of the least of these brothers and sisters of mine, you did for me" ' " (Matthew 25:34–36,40.)
This declaration is a direct reference to Isaiah. While the story of Israel in the Old Testament involves them turning to other gods and religious practices, God completely rejected their empty religious practices toward Him, a form of religion that had become devoid of the grace and compassion God had extended to them.
In addition to a powerful indictment on Israel's lifeless faith in Isaiah 1:10–20, God makes clear the kind of life He called Israel (and us) to:
" 'Is not this the kind of fasting I have chosen: 
to loose the chains of injustice 𠊊nd untie the cords of the yoke, 
to set the oppressed free 𠊊nd break every yoke? 
Is it not to share your food with the hungry 𠊊nd to provide the poor wanderer with shelter — 
when you see the naked, to clothe them, 𠊊nd not to turn away from your own flesh and blood? 
Then your light will break forth like the dawn, 𠊊nd your healing will quickly appear; 
then your righteousnesswill go before you, 𠊊nd the glory of the Lord will be your rear guard. 
Then you will call, and the Lord will answer; 
you will cry for help, and he will say: Here am I' " (Isaiah 48:6–9).
As we serve others, then God will answer with, "Here am I." May it be true in our community of faith.
Throughout both Old and New Testament (and in sharp contrast to other ancient cultures), God called His people to defend and care for the poor, the marginalized, and the forgotten. In fact, righteousness and holiness were inextricably tied to one's heart for the community. Those who kept their resources for themselves were considered unrighteous, while those who were generous with what God had given them fulfilled God's plan for humanity.
Here are other passages that must strongly influence our approach to compassion and justice:
Deuteronomy 10:17,18; 27:19
Psalm 146:7–9
Proverbs 31:8
Jeremiah 22:3
Zechariah 7:10,11
James 1:27
Opening Hearts for Spiritual Transformation
You may ask, "When do we preach the gospel?" As Christians, we often struggle with when to proclaim the gospel and when to be the gospel. In reality, you and I cannot control any person's response to the gospel. But we are clearly called to be salt and light in this fallen world.
Just as Christ called us in the Great Commission to make disciples, He also declared:
" 'I tell you, love your enemies. Help and give without expecting a return. You'll never — I promise — regret it. Live out this God-created identity the way our Father lives toward us, generously and graciously, even when we're at our worst. Our Father is kind; you be kind' " (Luke 6:35,36, THE MESSAGE).
People called Jesus a friend of sinners because He consistently sought out the marginalized of society, often met their needs, and engaged them in provocative, respectful, and compassionate spiritual discourse that challenged everything they thought they knew about God. We would do well to follow Christ's example: reaching out, meeting needs, and engaging in spiritual conversations.
Joyce Meyer puts it this way: "When people are hurting so much, they need to see Jesus [through compassionate acts of service] before they can hear about Him. We must show Jesus and not just preach Jesus."
Mother Teresa said, "Do ordinary things with extraordinary love."
Hebrews 13:16, talks about "acts of worship — a different kind of 'sacrifice' — that take place in kitchen and workplace and on the streets" (THE MESSAGE).
We need to look to Scripture to see Jesus as our ultimate model. There are multiple examples of Him meeting the immediate need at hand, and the resulting dialogue that led to life change: a woman caught in adultery (John 8:2–11), a man with the withered hand (Matthew 12:9–14), a man possessed by demons (Mark 5:1–20).
A Simple Equation
The issues of compassion and justice are enormously complex. If there were simple solutions, we would have implemented them long ago. As Psalm 139:14 declares, we are "fearfully and wonderfully made." By giving us free will, God introduces a whole maze of moving parts.
The Old Testament not only provides instructions about worship but also about how the community is supposed to function together. It tackles many of the same compassion and justice issues of today. Practices such as the Year of Jubilee, caring for the widow, orphan, and foreigner provide a structure of how we are to relate as a society. There are so many needs that it is easy to become overwhelmed by the enormity of the challenge.
But Micah 6:8 helps us understand how to live: "He has shown you, O mortal, what is good. 𠊊nd what does the Lord require of you? 
To act justly and to love mercy and to walk humblywith your God."
In the New Testament, when asked how to summarize God's plan, Jesus said: " 'Love the Lord your God with all your heart and with all your soul and with all your mind.'This is the first and greatest commandment. And the second is like it: 'Love your neighbor as yourself.'All the Law and the Prophets hang on these two commandments" (Matthew 22:37–40).
If we, as a community of faith, will live out our faith on those terms — love God (an encounter with Jesus) and love people (a life of serving) —the Lord will move on people's hearts and open them to His redemptive work. May each of us watch for God at work in the hearts of those we serve so we might share God's plan of redemption in His sovereign timing.
Chuck Spong, executive pastor of arts and compassion, Winston-Salem First Assembly of God, Winston-Salem, North Carolina