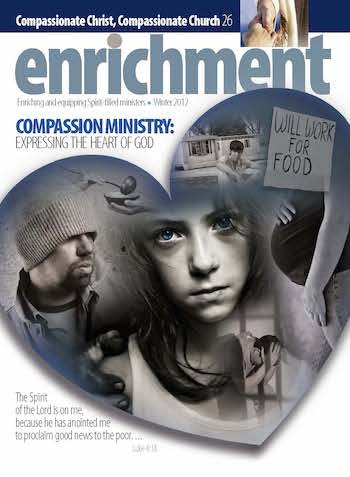 Downloads:
Helping Families in Crisis
by Robert Michels
---
My greatest joy of involvement in a compassion ministry for 20 years is witnessing the mercy our Lord applies to broken families, relationships, and individuals. In my involvement with Highlands Child Placement Services and Maternity Home, I cannot count the times the first words from a caller were, "My daughter is pregnant," or "A girl in our church is pregnant." Parents and family members call because they do not know where to turn for help. Pastors call and ask for materials and advice to share with a family. At times, the pregnant girl will call because she may not have anyone to whom she can talk.
A mother from Colorado was distraught over her pregnant teenager. She believed this pregnancy would ruin not only her daughter's life, but also the family. Fast-forward 7 months. The girl's parents came for family counseling. At one point the mother began to weep and blurted out that she had kept a secret for years — not only from her husband, but from other family members as well. She too had been pregnant as a teen and placed her baby for adoption. The whole family gathered arm in arm and began to cry. With the truth finally out, the family broke a generational pattern.
In the U.S., we are now facing rising abortion rates since their decline in the early nineties. Pregnancy among single women is also increasing. The percentage of births to unwed mothers increased in the U.S. from 18.4 percent in 1980 to 40.6 percent by 2008.1 In 2007, 60 percent of births to women ages 20-24 were nonmarital, up from 52 percent in 2002.2 Added to an overwhelmed foster-care system, plus a decrease in the number of U.S. adoptions, the church needs to look at its ministry to these publics.
Teen Pregnancy
The ages vary for those who become pregnant out of wedlock. The oldest woman to seek help through Highlands was 47. The youngest was 12. Just over 50 percent of the girls entering Highlands Maternity Home are between 15 and 19.
The church tends to glorify a girl's choice for life after it overcomes its fear that a pregnant teen will have an abortion. But merely providing proper care, nutrition, counseling, clothes, etc., for a single mom and her baby is akin to fueling a ship and sending it to sea without a captain. Sooner or later the ship will run aground and all will be lost.
Jesus provides a model for how the church can help teens choose life for their unborn child. When Jesus encountered the demoniac in Mark 5, He did not simply hand him food and clothing. Jesus discerned the demoniac's spiritual need, and after He met the need, the man became a functioning member of society.
Pregnant teens walk into pregnancy centers or maternity homes to receive immediate help with physical needs, but not necessarily spiritual help. The anemic spiritual condition of the baby's mother, father, and family is often the reason why the teens become pregnant in the first place.
Teen pregnancy is an emotional roller coaster for the family, even distant relatives. Everyone seems to have a solution concerning what is best for the pregnant teen. Often the teen's family has been dysfunctional for years and must now focus its energy on the young girl's pregnancy.
Young girls often intentionally get pregnant in an attempt to secure the fantasy relationship that has eluded them. That relationship is a deep-seated need for love and affection from their father. If the father denies the relationship of love and affection, the young girl will often come by it through whatever means necessary.
As a church, we need to help families overcome their dysfunction. We have seen the cycle of dysfunction broken when we minister to the spiritual needs of the girls who come to us. Girls leave Highlands to pursue the path God intends for them. Many attend Bible college; others leave Highlands, return home, and marry a youth pastor.
Except in rare cases, the cost to effectively operate residential ministries is mostly prohibitive for churches. Churches can, however, refer girls to residential maternity care ministries and adoption agencies that provide biblical solutions. Traditionally, these parachurch outreaches exist at the national, regional, and district levels.
Single Mothers
The single mother in 2012 may not resemble that of the teen single mother of the last 30 years living on welfare. Celebrities glamorize unwed motherhood. Many single moms are better educated and better able to support themselves, so marriage is no longer a financial prerequisite.
In 2009, approximately 34 percent of U.S. children lived with a single parent, triple the rate in 1970.3 Nationally, 83 percent of children in single-parent families live with a single mom.4 According to U.S. Census Bureau estimates, 59 percent of American children will live in a single-parent home at least once during their minor years.
Some single-parent families are binuclear; both parents are actively involved in parenting and have created two separate homes for their children. Divorce and remarriage, rather than being the exception or aberration, are more common in single-parent families.
Single parents come from all social classes, all racial and ethnic groups, and all age groups. However, single, female-headed households tend to experience more financial burdens than single, male-headed households.
Some single mothers, especially adult children of divorced parents, remain single because they do not want their offspring to suffer the pain of watching a parent leave. Other women become single mothers as a result of abandonment, not choice.
The prevalence of single-parent families is a concern because single parents and their children may suffer emotional stress, economic need, and social disadvantages. Is it possible for one parent to raise children successfully? What are some challenges facing single-parent families? How can a Christian successfully raise children as a single parent? What role does the church play in ministering to these families?
Child Abuse
How much physical, mental, emotional, or sexual abuse need a child suffer at the hands of a parent? When is it deemed prudent to remove the child from the home and place the child in protective custody? This eventually lands the abused child in a foster-care system that is neither an answer to the problem or a safety net.
A child should never suffer abuse on any level from any person, let alone a parent. The child should be removed from the home when it is in the best interest of the child, as long as there are capable, loving, caring families to ease the hurt.
Churches need to be aware of their legal responsibility in reporting child abuse.5 Child-abuse laws vary by state. Parenting classes can be a proactive way of teaching parenting skills and preventing child abuse. Having a marriage/parenting mentoring program is another way to strengthen parenting skills.
Court Appointed Special Advocates is a program in which church members can become involved. Judges appoint CASA volunteers to advocate for the safety and well-being of children who have been removed from their homes due to parental abuse and neglect. Visit www.casaforchildren.org for more information and to find a chapter in your area. (See sidebar: "CASA: Helping Children and Families Shattered by Abuse or Violence.")
Adoption/Foster Care
"Orphanages were the primary way of caring for indigent or unwanted children in the USA from the mid-19th century into the mid-20th century. After that, foster homes and small institutions like group homes replaced orphanages."6 Contrary to common belief that orphanages were bad, "Orphanages were generally created by communities to improve the life chances of the children in their care and, by and large, did just that."7
Years ago, to deal with the burgeoning number of orphans or abused/neglected children, the federal government began placing children with foster families. Many private orphanages shut down or changed their mission to receive abused and battered children. The practice of placing children in foster homes/care is still in place today. For the most part it works.
James instructs: "Religion that God our Father accepts as pure and faultless is this: to look after orphans and widows in their distress and to keep oneself from being polluted by the world" (James1:27). There are more than 163 million orphans in the world today. Even in the U.S. there are almost half a million children in foster care. Many of these have been abused, neglected, or abandoned. The Bible speaks of them as the fatherless. The church needs to play a major role in developing families to fill a void in fostering and adopting children. (See sidebar "Cherish Kids: Helping Families With Adoption and Foster Care.")
Here are eight suggestions on how a church can be involved in the restoration of families, single moms, and the lives of children through adoption/foster care.
Pray for Wisdom and Direction
Pray the Lord will direct your church in how it should be involved in the adoption/foster-care process. I have seen people donate a house or a building to a church, and immediately the church thinks of a maternity home or pregnancy center. This scenario normally ends in failure. Study God's Word to see what it says about the fatherless. Learn about children in your local foster-care system and the needs they have. Ask God to help you minister to unwed mothers, single parents, and families who are foster parents.
Attain Knowledge of Adoption/Foster Care
Educate yourself on local and state laws regarding foster care, adoption, and underage pregnancy. Abiding by these laws will give your ministry legitimacy in the public eye. Reject the urge, however, to accept state or federal funds. Doing so will free you to proclaim Christ.
Gain Compassion
Compassion for the betterment of families must be the church's primary motivation. If it is not, the church will suffer from compassion burnout when adversity comes and you see the hopelessness of so many individuals.
Show Support
Even if you do not have the means to begin an adoption/foster care ministry, realize that others in your community are probably doing this type of work. Whether it is in your community or national ministries, support them. Send financial contributions, take part in work days, volunteer, and encourage others to become involved.
Take a Missions Trip
Arrange a missions trip to a children's home or maternity/pregnancy center. A missions trip will help people in your church obtain a perspective on dysfunctional families. It may also open doors for volunteer ministry by members of your church.
Encourage Adoption/Foster Care
The Bible is clear that parenting is a two-parent job with both the mother and father providing a protective umbrella over a child. Encourage families to become involved in the state/local foster-care system.
Counseling/Classes
If your church encourages families to adopt/foster children, you will need counseling, classes, and a support team for these families.
The Forgotten
Many foster children and single unwed mothers come from broken families that were once churched or professing Christians. Broken, dysfunctional families need restoration. The task of the church is not only to redeem messed-up families, but also to recognize the symptoms of their dysfunction and work to alleviate problems before the family is beyond repair. (See sidebar "The Church's Response to the Cycle of Incarceration."
As you become involved in the ministry of foster care, abused/battered, and single-mom care, you are showcasing the gospel to an unbelieving society. Your church's investment will impact lives beyond your lifetime.
Notes
1. National Vital Statistics Reports: "Births: Final Data for 2008". Accessed 17 June 2011.
2. Stephanie J. Ventura, "Changing Patterns of Nonmarital Childbearing in the United States," Accessed June 17, 2011.
3. Annie E. Casey Foundation, Kids Count Data Center. Accessed 17 June 2011.
4. Family and Community: "Children in Single-Parent Families". Accessed 17 June 2011.
5. Dan Prater, "Child Abuse: What should the Church do about it?" Enrichment journal 13, no. 3 (2008): 136. Accessed 17 June 2011; Marnie C. Ferree " 'Innocence Lost' Helping Victims of Childhood Sexual Abuse," Enrichment journal 14, no. 3 (2009): 106. Accessed 17 June 2011.; Richard R. Hammar, "The Counselor and the Law: A Guide to Legal and Ethical Practice," Enrichment journal 15, no. 3 (2010): 48. Accessed 17 June 2011.
6. Christian Orphanages: A Directory. Accessed 17 June 2011.
7. Richard B. McKenzie, "The Best Things About Orphanages," in The Wall Street Journal, 14 January 2010. Accessed 17 June 2011.