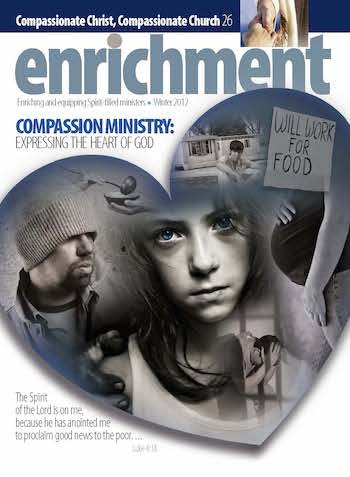 Downloads:
Emerging Engagement
The Growing Social Conscience of Pentecostalism
---
Introduction
During its 53rd General Council, the Assemblies of God took the remarkable step of modifying its organizational purpose statement through the addition of a fourth "reason for being." The constituency expanded this statement to affirm that the Assemblies of God exists "to be a people who demonstrate God's love and compassion for all the world."1
This declaration reflects a growing concern for social ministries, not just within the Assemblies of God, but also among Pentecostal believers in general. From simple efforts designed to provide aid and relieve suffering to ministry that seeks to reduce oppression and combat injustice through the transformation of culture itself, Pentecostal believers now engage social causes like never before. Proponents describe these efforts in terms of social concern, social engagement, social activism, and even social spirituality.2 This paper will provide a brief assessment of social engagement by Pentecostals historically (focusing especially on the Assemblies of God), suggest potential reasons for growth in social ministries, and identify key theological elements that Pentecostals must address with regard to social ministry in the 21st century.
Part 1: A Brief Assessment of Social Engagement
Early involvement in social ministries
From the earliest days of 20th-century Pentecostal renewal, both proclamation and social engagement have always served as expressions of Christian mission, but Spirit-filled believers have struggled to define how much social engagement should accompany the preaching of the gospel. Early Pentecostals both praised and vilified ministries targeting social issues.
For example, an early edition of The Weekly Evangel celebrated ministry efforts at an orphanage in China and the opening of a school in South America.3 But 4 years later in that same periodical (now the Pentecostal Evangel), J. Roswell Flower declared that institutional ventures (such as orphanages and schools) were "clearly out of bounds for Pentecostal missionaries serving in 'the last days.'"4 Pentecostal missionaries, he wrote,
"cannot follow the methods laid down by those who have gone before them, neither can they bend their energies in building up charitable institutions, hospitals and schools as do the denominational societies.
"The Pentecostal commission is to witness, witness, WITNESS. … It is so easy to be turned aside to do work which is very good in itself, but which is short of the Pentecostal standard. Our missionaries are in danger of this."5
Tension between proclamation and social engagement existed even within the same edition of the Pentecostal Evangel (PE). In a 1933 edition of the PE, Frank Madeley, missionary to China, wrote that a local village had asked him to launch a school. He reported that he replied, "We did not come to establish schools, but to preach the gospel."6 Yet, in that same issue, the PE celebrates "the magnificent philanthropic work that is done by out-and-out Christians,"7 specifically celebrating Christian relief work done among orphans and widows in Germany, England, India, Egypt, and Argentina.
This philosophical dichotomy between proclamation and engagement continued well into the 20th century. As recently as 1977, Melvin Hodges — considered by many the father of Assemblies of God missions policy — described charitable ministries as merely "by-products of evangelism, not primary means to that end." Still, compassion ministries within the Assemblies of God continued to expand worldwide through efforts including the Lillian Trasher Orphanage in Egypt, Mark Buntain's Mission of Mercy in Calcutta, and the development of Latin American Childcare (LACC). Within the United States, Highlands Child Placement Services and Hillcrest Children's Home enjoy the continuing support of the Fellowship, and the launching of short-term missions efforts like HealthCare Ministries engage laypeople in relief-related missionary activity around the globe.
In spite of pulpit pronouncements devaluing relief ministries, the late Gary B. McGee suggests four reasons these efforts continued to progress throughout the century: (1) the pressing needs of refugees following WWII, (2) the proven value of orphanages in developing indigenous leadership, (3) the ability of social ministries — innovative by definition — to avoid traditional models, and (4) a fundamental attitude of compassion by church constituents.8
More Recent Developments in Social Action
In contrast to the first 50 or 60 years of Pentecostal revival, engagement in social ministry by Pentecostals has exploded in the last few decades. One notable example is Convoy of Hope. Though not an official Assemblies of God ministry, Convoy of Hope is the official disaster relief partner of the Assemblies of God. Since its formation in 1994, Convoy of Hope has assisted over 45 million people in more than 100 countries and has given away nearly $236 million dollars in food and supplies to people in need.9 This level of relief ministry by Pentecostals would have been unthinkable only a few decades before.
This same kind of growth in social ministry activity characterizes other American Pentecostal organizations as well. Murray Dempster has identified parallel progress within the Church of God (Cleveland, Tennessee) and the Church of God in Christ.10 On an international scale, Donald Miller and Tetsunao Yamamori have written about Pentecostals around the globe extensively engaged in social action. As a result of their research, these authors characterize global Pentecostalism as an "emergent force within world Christianity."11 Miller and Yamamori specifically debunk as myth the notion of Pentecostals "so heavenly minded that they are of no earthly good."12 Instead, they describe a new breed of progressive Pentecostals "attempting to build from the ground up an alternative social reality"[emphasis added].13
Today's Spirit-filled believers, then, inherit a movement that in just over a century has altered the face of Christianity in ways not seen over the past two millennia. Certainly such change within Pentecostalism should not suffer unconsidered rejection, but neither does it deserve uncritical acceptance. This radical transformation within Pentecostalism demands equally radical assessment and evaluation.
Part 2: Motivations for Social Engagement
Twentieth-century Pentecostal renewal grew out of the study of Scripture by believers hungry for the fullness of God's empowerment. Under the direction of Charles Parham, earnest students perused the Scriptures to identify the "Bible evidence" of Holy Spirit baptism, and — having concluded that "speaking in other tongues" was that evidence — sought all that God might offer in fervent prayer. A biblical conviction that spiritual manifestations (most specifically, tongues) accompany spiritual empowerment has shaped the character and motivated the actions of Pentecostal revival since its inception.
Arriving at that biblical conviction, however, did not occur in a vacuum but was influenced by many factors over many years. The renewal of Pentecostal faith and practice grew out of holiness fervor in the 1800s, a fervor which itself sprang from Methodism and was influenced by the perceived threat of modernism. In the same way that multiple forces converged to forge the convictions of Pentecostals regarding the necessity of and biblical evidence for the baptism in the Holy Spirit, so multiple forces have shaped — and continue to shape — the development of social ministries within Pentecostalism. A full study of these forces stands beyond the scope of this article. However, several potential factors suggest themselves for future investigation.
A declining intensity of expectation
First, Pentecostals have experienced a declining intensity of expectation with regard to the return of Christ. When the conviction prevails — as it did in early Pentecostalism that Jesus may return at any moment — announcing Christ's offer of redemption easily trumps any interest in social causes. But clearly the doctrine of the second coming of Christ — so central to the thinking and motivation of first-generation Pentecostals — does not carry the same primacy within successive generations. Dempster describes the doctrine of the Second Coming as "routinised."14 Given this development, a greater focus on the circumstances and social structures of this present age easily results.
The influence of cultural pressures
A second factor promoting social engagement may involve cultural pressures, given the current levels of attention paid to social ills and environmental concerns. In the United States in particular, governmental involvement in social programs has grown at rates far exceeding even the explosion of involvement among Pentecostals. From the government works programs of the 1930s to the visions for a "Great Society" in the 1960s, to the birth of the Environmental Protection Agency in the 1970s, to the passage of "health care reform" in 2010, the United States government has never been more involved in addressing social concerns. Additionally, significant political and social organizations dedicate themselves to promoting both sensitivity and action with regard to these issues — issues that receive considerable media coverage. Pentecostal believers are not immune to these media influences and cultural priorities.
The transformation of Pentecostal publications
Even within Pentecostalism, the focus of media either reflects, or perhaps has helped trigger this transition toward social engagement. The Pentecostal Evangel itself has undergone a noteworthy transition from a publication filled with transcribed sermons, personal testimonies, and Sunday School lesson outlines to a magazine filled with human-interest stories. A recent edition of the PE focused on the response by the Assemblies of God to a devastating Haitian earthquake. Even given that relief efforts were the theme of the publication, it seems ironic that (in a "World Missions Edition," no less) the testimonies recorded highlighted the availability of missionaries as relief workers, warehouses already stocked with food, medical clinics at the ready, and partnerships with major American corporations in providing clean water for earthquake victims. There was not one specific testimony of salvation, healing, or Holy Spirit baptism found in this issue (though the hope of an eventual spiritual harvest was clear).15
Part 3: Toward a Theology of Social Engagement
Clearly, social relief efforts are not without merit, but remain far removed from the typical focus of any early Pentecostal publication. Highlighting this significant transition gives opportunity to encourage the assessment of the motivations and factors that have shaped it. Any such assessment needs to address to what degree traditional motivations for Pentecostal behaviors (such as biblical obedience and personal holiness) fuel social action as opposed to extra-biblical factors (like the societal changes and cultural pressures described above).
To be sure, any legitimate transition within Pentecostalism must align with Scripture. From its beginning, the Pentecostal renewal has been rooted in convictions drawn from the Bible. Though Pentecostals have been slow to develop a full-orbed systematic theology that adequately reflects their unique perspective, as a whole they have never neglected the Scriptures (as sometimes charged) in favor of emotionalism, expediency, or cultural acceptance. "Contrary to the stereotype," Grant Wacker observed, "Pentecostals are deadly serious about doctrine."16 If this engagement of social responsibility exists as a legitimate expression of Pentecostal ministry, then it must reflect biblical roots and align with sound biblical doctrine.
Pentecostal social engagement today functions apart from a cohesive, cogent social theology. "Pentecostalism never had much of a social vision,"17 admits Wacker. "With the exception of pacifism, orphanage work, and a few soup lines, [early Pentecostals] showed little historic interest in social reform — individual, structural, or otherwise."18 Indeed, Pentecostals may have wandered into social engagement without fully understanding the biblical mandate to do so. "By and large," says Eldin A. Villifane, "our contemporary Pentecostal spirituality has been defined by only the individualistic and personal dimension."19 Estrelda Y. Alexander pinpoints one deficit of a purely individualistic approach. "What generally does not happen is the fostering of a social justice consciousness among those individuals not already sensitive to those issues."20
Certainly, Spirit-filled believers may legitimately head off in some direction believing it the right thing to do without fully comprehending the reasons why. Indeed, this is a basic tenet of "Spirit-led" living. Still, without developing a clear biblical basis for social engagement, Pentecostals risk falling into the same trap experienced by other revival movements, potentially replacing the evangelization of the unregenerate with nothing more than the offer of "a cup of water" in social relief. This new direction for the Pentecostal church merits a deeper development of a Pentecostal theology of social engagement. Research suggests four priorities that any effective, biblical, and specifically Pentecostal theology will address.
Cosmic evil in human structures
First, such a theology needs to acknowledge the presence of cosmic evil in human structures with a view toward redemptive transformation of both people and structures. The apostle Paul speaks clearly of battles against "the powers of this dark world and … spiritual forces of evil in the heavenly realms" (Ephesians 6:12). But "the tendency of many," says Villifane, "is to see this struggle too individualistically and not see that spiritual warfare must correspond with the geography of evil — the sinful and evil structures of society."21
Pentecostal social engagement needs to challenge both these oppressive systems and the spiritual powers behind them, "reminding them of their created role as servants, rebuking them in their idolatrous role as rulers, and resisting them in their totalitarian claims and purposes."22 Such action grows logically from the conviction that Jesus leads a prevailing church (Matthew 16:18) and that "God's reign is manifested in the physical and historical affairs of people."23
Eschatological implications of the Holy Spirit's outpouring
Second, an effective theology needs to embrace the eschatological implications of the outpouring of the Holy Spirit. In the resurrection of Jesus, Pentecostals see a shattering of the barrier between "this age" and "the age to come."24 Eternity continuously invades time through the ongoing activity of the Holy Spirit. Indeed, the activity of the Holy Spirit is, by definition, eschatological — offering a present expression of a promised future. He is "a deposit guaranteeing our inheritance until the redemption of those who are God's possession" (Ephesians 1:14). In that light, social ministry stands as so much more than "do-good activities for bored Christians;"25 social engagement "testifies to God's eschatological intent to right the wrongs and to establish shalom in the human family and the whole creation."26
Holiness and social engagement
Third, an effective Pentecostal theology will reexamine the biblical concept of holiness in relation to social engagement. Pentecostals have consistently coupled consideration of the doctrine of holiness (and its corollary doctrine of sanctification) with separation. This often resulted in isolation. In contrast, throughout the Scriptures an utterly Holy God throws open His arms and invites an utterly sinful humanity to "Come" (Isaiah 55:1; John 7:37; Revelation 22:17). This dichotomy between Pentecostal isolation and the Father's invitation warrants reexamination.
Vincent Castellani argues that the earliest Pentecostal understanding of sanctification as a definitive second act of grace adopts too forensic an understanding of sanctification and inadequately reflects the Wesleyan idea of a process of growth toward perfect love. This theology of sanctification as primarily a work of separation exists among "finished work" adherents, as well. "This concept of sanctification," he writes, "causes a tension to exist between a movement largely committed to separation and the eschatological Spirit in history."27
Any truly Pentecostal theology of social engagement will wrestle with these issues, recognizing the eschatological nature of the Spirit's activity in the world, rejecting an overwhelmingly static concept of holiness, and embracing a greater sense of partnership with God in social action that reflects God's holiness. As Carol Wiseman writes,
"Pentecostal holiness of the eschatological church will not allow its people to stand idly by while government and social systems allow creation to suffer. God never, whether in fifth-century BC or 21st century AD, gave the care of creation to the pagan world but always to His called and redeemed. Could this be the reason for the world's failure with all their "programs" to eradicate this disparity? This work calls for ministry, not more programs."28
With a better understanding of the relationship between personal holiness and the holiness of God, the eschatological presence of the Holy Spirit in the world today, and the cosmic presence of evil in human structures, sanctification takes on a new dimension as "the purification of history, the elimination of that which cannot stand in judgment."29
Reevaluating eschatological continuity
Fourth, an effective, biblical theology of social engagement needs to reevaluate the biblical case for eschatological continuity — the case for at least some thread of connection between this age and the age to come.
The common understanding among Pentecostals presumes the annihilation of this world (though not the annihilation of its human inhabitants) and the eternal experience of "a new heaven and a new earth, where righteousness dwells" (2 Peter 3:13). Indeed, the apostle Peter declares that, "The day of the Lord will come like a thief. The heavens will disappear with a roar; the elements will be destroyed by fire, and the earth and everything done in it will be laid bare" (verse 10). Taken alone, these verses suggest that "since everything will be destroyed in this way," (verse 11) social engagement results in only temporary impact at best. This understanding discourages Pentecostals from paying any real attention to transformational social ministry.
A more thorough review of the pertinent biblical texts suggests a different possibility. Without detracting from the return of Christ or the ultimate destruction of that built with "wood, hay or straw" (1 Corinthians 3:12), Miroslav Volf argues that the liberation of creation, as described in Romans 8:21, "cannot occur through its destruction but only through its transformation."30 The continuity evident in the pre- and postresurrection appearances of Jesus provides a biblical precedent. "As the resurrection of Christ shows," says Volf, "the new creation does not come about by a negation of the first creation. Rather, the new creation is a reaffirmation of the first."31 The way in which the resurrection body of Christ ties to the natural body of Christ suggests something about how the liberated creation ties to the historical creation. "The resurrection body demands a corresponding, glorified but nevertheless material, environment."32
Pentecostals seem to have no trouble embracing continuity between this life and the next in terms of personal holiness and spiritual development. Certainly no Pentecostal believes in his or her own annihilation, or even any loss of progress made in spiritual growth while here on earth. Still, most would suggest that scenario of annihilation for the rest of created order. But the very "concept of human holiness," writes Wiseman, "has its origins in creation. God is holy; therefore all that He created was holy."32 Pentecostals need to reexamine their presumptions regarding the eternal destiny of God's once-entirely-holy creation in light of Christ's resurrection and the biblical promise of creation's liberation.
If, indeed, a greater eschatological continuity exists than commonly understood, efforts at social transformation take on entirely new dimensions. History bears new significance. Social engagement holds fresh potential for bearing eternal fruit. "Expressions of Christian social concern that are kingdom-signifying deeds of anticipatory transformation are the kinds of human effort that God preserves, sanctifies and directs teleologically toward the future age of God's redemptive reign."34
Conclusion
Social engagement and transformational activity characterize Pentecostal Christianity like never before. Such a dramatic transition warrants consideration of the cultural forces and internal motivations that have shaped it. A more broadly developed theology will be required to justify and sustain it. Such a theology must address the social profile of evil in today's world; the eschatological implications of the outpouring of the Holy Spirit; the relationship between God, His holy people, and an unholy world; and the extent of continuity between this age and the age to come. The health and future of the Pentecostal church rests on such consideration.
Kent Duncan, is pastor, Jefferson Assembly of God, Meridian, Kansas. This article was originally written as part of the author's D.Min course.
Notes
1. Minutes of the 53rd Session of the General Council of the Assemblies of God (Orlando, Florida, August 4–7, 2009), 64–67.
2. Eldin A. Villifane, "A Pentecostal Call to Social Spirituality: Confronting Evil in Urban Society" (paper presented at the annual conference of the Society for Pentecostal Studies, Dallas, Texas, November 8–10, 1990), C-1.
3. The Weekly Evangel, J. W. Welch, ed., January 1, 1916, 12.
4. J. Roswell Flower, "Pentecostal Commission," Pentecostal Evangel, June 12, 1920, 12, quoted in Gary B. McGee, "Assemblies of God Missiology By the 1990's: A Pilgrimage of Change and Continuity Since 1914" (paper presented at the annual conference of the Society for Pentecostal Studies, Lakeland, Florida, November 7–9, 1991).
5. Ibid.
6. Frank Madeley, "Present Day Miracles in China," The Pentecostal Evangel, May 27, 1933, 6.
7. Ibid., 10.
8. Gary B. McGee, "Assemblies of God Missiology By the 1990's: A Pilgrimage of Change and Continuity Since 1914" (paper presented at the annual conference of the Society for Pentecostal Studies, Lakeland, Florida, November 7–9, 1991), 10–12.
9. Convoy of Hope, "Our History," Convoy of Hope, http://www.convoyofhope.org/go/who/our_history (accessed August 17, 2011).
10. Murray W. Dempster, "Christian Social Concern in Pentecostal Perspective" (Presidential address, conference of the Society for Pentecostal Studies, Lakeland, Florida, November 7–9, 1991), 5–17.
11. Donald E. Miller and Tetsunao Yamamori, Global Pentecostalism: The New Face of Christian Social Engagement (Berkley, California: The University of California Press, 2007), 15.
12. Ibid., 21.
13. Ibid., 4.
14. Dempster, 3.
15. Ken Horn, ed., Today's Pentecostal Evangel, May 2, 2010.
16. Grant Wacker, "Primitive Pentecostalism in America: A Cultural Profile" (paper presented at the annual conference of the Society for Pentecostal Studies, Cleveland, Tennessee, November 3–5, 1983), 3.
17. Ibid., 23.
18. Ibid., 31.
19. Villifane, C-2.
20. Estrelda Y. Alexander, "What Doth the Lord Require?: Toward a Pentecostal Theology of Social Justice" (paper presented at the annual conference of the Society for Pentecostal Studies, Toronto, Ontario, March 7–9, 1996), 16.
21. Villifane, C-18.
22. Jim Wallace, Agenda for Biblical People, 48,49, quoted in Villifane, C-19.
23. Villifane, C-16.
24. Steven J. Land, Pentecostal Spirituality: A Passion for the Kingdom (1993; repr., Sheffield, England: Sheffield Academic Press, 1997), 58–61.
25. Alexander, 31.
26. Dempster, 31.
27. Vincent Castellani, "Sanctification: Toward a Theology of Pentecostal Social Ethics" (paper presented at the annual conference of the Society for Pentecostal Studies, Oakland, California, March 13–15, 1997), 3.
28. Carol Wiseman, "Eschatological Holiness: A Pentecostal Call to Global Responsibility, Obligation and Power and Responsibility of the Church" (paper presented at the annual conference of the Society for Pentecostal Studies, Lakeland, Florida, March 14–16, 2002), 312,313.
29. Castellani, 6.
30. Miroslav Volf, "On Loving with Hope: Eschatology and Social Responsibility," Transformation: An International Journal of Holistic Mission Studies 7 (July 9, 1990): 29.
31. Ibid., 28.
32. Ibid., 29.
33. Wiseman, 305.
34. Dempster, 36.