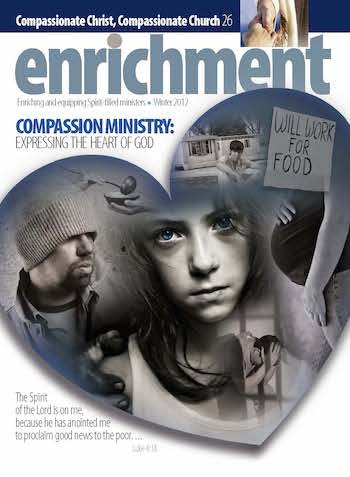 Downloads:
Compassion Ministry
Expressing the Heart of God
by Richard L. Schoonover
---
At the 53rd General Council in Orlando, Florida, delegates took a decisive step when they approved Resolution 1, "FOURTH REASON FOR BEING,"that modified the Assemblies of God's purpose statement by adding: To be a people who demonstrate God's love and compassion for all the world (Psalm 112:9; Galatians 2:10; 6:10; James 1:27).
The other three reasons for being are:
To be an agency of God for evangelizing the world (Acts 1:8; Matthew 28:19,20; Mark 16:15,16).
To be a corporate body in which man may worship God (1 Corinthians 12:13).
To be a channel of God's purpose to build a body of saints being perfected in the image of His Son (Ephesians 4:11–16; 1 Corinthians 12:28; 14:12).1
Those who spoke against this resolution were concerned that the Assemblies of God would follow the same path as other denominations and lose its evangelistic fervor and begin preaching a social gospel. In reality, though, many Assemblies of God churches are already doing compassion ministry and are finding that compassion ministry provides avenues for evangelism that traditional ministries do not provide. In the Enrichment interview, we visit with three pastors who have touched lives through compassion ministry and have seen many people come to the Lord through their outreaches.
Because of this General Council resolution, the Enrichment staff, along with the encouragement of the executive leadership team, felt it would be appropriate to address compassion ministry. We desire to encourage churches that are doing compassion ministry, provide ideas and resources to help make compassion ministry more effective, and give guidance to churches wanting to start compassion ministry.
Because evangelism is in the DNA of the Assemblies of God, an evangelistic component is common to each article. Evangelism has two dimensions: your witness to individuals and your witness to the community. Several of the articles stress working with established secular and religious compassion ministries and becoming involved in the various activities in your community that lend themselves to compassion ministry. This gives church members a chance to work alongside others and opportunities to share the gospel.
Compassion ministry is not just for urban churches. Poverty is often more prevalent in rural communities. "Rural Compassion for the Harvest — Small Towns, Big Possibilities" provides timely tips for small churches to have an effective compassion outreach in their communities.
Not much will happen in the lives of those to whom you minister unless there is a systemic change in their lifestyle. "Hand Out or Hand Up?: Empowering the Poor," and "Helping Families in Crisis," provide guidelines for helping families make these systemic changes through a relationship with Jesus Christ and Christian mentoring/discipleship.
One of the growing segments of our country and church is the immigrant population. Who are the immigrants in your community you can reach with the gospel? Samuel Rodriguez, in "Mercy Rising — A Call to Love the Immigrant" gives key principles for reaching immigrants.
More than anything, the Enrichment journal staff wants to communicate that compassion ministry is at the heart of God. Psalm 146:7–9 reads: "He upholds the cause of the oppressed and gives food to the hungry. The Lord sets prisoners free, the Lord gives sight to the blind, the Lord lifts up those who are bowed down, the Lord loves the righteous. The Lord watches over the alien and sustains the fatherless and the widow, but he frustrates the ways of the wicked."
Compassion ministry is more than handing out groceries and clothing, cleaning up your community, or working hand-in-hand with community organizations. Compassion ministry is loving people just as God through Christ loves them. As you read this issue of Enrichment, prayerfully consider ways you and your church can make a difference in your community through compassion ministry. Then take the necessary steps to make it happen.
Note
1. General Council Constitution, Article V. STATEMENT OF FUNDAMENTAL TRUTHS, Section 10. The Church and Its Mission, pages 87, 88.