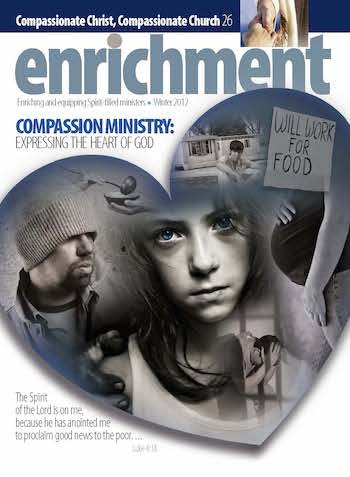 Downloads:
Are You a Partner or Competitor?
A fourfold strategy to build bridges between your church and community.
by Scott Wilson
---
Three years ago my ministry staff had lunch at a restaurant near our church. The city mayor was sitting near us. We were ready to leave when the mayor said, "Pastor, could I talk to you for a few minutes?" He said, solemnly, "Pastor Scott, there's a problem … a big problem."
I responded, "Tell me what it is."
Without hesitating, he said, "You and your church have a bad reputation."
I was stunned. I told him, "Mr. Mayor, I don't understand. Please tell me what you are talking about."
He explained, "You are the biggest church; and, in fact, the biggest organization in our community. But you have a reputation for doing your own thing. You are not really part of our community."
I tried not to be defensive, but I told him how I saw our role in the city. I said, "Everything we do is to help this community. I wake up every morning thinking and praying about how we can have a positive impact on the city. The church and I will do anything you want us to do for the community. Everything we do is to help people here."
He smiled, knowingly, "That's the problem, Pastor Scott. You are always doing things for us, but you do not do much with us. There is a difference."
He gave an example. "Do you remember last fall when your church had its fall festival? About 5,000 people attended. It was huge. The city also had a fall festival, but only a handful of people came. When we had our citywide clean-up days, we called your church to see how many of your people could participate. The answer we received was that your church has its own clean-up program, so very few people from your church were available to help us."
The mayor stopped for a second to let what he was saying sink in, and then he continued. "Pastor Scott, your church has all the money, all the people, and all the resources to make a huge difference in our city, but the other leaders in the city see your church as inconsiderate, and worse, as competition. Here is what I am saying: You can either partner with us or compete with us. It's your choice, but your reputation is on the line."
As I walked out of the restaurant, I knew this was not a complaint I could easily dismiss. The mayor had pointed out a profound misunderstanding in our concept of our mission. We saw our role as a bastion of hope where people could come for salvation and comfort. We had designed all our efforts in the community as forays to touch people and bring them into our fellowship.
That afternoon the Holy Spirit reminded me of several things. When the Son of God stepped out of glory onto earth, He came "to dwell among us." His name is Emmanuel, "God with us." He did not remain at a distance and offer resources at arm's length. He became one of us, ate our food, drank our water, endured similar injustice, suffered our disappointments, and saw our hopes.
In passage after passage in the Gospels, Jesus spent time with outcasts: despised prostitutes, hated tax collectors, children, women, the blind, the lame, and foreigners. Jesus did not see us as projects He needed to fix, but real people He needed to love. Too often, people were perceiving the efforts of our church as projects instead of genuine love for flesh-and-blood people.
That afternoon the Spirit also reminded me of the passage that has been the foundation for our church. When Jesus began His ministry, He read His first message from the prophet Isaiah. As He stood in the synagogue, He quoted: "The Spirit of the Lord is on me, because he has anointed me to proclaim good news to the poor. He has sent me to proclaim freedom for the prisoners and recovery of sight for the blind, to set the oppressed free, to proclaim the year of the Lord's favor" (Luke 4:18,19).
Jesus came to inaugurate God's kingdom on earth, a Kingdom that will ultimately redeem those who believe, but even creation itself (Romans 8:18–25). He does not divide the world into sacred and secular. He cares for people where they are and uses us to meet their needs. We never fail to communicate the gospel of transforming grace, but people will receive this message more readily if we also fulfill His mission of caring for "the least of these." In fact, in Isaiah's prophecy, the people who are recipients of God's grace become His partners. The prophet says, "They will be called oaks of righteousness, a planting of the Lord for the display of his splendor" (Isaiah 61:3). This is why we call our church The Oaks Fellowship.
The mayor's words challenged me, inspired me, and redirected the efforts of our church. Our leaders prayed and planned. Within a week, God led us to implement a fourfold strategy to build bridges between our church and our community.
Appoint a Champion To Coordinate Efforts With Community Leaders
In our community there are five types of organizations that serve as gatekeepers to serve people: government agencies, schools, churches, the Chamber of Commerce, and other nonprofit organizations. Andrea Lathrop is a gifted and compassionate person in our church. We asked her to take the initiative with each of these gatekeepers and to be the church's ambassador and liaison.
Lathrop would introduce herself at gatekeeper's meeting and offer the church's help. She gave her contact information to the heads of the local nonprofit organizations, school principals, teachers, elected officials, business leaders, and pastors. At first, they were not sure that The Oaks wanted to support their efforts.
If the city or county government had an event and needed help to make it happen, Lathrop found out about the need, be it manpower, facilities, or funding, and called the official to offer the church's assistance. In time, the Oaks reputation began to change, and we became known as a trustworthy partner. Of course, we could not provide everything the gatekeepers needed for every event. But Lathrop was dedicated to provide as much as our church could offer, and she became a channel to find other resources. When we stopped competing, we realized we could earn their trust, become genuine partners, and make a difference.
We Redefined the Win
For years The Oaks Fellowship defined success by the strength of its programs and the increase in numbers. Now, we define success by our ability to help the gatekeepers accomplish their goals, whether we get any notice or not. By helping feed the hungry, provide shelter for the homeless, mentor kids, give blood, and dozens of other functions, we are fulfilling God's calling in Isaiah 61 and Luke 4. We want to be like Jesus and serve with no strings attached.
Practically, this redefinition required us to align our calendar. Instead of hosting a competing fall festival, we shut down ours and joined the city's celebration. We had 400 volunteers helping staff the event, and we did not promote our church. Instead of planning and conducting a separate community clean-up campaign, we called the city to find out their plans, and we joined them. When people find out we are selflessly serving this way, they are impressed.
To facilitate the work of the nonprofits in our area, we invited them to a Sunday worship service. A representative from all 38 nonprofits came to the platform with a sign describing the needs they were meeting in the community. I told our congregation, "These organizations and agencies touch the lives of hurting people in our area. This is the body of Christ in action, and we have the privilege to be partners with them." They received a standing ovation. The service ended early so people could visit the booths, learn more about each organization, and sign up as a volunteer.
We offer the city and county the of use our church sign on the highway as a communication tool. On voting days, when school is out due to bad weather, or for any other civic purpose, our sign can communicate their message. When the local food pantry wants to make a big push to restock their shelves, we work with a grocery store that offers $5 matching donations of food. Similarly, instead of doing our own clothing drive, we now coordinate with two community agencies. This way our people know their clothes are going to specific, targeted needs.
It took a while to earn the trust of the educators and business executives in the area. Many assumed we still had an angle. A principal suspected we were offering to help mentor kids because we wanted to recruit them for the school that meets in our building. Some business leaders thought we would pounce on people with the gospel if we served at their events. Gradually, they realized they could trust us to become true partners.
Create a Comprehensive-Care Strategy
To find out more about the needs in our area, we developed an effective strategy to partner with the gatekeepers. A consultant met with our staff, board, and lay leaders to see how God used our church in the past to reach the community. A demographic study was completed, and the results were astounding. We found:
over 5,000 children are waiting for placement in foster care.
over 2,000 kids need mentoring through Big Brother, Boys and Girls Clubs, or school programs.
over 16,000 people live below the poverty line, and 6,000 of them are children.
We discovered there was a compelling need to help children who live around the church. Jesus explained that children are just as valuable to God as adults, but they are more vulnerable and in need of care. They are the hope of the next generation, but their success depends on the nurture they receive today.
Key members of the church received the results of the study. One of our leaders, Aaron Escamilla, was so captured by the need that he became the champion of our Care Strategy. Aaron coordinates every aspect of our care ministry, including ministry to students, children, young adults, adults, and seniors. Every inch of our church is involved in caring for the needy. It is in our DNA.
Care Strategy takes coordination, but it is worth it. Lathrop provides the connection with the gatekeepers to surface the needs. Escamilla puts teams together to tackle the biggest needs, and these teams are resources for the small groups in our church. Groups are encouraged to let God touch their hearts with a particular need, and to make a commitment to meet those needs.
Six couples were meeting for Bible study. Half of them are relatively new believers. While study the Scriptures one day, one person said, "Learning about God's love for people is really cool, but why don't we put what we are learning into action?" They asked God to lead them.
Each day these couples drive past government housing on their way to work or school. Many of the kids who live there do not have fathers at home. So the couples decided that on Sunday afternoons they would play soccer with the kids and spend holidays with their families. These couples take their kids along to share love and friendship. As these parents care for disadvantaged children, they are modeling grace and love to their own children.
Human trafficking is a tragic problem in every city in the world, but officials predicted that the Super Bowl in Dallas would cause an influx of 10,000 more enslaved young women to the city. We learned that sex trafficking happens each year at the Super Bowl because men fly in from all over the world with money to spend on pleasure of every sort.
One of our small groups contacted two of the four largest agencies dedicated to freeing women from sex slavery and offered the use of our church as a home base for their training efforts during the weeks before the game. These agencies trained 200 people to go into the city of Dallas to look for vulnerable women. We paid for billboards with the pictures of young women who had been abducted and who might be seen on the streets. From 10 p.m. to 3 a.m. volunteers went to clubs, bars, and stood on street corners looking for these women.
One of the agencies, Save Our Adolescents from Prostitution (SOAP), became our partner. Years ago Theresa Flores was abducted into sex slavery. At her darkest moment, all she had was her lingerie, the clothes on her back, and a few bars of soap from area hotels. After she found freedom as a sex slave, she wanted to help other young women trapped in the trade. As she prayed, the Lord led her to ask hotels to put her organization's 800 number on the soap wrappers in their bathrooms. Because young, captive women often do not know where to turn, the phone number may become a gateway to freedom. During the Super Bowl week, our volunteers bought 10,000 bars of soap with the agency's phone number and put them in hotels around the city.
Through the leadership of Lathrop and Escamilla, God has touched the hearts of people in other small groups in our church. He has directed many of them to be involved as foster parents, to mentor children at school, to teach reading skills, to coordinate blood drives, and to do many other activities. The plight of the disadvantaged moved one group to organize a food pantry. People now provide food every month to feed 200 individuals.
Compassion ministry becomes infectious. We are not focused only on Judea, Samaria, and the remotest parts of the earth. Some of the people in our Jerusalem also need help. We do not want to step over needy people in our own congregation as we care for those outside our walls. It is hard to get people to care about others if they do not feel like anyone cares for them.
Part of our strategy includes helping senior adults clean their homes, yards, and apartments; getting parents involved in children's ministry; providing pastoral care for the elderly and those in hospitals and nursing homes; providing benevolence assistance for families and individuals struggling financially; offering counseling resources for people with emotional, relational, and spiritual difficulties; and providing support groups for those suffering from addiction, grief, divorce, and other related problems and needs.
Furthermore, the care strategy has infused new energy, vision, and resources into projects we have been doing for years, including building four orphanages in Uganda, Bible schools in Mexico, digging water wells in Africa, planting churches, Life Schools for 3,700 students, and Meals on Wheels.
Community-Wide Campaign Enlists People in Compassion Efforts
I conducted a campaign to teach, inspire, and enlist people to reach out and touch someone near them with the love of God using a daily devotional in the Book of Acts called Act Normal. During the 9 weeks of this campaign, I preached on topics from Luke's account of the Early Church and encouraged people to get their hands dirty in serving others. Small-group content enabled people to dig deeper into the Scriptures and discuss how they can make a difference.
In the campaign, I asked people to make a pledge of dollars and hours of service. Contributions of money and time all go directly to agencies and church activities designed to minister to the needs of people in the community. We connect our people with a wide range of effective organizations. Instead of just preaching about what people should do, we give them inspiration and opportunities to get involved. We hear stories of God touching individuals, small groups, families, and neighborhoods with the message of His grace.
Three years ago the mayor told me our church had a problem. In fact, in some ways, our efforts were counterproductive. Since then, God is helping The Oaks Fellowship to reframe its mission. No longer are we a fortress of people rushing into the community and back to safety. We are passionate about leading people to Christ and are earning the right to be heard.
We are an incarnational church, embodying the life and love of Jesus as we live with the people in our community. This year the mayor and city council awarded our church the Distinguished Service Award. At the presentation the mayor said, "Our city is a better place to live because of The Oaks Fellowship." All it took was a loving rebuke, a new sense of mission from God, and the power of the Spirit to accomplish His will in us, for us, through us, and now more than ever, with us.