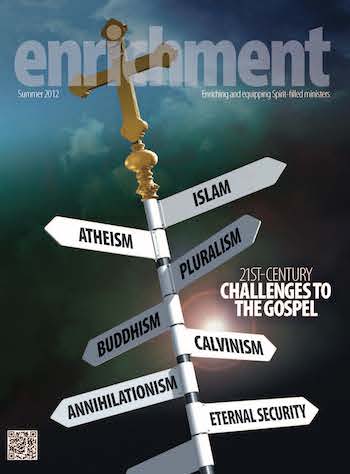 Downloads:
Spiritual Peacebuilding
by Terry W. Petty
---
In the church is an abundance of teaching about spiritual warfare, but little teaching about spiritual peacebuilding.
Books about fighting spiritual warfare line library shelves. Many of these teach how to stand firm "against the powers of this dark world and against the spiritual forces of evil in the heavenly realms" (Ephesians 6:12). Few, however, promote the pathway to the "peace ... which transcends all understanding" (Philippians 4:7).
Christians around the world proudly proclaim the war cry, "For our struggle is not against flesh and blood" (Ephesians 6:12) and then attack the people God commands them to love. In more severe conflict, some demonize their opponents by assigning names of evil spirits to their bad behaviors: "He has a spirit of unforgiveness"; "She has a Jezebel spirit"; "They must have unconfessed sin in their lives"; "They are a cancer that has to be removed." Some writers make exhaustive lists to assure that they expose every evil spirit.
Do not be mistaken; there is a time for genuine spiritual warfare where God commands believers to take a stand against Satan and the spiritual forces of evil in the heavenly realms, fearlessly proclaiming the "manifold wisdom of God" (Ephesians 3:10). However, we could avoid many battles, or keep them from being so damaging, if the church would teach and practice effective peacemaking skills.
Churches enjoy a peaceful ministry by creating an environment where open dialogue, looking out for the interest of others, and problem-solving skills are a first response rather than the final attempt to stop the hurting or halt the division. A knife has the capability to kill in the hands of an angry and resentful person. But a knife, in the hands of a skillful surgeon, can cut with precision and leave only a faint scar.
Jesus left His disciples with a promise of peace: "Peace I leave with you, my peace I give you. I do not give to you as the world gives" (John 14:27). Jesus taught His followers to courageously face difficulties with confidence and skill and to be continually filled with peace. Christians are to be world leaders and examples as peacemakers. Yet many testify that within the walls of the church people have wounded them and, in some cases, spiritually destroyed them.
Well-meaning church leaders desire to see people set free from bondage and oppression, healed from diseases, no longer controlled by the sinful nature, changed from darkness into light, and transformed from death to life. Even Jesus celebrated His victory over Satan's evil empire, "having disarmed the powers and authorities, he made a public spectacle of them, triumphing over them by the cross" (Colossians 2:15). Once we realize a victory, there still remains the need to build an environment where peace reigns and people in God's kingdom can experience a renewal of minds and reconciliation of relationships.
On the Day of Pentecost, unity and genuine caring for one another marked the miraculous birth of the Church. People quickly learned from the apostles' teaching. This included eating in one another's homes, sharing with those who were in need, and joyfully praising God. The Church grew daily in an environment of peace. While the Acts 2 description is a model of church community behavior and desirable for replication, soon the community of believers faced conflict that threatened its unity.
In Acts 6, the Grecian Jews' complaint turned to murmuring against the Hebraic Jews regarding the distribution of food. The conflict quickly escalated. The conflict required a plan to maintain peace. The community structural plan they adopted added a layer of administration. They appointed deacons, allowing the apostles to remain focused on preaching and prayer. In the same way, the proactive action of the apostles dealt with conflict in a positive and creative way. Today's church can learn to address conflict in a way that builds the church rather than tears it down.
Conflict is not the enemy of the church. Conflict, when handled poorly, can be harmful to relationships and painful to individuals. Well-managed conflict can bring about healthy relationships to individuals, churches, and even spill into the marketplace. Conflict-resolution skills are generally rooted in early childhood development and carried into adulthood. We can learn and skillfully develop positive and effective conflict-resolution skills.
A crowd had gathered on the lower foothills north of the Sea of Galilee, near the town of Capernaum, to listen to the teachings of Jesus — an itinerate evangelist from Nazareth. Jesus began to teach about a virtual kingdom of God that coexisted with the physical landscape surrounding them. Other followers crowded nearby to hear Him, many of whom were themselves recipients of healing; some from disease, physical pain, blindness, seizures, and paralysis. Their personal experience forced them to lay aside daily activities and learn more about this charismatic young preacher and His teaching. What we know as the Sermon on the Mount became the foundational teaching of the kingdom of God. Jesus painted word pictures of how the Kingdom would change the hearts, thoughts, and attitudes of those who would accept and implement His message.
The seventh Beatitude in the Sermon on the Mount is, "Blessed are the peacemakers, for they will be called children of God" (Matthew 5:9). Being a maker of peace has the supreme reward of sonship. Being a peacemaker is much more pervasive than simply adopting a position of pacifism and nonviolence, or attempting to bring about a change in social injustice. A peacemaker commits to active engagement in God's redemptive plan to bring salvation to the self-destructive bent of mankind.
Peace is a primary theme in biblical literature. Biblical writers use the Greek word eirene translated peace in every New Testament book (except 1 John). Biblical writers use derivatives of peace as a noun, verb, or adjective. As a noun, peace commonly describes harmonious relationships between God and man, as well as between men or nations. As a verb, peace is an exhortation to "be at peace" or "be a peacemaker." The adjective usage connotes a peaceful environment, state of being, or calm and quiet atmosphere.
Peace is greater than just the absence of war or conflict. Peace often encompasses the process of conflict to pursue the outcome of these qualities; tranquility, safety, and harmony. Note: Peace is not just a favorable outcome of a conflict; peace is inclusive of the process and the way we manage conflict. If the process is destructive and punitive, the outcome will not be peaceful. The course of action must include the characteristics of peacemaking skills to achieve peaceful results.
Tranquility is the most common understanding of peace. It is the imagery of serenity, calmness, solitude, and being free from disturbance. When a person is virtually absent of anxiety, stress, tension, or worry, the response is total relaxation. Tranquility is the escape of discord and sensory overload to a place that provides rest and restoration. No pain, no distraction, no concern or effort are required to experience the ecstasy and feeling of elation and calm. Tranquil moments, in this context, are dependent on the environmental and cognitive constructs. Everything has to be in order and balanced.
It is impossible to experience this kind of peace in day-to-day living. It is only in moments and short periods of time we can escape to the solitude of a tranquil peace, apart from activity, decisions, negative emotions, and struggles. Yet, when people do not experience moments of calmness, their lives become out of balance and before long exhaustion and even some forms of psychosis emerge.
A second aspect of peace is safety. When Jesus knew His time on earth was nearing an end, He promised His disciples the Holy Spirit, who would be the ever-present Counselor. The Holy Spirit would protect, guide, and encourage the body of Christ. As a Shepherd protects his flock from the ravaging wolves, the Holy Spirit protects the body of Christ. When church leadership establishes strong boundaries and ample nourishment, the church rests in a place where people feel secure.
The third aspect of peace is harmony. Beautiful music is the combination of diverse sounds and tones that exchange from dissonance to resolve. To follow the metaphor of music, disagreement is the dissonance and reconciliation is the resolve. God gave the body of Christ a mandate to be ministers of reconciliation, first being reconciled to God, then fostering reconciliation between men.
The apostle Paul offers insight to the kingdom of God and the application of Jesus' words regarding peace, "I do not give to you as the world gives" (John 14:27); "For though we live in the world, we do not wage war as the world does. The weapons we fight with are not the weapons of the world. On the contrary, they have divine power to demolish strongholds. ... We take captive every thought to make it obedient to Christ" (2 Corinthians 10:3-5).
The weapons that possess divine power include repentance, reconciliation, grace, mercy, forgiveness, prayer — all of which are active components to build spiritual peace. If believers put into practice these spiritual principles, "the peace of God, which transcends all understanding, will guard your hearts and your minds in Christ Jesus" (Philippians 4:7).
The peace of God will protect the heart from emotionally wandering into hurt feelings, destructive abuse of anger, a "bitter root that grows up to cause trouble and defile many" (Hebrews 12:15), and "desires that battle within you" (James 4:1). The peace of God will guard thoughts and keep us from self-deception and distorted thinking that will increase doubt and anxiety.
The peace of God promised by Jesus comes by taking every thought captive, thinking about things that are true, noble, right, pure, lovely, admirable, and excellent or praiseworthy. "And the God of peace will be with you" (Philippians 4:9).
Jesus, the Prince of Peace, has paid the price for peace both within the heart of the individual and the living body of Christ, the Church. By receiving the peace that Jesus gives as a gift and by learning and developing the skills of peacemaking, the results will be a peace-full church.
Terry W. Petty, former senior pastor, Cornerstone Assembly of God, Idaho Falls, Idaho.
This article is excerpted from his book The Peace-Full Church.