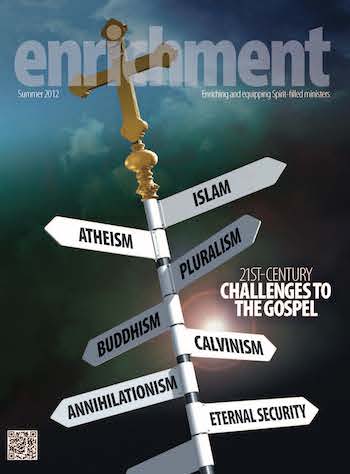 Downloads:
SIDEBAR: Essential Scriptural Integrity
by Randy Hurst
---
For many years Assemblies of God World Missions has partnered in ministry with Wycliffe Bible Translators. Presently, 35 Assemblies of God missionaries work with Wycliffe. In the last year, for the first time, AGWM leadership has questioned the propriety of this long-held partnership. A major factor in this issue is how Wycliffe translates the Scriptures for Muslim readers.
Because of Islamic beliefs concerning the Trinity and Jesus as the Son of God, some translations designed for Muslim readers remove familial terms, such as Father, Son, Son of God, Son of the Living God, and Son of Man from the text. In their place, they use alternative terms, such as, "Beloved of God," a familiar Arabic Muslim characterization often used when referring to Muhammad.
Wycliffe addresses its translation standards on its ministry website: "In certain circumstances, specifically where it has been demonstrated that a literal translation of 'Son of God' would communicate wrong meaning, an alternative form with equivalent meaning may be used." The problem arises in what Wycliffe means by communicating "wrong meaning" and "equivalent meaning."
Dr. Greg Mundis, AGWM executive director, says, "Our Fellowship is deeply committed to the integrity of Scripture. I believe we have done due diligence in researching, reflecting, and searching both the Scriptures and our hearts. This places us in a position in which we cannot agree with Wycliffe/SIL's stated and publicized position."
Since our public statement in the March 4, 2012 issue of the Pentecostal Evangel, we are gratified by recent expressions from Wycliffe, assuring us that they are seeking God's guidance and re-evaluating their methodology in Bible translation.
With more than 4 billion spiritually lost people in the world, the divinity of Jesus Christ and His relationship with the Father are essential to the message we proclaim.
Randy Hurst
AGWM communications director
Springfield, Missouri