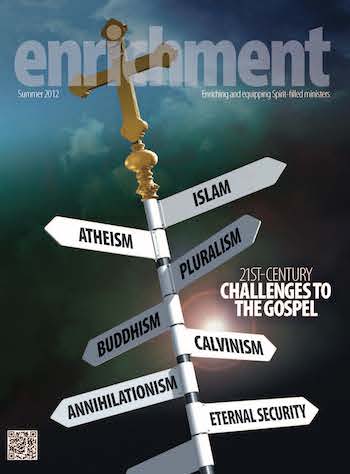 Downloads:
Lessons From the Penn State Scandal
by Richard R. Hammar
---
The allegations of child molestation by former Penn State assistant football coach Jerry Sandusky stunned the nation last Fall. Sandusky was employed by Penn State for 23 years as the defensive coordinator of its Division I collegiate football program. While coaching, he started "The Second Mile," a charity he established to "help children who need additional support and would benefit from positive human interaction." Through The Second Mile, Sandusky had access to hundreds of boys, many of whom were vulnerable due to their social situations. It was within The Second Mile program that he found his victims, although several of them claimed Sandusky molested them in Penn State locker rooms where Sandusky retained unrestricted access.
A grand jury investigated allegations of child molestation by Sandusky involving 10 minor boys over a period of years, both while he was a football coach at Penn State and after he retired from coaching. This led to the grand jury bringing 52 criminal charges against Sandusky, including several counts of involuntary deviate sexual intercourse carrying a penalty of up to 20 years in prison on each count.
Victims will probably file additional criminal charges against various Penn State officials for failure to report Sandusky's abuse of children. Within days of the scandal coming to light, one victim filed the first of what likely will be several civil lawsuits against Penn State and The Second Mile in the court of common pleas for Philadelphia County, Pennsylvania.
The Penn State scandal has opened old wounds in the lives of many victims of child abuse, and has prompted many to disclose their abuse — often for the first time after many years of silence — in an attempt to seek justice and in some cases compensation for emotional suffering. Church and parachurch leaders need to be prepared to respond to claims of abuse dating back years or even decades.
The Penn State scandal contains several lessons of direct relevance to church leaders. I address several in this article.
1. Recognize "grooming" behavior
For many years, experts in the field of child-abuse prevention have recognized that pedophiles (persons with a sexual preference for prepubescent minors) often use "grooming" techniques to attract and retain victims. The grand jury report reveals numerous examples of grooming by Sandusky.
Church leaders need to be aware of the potential risks associated with such behaviors, and take steps to stop them. Note, in particular, the following kinds of high-risk behaviors:
Unrelated adults providing gifts to minors.
An unrelated adult takes a child or adolescent on an overnight trip.
An unrelated adult takes a child or adolescent camping.
A child or adolescent spends the night in an unrelated adult's home.
A child or adolescent is transported to or from church by an unrelated adult.
An unrelated adult takes a child or adolescent to sporting events.
An unrelated adult enters into a "mentoring" relationship with a child or adolescent outside the context of a recognized program — such as Big Brothers or Big sisters — that conducts extensive screening.
A child or adolescent has a meal with an unrelated adult at a restaurant.
An unrelated adult takes a child or adolescent shopping.
An adult communicates with a child or adolescent via a cell phone or the Internet, including e-mails or social media. Sandusky called some of his victims dozens of times. He called one victim 118 times over the span of a few months.
Such behaviors do not establish that an adult is a pedophile. Many well-meaning adults engage in these behaviors without any thought of sexual gratification. But it is difficult, if not impossible, for church leaders to ascertain the true motivation of the adult. For this reason, church leaders need to stop these kinds of activities, and any others involving unsupervised associations between an adult and a minor —especially those that are in the course of church activities or programs. Even when these activities occur away from church premises and are not in the course of church activities, church leaders need to discourage them, not only to protect against illicit sexual activity, but also to protect well-intentioned adults from false accusations of child abuse.
2. Abuse disguised as "horseplay"
The grand jury report reveals that Sandusky frequently disguised his attempts at sexual contact with minor boys as "horseplay." This is a common technique among pedophiles, especially in the case of younger victims who are more easily confused and deceived. The horseplay itself creates opportunities for sexually gratifying superficial contact, and often leads progressively to more intensive contact until the pedophile encounters resistance.
The grand jury report is replete with references to Sandusky "horsing around" with minor boys in showers in isolated or vacant locker rooms at Penn State. In many cases, the horseplay included wrestling, which also allowed Sandusky to be sexually gratified. To illustrate, the report cites the numerous examples of Sandusky's sexual molestation of one of the victims, and notes that he "never asked to do these things but would simply see what the victim would permit him to do."
3. The duty to report child abuse — what is reportable abuse?
All 50 states have enacted child-abuse reporting statutes in an effort to protect abused children and prevent future abuse. Most statutes define child abuse to include physical abuse, emotional abuse, neglect, and sexual molestation. A child ordinarily is defined as any person under the age of 18 years.
Some states specifically limit the definition of "child abuse" to abuse inflicted by a parent, caretaker, or custodian. Such a statute, if interpreted narrowly, might not require ministers and lay church workers — who are mandatory reporters of child abuse under state law — to report incidents of abuse inflicted by custodians, associate ministers, adolescents, or volunteer youth workers. It is important for church leaders to be familiar with the definition of reportable child abuse under their state's reporting law.
4. The duty to report child abuse — mandatory reporters
All 50 states enumerate categories of persons who are under a legal duty to report child abuse to designated civil authorities. In most states, such "mandatory reporters" must report both actual and reasonably suspected cases of child abuse. Failure to do so is a crime (usually a misdemeanor). The grand jury report concluded that certain Penn State employees were mandatory child-abuse reporters, and that they failed to comply with their reporting obligation.
Church leaders need to be familiar with the definition of "mandatory reporter" under their state's child-abuse reporting law for two compelling reasons. First, mandatory reporters have a legal obligation to report known or reasonably suspected incidents of child abuse to designated civil authorities, and may be subject to criminal penalties (generally a misdemeanor) for not doing so. Second, in some states, mandatory reporters are subject to civil liability for failing to report. Both criminal and civil liability for both the perpetrators of abuse, and their employer, are discussed more fully below.
5. The duty to report child abuse — report to whom?
Some Penn State employees, including head football coach Joe Paterno, claimed they reported Sandusky's abusive behavior to other university officials. University employees were clearly confused about their reporting obligations, and did not know to whom to report.
Church employees, like the Penn State officials, often do not know how to report abuse. Many believe they can discharge their duty to report child abuse by informing the senior pastor. In most states, while staff members are free to inform the pastor of known or suspected incidents of child abuse, this does not relieve them from personal liability for failing to report to civil authorities. A few states have adopted statutes allowing churches to designate a person to receive reports of child abuse from staff members, but most state child-abuse reporting laws do not contain such a provision, meaning that staff members who are mandatory reporters cannot satisfy their obligation to report known or suspected incidents of abuse to the senior pastor or some other church leader. This demonstrates the importance of church staff being familiar with their reporting requirements under state law.
6. Criminal liability for failing to report
Penn State officials who failed to comply with the child-abuse reporting requirement under state law are subject to criminal penalties. Pennsylvania law specifies that "a person or official required to report a case of suspected child abuse or to make a referral to the appropriate authorities who willfully fails to do so commits a misdemeanor of the third degree for the first violation and a misdemeanor of the second degree for a second or subsequent violation."
While persons who are legally required to report child abuse are subject to criminal prosecution for failure to do so, instances of actual criminal prosecution are rare. States have prosecuted some clergy, however, for failing to file a report when they were in a mandatory reporting classification, and they had reasonable cause to believe that abuse had occurred. Criminal penalties for failing to file a report vary, but they typically involve a misdemeanor classification that may involve a short prison sentence or small fine.
7. Civil liability for perpetrators of child abuse
The first civil lawsuit to be filed against Penn State as a result of Sandusky's acts of molestation also names Sandusky as a defendant. He faces multiple civil claims including, but not limited to, assault and battery, intentional infliction of emotional distress, and false imprisonment. One additional basis of civil liability should be noted. In some states, mandatory child-abuse reporters are subject to civil liability for failing to report abuse. This means that a victim of child abuse may be able to sue a mandatory reporter who was aware of the abuse but failed to report it.
8. Civil liability of employers for employees' failure to report child abuse
Penn State has been named in the first of what will likely be several civil lawsuits seeking damages for Sandusky's acts. One of the theories of liability may be based on its failure to comply with the child-abuse reporting obligations.
Child-abuse victims have sued a few churches as a result of a pastor's failure to report child abuse. The courts have generally rejected this basis of liability.
9. Civil liability for employers based on negligent hiring, retention, and supervision
Penn State and The Second Mile have been named in the first of what will doubtless be several civil lawsuits brought by Sandusky's victims. Both organizations are exposed to potentially sizable civil damage awards based on a number of theories, including negligent retention and negligent supervision. Negligent retention means that an employer retained an employee after receiving credible information that the employee presented a risk of harm to others. Lawyers will argue that a number of persons informed Penn State that Sandusky posed a risk of harm to young boys, but it failed to take appropriate steps to monitor him and limit his activities and access. Negligent supervision means that an employer failed to adequately supervise a staff member who the employer knows, or should know, is a risk of harm to others. People frequently assert both theories of liability against churches.
10. Two-adult rule
Sandusky was repeatedly alone with young boys in Penn State locker rooms and other facilities, with no other adults present. He used this isolation and lack of supervision to isolate and molest his victims.
Like Penn State, churches face the risk of child molestation whenever they allow an adult to be alone with a child on church premises or during an off-campus church activity. Churches can substantially reduce this risk by adopting a "two-adult" policy. Such a policy simply says that no minor is ever allowed to be alone with an adult during any church activity. This rule reduces the risk of child molestation, and also reduces the risk of false accusations of molestation.
11. Insurance for intentional acts
General liability insurance policies usually include a number of exclusions. An exclusion is a basis of liability for which no coverage is available under the policy. A common exclusion is intentional or criminal acts. If the Penn State insurance policy contains such an exclusion, then Sandusky will be responsible for retaining and paying his own attorney.
This issue is relevant to church leaders, since such an exclusion in a church insurance policy may expose the church to a potentially significant uninsured and unbudgeted liability. Church leaders need to discuss this issue with their church insurance agent to determine what coverage is available to the church in the event of a sexual misconduct claim. If an exclusion bars coverage, find out how you can cover this gap with a special endorsement.
12. Access by former employees
Sandusky's unrestricted access to university property facilitated his molestation of children. Church leaders need to be alert to the risk that they create when they give former employees access to church property. Churches can reduce this risk in several ways, including the following:
Require employees to return keys or any other means of unsupervised access to church property at the time of termination. This should be done in a termination interview.
If access to church premises is by a keypad, change the code periodically.
Continued access to church property by employees or volunteers who are terminated for sexual misconduct presents a continuing and significant risk to churches. Such persons should be informed at the time of termination that they will have no further access to church property. If they are thereafter observed on church premises they should be confronted and asked to leave.
If church premises are locked or otherwise secured, inform staff to be alert to "hitchhikers" who gain access by following an employee into the building.
Conclusion
The public revulsion over the Penn State scandal will tarnish the image and reputation of the university for many years to come. People base this revulsion not only on Sandusky's despicable acts, but also on the willful failure by university officials, including the president, to deal responsibly with credible evidence of Sandusky's crimes.
There is an important lesson here for church leaders. Treat every allegation of misconduct by a staff member or volunteer seriously, take immediate steps to protect the congregation from being victimized, and in the case of child abuse, make a report to civil authorities immediately.