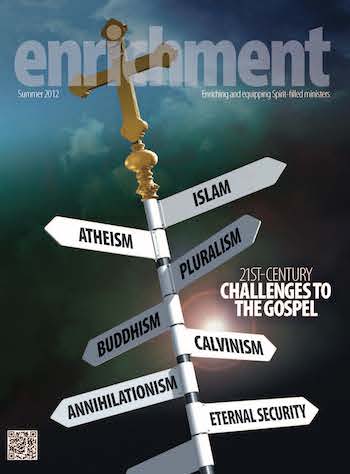 Downloads:
In Closing
A Spring Break to Remember
---
My wife and I took our youngest son, a high school junior, to Florida for his spring break this past March, along with two of his best friends. In spite of a little sunburn, we all celebrated a memorable week of fun in the sun. My spring breaks as a high school and college student were also memorable — but not in the same way. They were the typical self-absorbed, narcissistic trips that non-Christian youths take to southern beaches and points elsewhere.
My most memorable spring break came after I came to Christ in 1979. Soon after, I enrolled in Central Bible College to prepare for ministry. Each spring the college launched outreach teams across the U.S and abroad. I was privileged to lead a team of 20 ingenuous students to the University of Wisconsin in Madison. Most members of the team lived their faith in secret and identified as life-long, orthodox Christians. The University of Wisconsin was widely recognized as a place that tolerated immoral behavior by its students, but not Christian thought and ideals. The university had rightfully earned the moniker: Berkley of the Midwest. Because I earned my first undergraduate degree on a similar campus in Michigan, I felt qualified to lead the team — or so I thought.
Team preparation consisted of training and prayer that included cursory studies in comparative religions, cults, apologetics, personal evangelism, and philosophy — all the necessary tools of the trade for spiritual warfare — before being thrown to a pride of hungry, leftist, liberal lions. I was confident of the team's readiness to invade this heathen campus with the life-changing message of Jesus; the team's foolhardy bravado did not suggest otherwise. Unbeknown to us, the narrative that would emerge from this week of ministry would completely reorder our lives — the scandalous human heart raised its ugly head and smacked us on the face.
Our well-conceived and orchestrated strategy consisted of boldly proclaiming the Word of God from an elevated podium in the heart of the campus, to strategically placing book tables in the Student Union, to performing sidewalk dramas and music, to classroom discussion and debate, to personal evangelism and tract distribution. To conclude the week, we planned a Friday night celebration concert in anticipation of the scores of people who would come to Christ. If there is a foundational missions strategy to reaching a university campus, surely this was it.
Equipped, empowered, and encouraged, the team invested serious time and energy working the campus. However, the events of the week sullied the team's expectations and tarnished its anticipation of what hoped to be a grand celebration of new Kingdom converts. Instead of a fruitful harvest, daily university students cast aspersions and heaped maledictions upon the team. We were served a platter of persuasive arguments and stinging assaults, all denying God's existence or loving nature. Rock-filled snowballs hurled past us as we boldly proclaimed the gospel from the campus podium. The amount and depth of hostility we encountered weakened our resolve and drove us to complete despair.
Following the Friday night concert, attended only by team members and a few meek Christians from campus, a Christian professor from the university spoke to us. His encouraging words about planting spiritual seed for a future harvest did little to rouse our spirits. Our colossal failure dissipated our confidence in the gospel's power to change lives. We choked. We hit a brick wall — or had we?
The testimonies that emerged in the months and years following this trip tell a surprisingly different narrative. They tell of a God who launched individuals out of their spiritual complacency, broke their hearts for the lost, and gave them a fresh vision to reach their world for Christ. They tell of students driven to their knees in prayer and later called to the mission field. Hardly a wasted week of ministry, to be sure.
The reality of the world we experienced that week, over 30 years ago, is the hyper-reality of the world we know today. With the rise of new atheism books, increasing hostility to Christianity, and other powerful new cultural currents running counter to our Judeo-Christian tradition, our nation's moral and religious conscience is quickly eroding. As Christian leaders and pastors we must be on our guard to confront this seductive secularism and other challenges to the gospel. We must ready our students, our church members, and ourselves with a sharp sword to defend against those who desire to delegitimize the gospel message. That is your call; that is our mission.