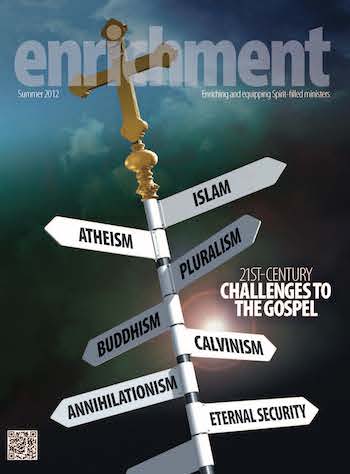 Downloads:
How Will They Hear?
The Challenge of Nonevangelism
by Randy Hurst
---
The airline had lost my luggage on a flight to London. When I checked in for my flight back to the United States, the airline station manager apologized and upgraded me to first class.
The flight attendant serving me was kind. From our conversation, she learned I was a minister. During the course of our conversation, the Holy Spirit impressed a thought upon my heart concerning a specific issue in her life. Finally, I said, "I have to tell you something. I've never flown first class from London to Dallas. But I believe God arranged this, not so I could have a nice ride home. He put me here for you. You just went through a divorce, didn't you?"
As she nodded her head, I continued. "Before you were born God had a plan for your life, but it isn't happening. And it can't happen until you receive His forgiveness and surrender your life to Christ." I asked, "Can I pray with you to receive Jesus Christ as your Savior?"
"Yes," she replied, "because I have something to tell you. I have never flown first class from London to Dallas either. Another flight attendant called in sick. On my way out the door of my apartment, I did something I had not done for many years — I prayed. I said, 'God, You know my life is a mess, and You have got to show me on this trip what to do.' "
After I prayed with her to receive Christ, her face beamed with joy.
A couple of years later I received a phone call. The woman said, "You don't know me. My pastor gave me your number. I am a flight attendant. This week I met another flight attendant, and we discovered we were both Christians. When we shared our testimonies, she told me that she accepted Jesus on a flight from London to Dallas and mentioned your name. I told her that you had preached in my church. She asked me to contact you and tell you she is still serving Jesus and attends church faithfully."
In every witnessing encounter I have experienced where an unbeliever received Christ, I have discovered that God had already prepared the person's heart for the message.
The Bible clearly teaches that personal witnessing is not just for the few who are especially gifted to be evangelists (Ephesians 4:11). It is the responsibility of every follower of Christ. Philip is the only individual named as an evangelist in the New Testament. In Acts 8, God used him to bring the Ethiopian eunuch to faith, providing an example of what an evangelist does. In modern culture, most people think of evangelists as those who preach to large crowds in athletic stadiums or on television. But Philip's example is a one-on-one personal evangelism encounter.
It is a reasonable goal for people to share their faith with a few people a year. But, if it's reasonable, why don't more Christians do it? This article explains why people neglect personal evangelism, outlines a biblical theology of evangelism, and offers two best practices based on that theology that can help engage more believers in personal evangelism.
Why People Don't Witness
When I was in seminary, a professor shared the results of an extensive study of evangelical churches. It revealed that almost all personal evangelism is done by less than 10 percent of any given congregation.
Why don't most believers share their faith with nonbelievers? Following are four significant reasons.
Apathy or indifference
The study to which the professor referred also showed that of the 10 percent in congregations who share their faith, the vast majority have been Christians less than a year. Church leaders must address two significant aspects of personal evangelism: education and motivation. For most people, I believe motivation is the far greater challenge.
Lack of confidence
While many think the most common reason people do not share the gospel is apathy, I believe for most people the bigger issue is a lack of confidence. Most followers of Christ want to be effective witnesses. But many believers feel inadequate, intimidated, or even fearful about sharing their faith in Christ, especially with someone who does not have a Christian background.
Pluralism and a climate of tolerance
Religious tolerance is considered a virtue in popular culture. Some major religions, such as Buddhism and Hinduism, are naturally pluralistic. The increasingly popular worldview is that no one religion is the sole or exclusive source of truth (if truth even exists) and some truth and value exist in every religion. Many Christians now feel that direct evangelism is disrespectful of others' beliefs.
Wrong beliefs
Many people do not understand the necessity of evangelism because of false assumptions about the human spiritual condition and the way of salvation. Secular culture tries to explain away man's sin. They attribute immorality and violence to poverty, social injustice, and even genetics.
Prevailing thought — including that of an increasing number of evangelical Christians — accepts that God will judge unredeemed humanity and then, like animals, annihilate them. Even from the time of the Early Church many have wishfully speculated that all people will eventually, somehow, reach heaven. Much of contemporary culture promotes the idea that anything a person believes can be a pathway to eternal life and ultimate peace.
Addressing wrong beliefs with biblical truth will largely resolve the problems of indifference, lack of confidence, and the issues of pluralism and tolerance.
Biblical Truth Concerning Evangelism
The human spiritual condition and the way of salvation
Three facts are inescapable: the lostness of humanity, the certainty of eternity, and the exclusiveness of Jesus Christ.
Humanity is lost
God's Word clearly shows that all mankind is lost, since "all have sinned and fall short of the glory of God" (Romans 3:231).
In one of Asia's modern cities, in the midst of gleaming skyscrapers, I visited a heathen temple. Thousands of onlookers stood in an outer courtyard. Unintentionally, in the press of the moving crowd, I found myself several feet away from a priest who was chanting as worshippers submitted to a demonic trance. Rows of steel hooks pierced the flesh of their backs, yet not a drop of blood flowed. Each hook was connected to a chain that stretched back to a cart of rocks. The worshippers pulled the cart through the streets in an attempt to obtain forgiveness, healing, or prosperity. Each torturous yoke bore silent, graphic witness of the antithesis to God's grace. As disturbing as these images are, it is important to remember that even those who claim to be Christians but do not personally know Christ are as lost as any who fit the stereotype of "heathens."
Eternity is certain
While all created beings have a beginning, God's Word indicates that once human life begins, existence never ends. Jesus taught: " 'Then He will also say to those on his left, "Depart from Me, accursed ones, into the eternal fire." … These will go away to eternal punishment, but the righteous to eternal life' " (Matthew 25:41,46, emphasis mine). Each person will face a final lasting judgment. Whatever a person's destiny, it is eternal.
Jesus Christ is the only way of salvation
The Bible teaches that only one way exists to peace with God and everlasting life. Jesus said, " 'I am the way, and the truth, and the life; no one comes to the Father except through Me' " (John 14:6). He is both the door and the way. Peter said, " 'There is salvation in no one else; for there is no other name under heaven that has been given among men by which we must be saved' " (Acts 4:12).
The nature of evangelism
The power of the gospel
The apostle Paul wrote, "I am under obligation both to Greeks and to barbarians, both to the wise and to the foolish. So, for my part, I am eager to preach the gospel to you also who are in Rome. For I am not ashamed of the gospel, for it is the power of God for salvation to everyone who believes, to the Jew first and also to the Greek" (Romans 1:14–16, emphasis mine). The primary power in evangelism is not in the messenger, but in the message.
Having established that the power for salvation is the gospel, Paul presents a compelling argument for the urgency of its proclamation: "Everyone who calls on the name of the Lord will be saved. How, then, can they call on the one they have not believed in? And how can they believe in the one of whom they have not heard? And how can they hear without someone preaching to them? And how can anyone preach unless they are sent?" (Romans 10:13–15). After announcing God's gracious offer in Christ, Paul asks provocative, rhetorical questions in a logical sequence, with each additional question building on the key verb from the preceding question. The conclusion is clear: The gospel must be proclaimed.
When Paul taught concerning his proclamation of the gospel, he clearly revealed that our message is more than words. It also includes actions.
Paul wrote to the believers at Thessalonica: "Our gospel did not come to you in word only, but also in power and in the Holy Spirit and with full conviction; just as you know what kind of men we proved to be among you for your sake" (1 Thessalonians 1:5, emphasis mine).
Paul's witness was not merely what he said ("in word"), but also how he said it ("in power and in the Holy Spirit and with full conviction"), and who he was ("you know what kind of men we proved to be among you for your sake").
What we say. The gospel is a message we must convey in words. The study of evangelism in the New Testament shows conclusively that the focus of our message should be Jesus. In the Early Church, the believers' message always focused on the person Jesus Christ. As the early Christians boldly and clearly proclaimed Jesus, great numbers believed.
How we say it.Our emotions, attitudes, and actions are as much a part of our message as our words. In his letter to the Colossians, Paul said, "Conduct yourselves with wisdom toward outsiders, making the most of the opportunity. Let your speech always be with grace, as though seasoned with salt, so that you will know how you should respond to each person" (Colossians 4:5,6, emphasis mine).
The apostle Peter wrote, "Always be prepared to give an answer to everyone who asks you to give the reason for the hope that you have. But do this with gentleness and respect, keeping a clear conscience, so that those who speak maliciously against your good behavior in Christ may be ashamed of their slander" (1 Peter 3:15,16, emphasis mine).
Both Paul and Peter emphasize a witness that includes more than words. Paul says our speech should "always be with grace." Peter says we should speak "with gentleness and respect."
Who we are.If our manner and actions are inconsistent with our words, they will greatly hinder the content of our message. With many people, especially those we know personally, our individual testimony of the difference Christ has made in our lives, and its consistent proof through our actions, will be what compels them most.
In a society where people are rapidly losing faith in the integrity of leaders in government and the business world, the personal credibility of Christians is not merely an added blessing in witness, it is an essential requirement.
The empowerment of the Spirit
Paul told the Thessalonians that effective proclamation of the gospel occurred "in power and in the Holy Spirit."
The word translated "power" in Acts 1:8 (dunamis) is wonderfully comprehensive. It simply means "ability" and applies to whatever we need in personal evangelism.
The Holy Spirit enables us in all three of the components of our message: what we say, how we say it, and who we are. The Holy Spirit empowers our witness in what we say and in how we speak — with sincere, compelling passion. He also enables us to become what God has called us to be. As we allow the fruit of the Spirit — the nature of Jesus Christ — to shape our lives, Christ becomes evident to those around us.
Comprehending the eternal consequences of spiritual lostness and the exclusiveness of Christ confronts our apathy and indifference and addresses the issues of pluralism and tolerance. Understanding the power of the gospel and the nature of the Spirit's empowerment of the messenger helps believers' confidence in personal witness.
Best Practices in Personal Evangelism
We can study a wide variety of practices of those who are active and effective in personal evangelism. But what are the best practices to engage those who are not active? Two practices evident in the teachings of the apostles Paul and Peter are most effective in helping believers begin to engage in personal evangelism.
Entering into God's work in evangelism
In his first letter to the Corinthians, Paul describes sharing the gospel in terms of planting and watering seed: "I planted, Apollos watered, but God was causing the growth" (1 Corinthians 3:6). In this statement, Paul clearly distinguished God's work in the spiritual harvest from that of His human servants. The verb tenses Paul uses here are different. When Paul and Apollos planted and watered the seed (the message), the Greek verb tenses indicate that for a period of time Paul planted the seed. For another period of time Apollos watered it. But when Paul describes God's activity in this process, the verb clearly reveals that God did not just work after the seed was planted and watered, but all along "God was causing the growth" (emphasis mine).
People in our churches need to understand the difference between God's part in evangelism and ours. Evangelism is, in some respects, a persuasion process. In his second letter to the Corinthians, Paul wrote, "Knowing the fear of the Lord, we persuade men" (2 Corinthians 5:11). But evangelism is different from normal human persuasion. Paul also wrote, "My message and my preaching were not in persuasive words of wisdom, but in demonstration of the Spirit and of power" (1 Corinthians 2:4, emphasis mine). Though Paul certainly had persuasive ability, he understood that earthly wisdom and human persuasion were inadequate to reach people with the gospel.
Most followers of Christ truly want to be effective witnesses. But many followers feel inadequate, intimidated, or even fearful about sharing their faith in Christ. A significant reason for this is the misconception that we are responsible as believers to persuade nonbelievers to become Christians. While we are responsible to do our part — share the gospel — only God can open a person's heart to decision (Acts 16:14).
Although God has chosen to involve us in the evangelism process, our part is possible only because the Holy Spirit is already working in people — even before we share the message. Witnessing is not merely a task of human persuasion. Evangelism is God's work, a work in which we are privileged to partner with the Holy Spirit to reach the spiritually lost.
Response evangelism
Witnessing is not just one-way communication. Again, Paul said, "Let your speech always be with grace, as though seasoned with salt, so that you will know how you should respond to each person"(Colossians 4:6); and Peter: "Always be prepared to give an answer to everyone who asks you to give the reason for the hope that you have"(1 Peter 3:15).
Both Paul and Peter, who were influential in the early expansion of Christianity and known for their powerful preaching, taught that communication with nonbelievers involves response on our part — not just proclamation. Response evangelism acknowledges God's sovereignty and depends on His activity. This allows us to fulfill our role in the evangelism process — responding to people while depending on the Holy Spirit's help.
In every witnessing encounter I have experienced where a nonbeliever received Christ, I found that God had already prepared the person's heart to receive the message. When we understand God's work in evangelism, it enables us to be bold — depending on His persuasive work. We can also be patient — trusting His timing rather than trying to push people to a premature decision. This frees us from anxiety and allows us to be neither hesitant nor hasty as we relate to people.
In a responsive conversation with a nonbeliever, we cannot always share what we might consider to be a complete presentation of the gospel. But few people make a decision for Christ because of a single encounter. We are "planting" and "watering" the message. God is causing the growth. The Holy Spirit brings people to a decision.
Conclusion
What could happen if the majority of believers learned from God's Word that their responsibility is not to persuade nonbelievers to become Christians but to "plant" and "water" the message of Jesus wherever God opens doors of opportunity?
American poet and abolitionist John Greenleaf Whittier wrote, "Of all sad words of tongue or pen, the saddest are these: 'It might have been!' " No greater tragedy exists than spiritually lost people not hearing the gospel because followers of Christ neglected to share the message.
RANDY HURST, director of communications, Assemblies of God World Missions, Springfield, Missouri