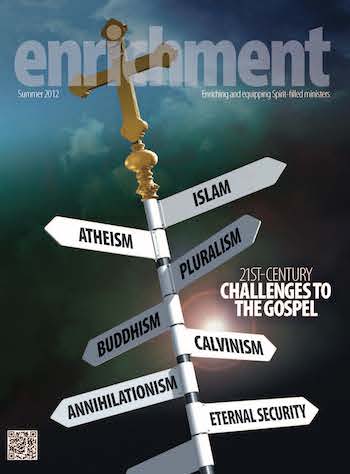 Downloads:
Five Ways to Build a Professional Ministry Network
(Without Losing Your Soul)
by Justin Lathrop
---
This new column is about professional networking in ministry. While many have documented and discussed this subject in business circles, some ideas, characteristics, and practices might benefit our work as vocational ministers. I look at professional networking for friendship, for ministry in a church, and for professional enrichment.
Social networking existed before we knew how to send a tweet, make an update to our Facebook status, or consider that +1 might suggest something other than a mathematical function. Nothing can replace the God-given desire to connect with others.
Professional networks exist in every enterprise and industry, including ministry. We expect leaders, managers, and executives to interact with peers from other organizations. This is a way to grow into positions of influence. In these networks we learn, grow, and discover more about ourselves.
Pastors Need Community
We can identify people in our past (or maybe our present) who have poured into us the wisdom of being in professional ministry. These individuals guide us through difficult situations and advise us on complex decisions. Sometimes we receive the benefit of this wisdom; at other times we are in a position to invest in others.
Connecting with others is more than a technique to propel you toward some ministry position or goal. Networking provides opportunities to make the world a little smaller. It is not enough that we have networks within the church in which we serve and in the communities in which we live. Without a professional ministry network:
We isolate ourselves by removing people from our lives who understand the unique challenges we face.
We restrict our impact by closing the door to new relationships with those who can invest in us and in whom we can invest.
We limit our growth by refusing to expose ourselves to people and ideas different from those that seem familiar.
With a professional ministry network:
Those who recognize that our potential is sometimes greater than we might have first thought challenge us.
We become instruments of change by connecting people and opportunities.
Others remind us that our ideas, approaches, and experiences are not the same, so we must make room to see and hear things in new ways.
While our unique personalities define our social disposition, those for whom vocational ministry is our calling are not afforded the luxury of living separated from our peers in the landscape we call church ministry. At some point, we will need to hear a different perspective on a difficult situation, expand our ministry staff, or even find a new place to serve. Our professional ministry networks facilitate these transitions. Our congregations are not the only ones for whom the call to live in community and do life together exists.
Why Networking in Ministry Matters
When I turn a conversation toward professional ministry networking, I often hear that it is mercenary and self-centered. The body of Christ is much larger than our individual church community; therefore our focus needs to be on collective action not local competition among church leaders.
I often encounter those who say that professional ministry networking is a disguised effort to get to a bigger church. This breaks down particularly in difficult and rampant conflict within a body of believers. In whom can leaders confide? Who will give informed advice that speaks from experience rather than speculation? How can we maintain our resolve in the midst of a power struggle? These questions force us to look outside ourselves and our own contexts for help, advice, and insight from pastors we have come to trust. When our networks are working as they should, the feeling of isolation becomes manageable.
Many pastors point to limited time as a way to debunk the need to spend time with anyone outside the church community they serve. We have time, money, and energy to do, buy, and accomplish what we want to.
The benefits of a professional ministry network far outweigh the costs. Given our human desire (and sometimes lust) for power, position, and prestige, the objections listed above are not entirely unfounded. However, if our motives and intentions are pure, building a professional ministry network will yield connectedness and community that become a source of strength, encouragement, and satisfaction.
How to Build a Professional Ministry Network
Here are five things we can do to help better network among other pastors:
1. Learn more than you teach. The best leaders learn from others. Forgetting we have much to learn is a dangerous place for leaders to find themselves. Jesus taught the importance of leadership through service. Sometimes we need to stop talking and teaching and sit under the authority of others.
2. Listen more than you talk.Effective pastors value active listening. There is no better crucible for this than marriage. We need to let the discipline of carefully listening to the requests and ideas of the other person dominate family communication. Before we start offering our advice, insight, or solutions, we would do well to listen and clarify if what we heard is consistent with what the other person has said.
3. Add more than you take. The people God has connected you with are for sharing, cultivating, and developing, not hoarding, exploiting, or abusing. A healthy relationship includes give and take from both parties. Be careful not to earn the reputation of being the pastor who only connects with other pastors for selfish reasons.
4. Care more than you are cared for. Inspirational pastors care for others beyond what others expect of you. Make a phone call, write a note, schedule time for personal conversation, or share a meal. Give your time and attention to others.
5. Connect more than you meet. Connecting with others is more than a technique to propel you toward your next big ministry. Networking is a chance to make the world a little smaller. It is gratifying to connect two people with similar interests who did not previously know each other and watch that relationship grow. The more you do this, the more valuable you become to more people.
But what is the fruit that comes from building a professional network in ministry?
Consider these:
Unmatched joy of living in community with peers.
Unexpected surprises hidden within new friends, new perspectives, and new experiences.
Unlimited opportunity to increase, expand, and multiply your impact.
One Pitfall Pastors Must Avoid
Those who desire selfless connections must guard their hearts against money. People often choose to compromise themselves when they need money; pastors are not immune. This is part of human nature and a dimension the enemy has used to disqualify many from positions of ministry leadership. Do not wait to build your ministry network until you are in need of intervention. In the process of saving souls we must be careful not to lose our own.
Professional networking is not just something I do; it is how God has wired me. I can look back and see — even from a young age — that God was teaching me the impact we can have on each other and how small the world really is. The reality is that too many pastors forego the personal enrichment benefits that come along with building a professional ministry network.
Assess the value of your ministry network. Are you building relationships with other ministers? Are you connecting people you have met to match a need with an opportunity? Do people identify you as someone who is connected? If not, you are missing out on a side of your professional life that can greatly enhance and encourage you in your ministry.
My next article will unpack 10 steps you can take to become better at networking. When you enrich other pastors and make that the focus of your ministry, it will change your life and the lives of everyone involved.