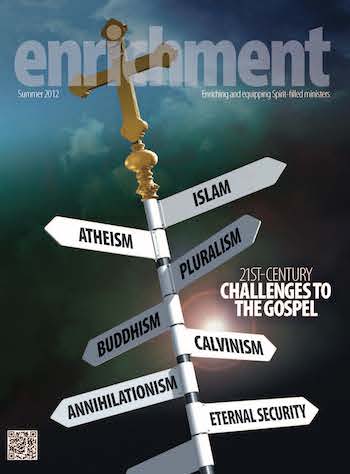 Downloads:
Are You an Empowered, Empowering Leader?
by Shane M Sokoll
---
Serving under Hermano Alfredo, the primary leader of a church-planting movement in Mexico, transformed my life. I graduated from Bible college at 21; and, through a series of divine circumstances, God opened doors for me to serve the next 6 years on Alfredo's team. A passionate, charismatic leader filled with faith, compassion, and courage, Alfredo exemplifies what William Carey, the father of modern missions, encourages us to do: "Believing great things from God, and attempting great things for God."
I functioned as Alfredo's linguistic interpreter both in Mexico and abroad. During our travels I observed his life and heard stories about his past. Before coming into a relationship with Jesus Christ, Alfredo was timid and insecure, which prohibited him from connecting deeply with others and making friends. He gives glory to God and recognizes it is by the Holy Spirit's empowerment that he is now able to preach to thousands and lead a team of hundreds. The primary principle for effective leadership I learned from Alfredo was empowerment: spend much time with God to receive His power and provide opportunities for as many people as possible to participate as leaders.
Empowerment is a buzzword today in many industries, including the church. The concept is not new. The word power is at the center of the word empowerment. Natural empowerment is the power often referred to in such business publications as Forbes and Fortune, which organizational academic scholar Gary Yukl describes as "shared leadership" between a leader and his or her subordinates. Similarly, John Maxwell explains empowerment as the act of giving your power to another so he or she can serve effectively. John 21 shows Jesus exhibiting this type of empowerment where He restores and encourages Peter to feed and care for His sheep.
Following Yukl and Maxwell's thoughts, we deduce that divine empowerment refers to the type of supernatural power that comes from God and is imparted to people for works of service. Acts 1:8 refers to this empowerment, where Jesus encourages the disciples to wait in Jerusalem until they receive the baptism in the Holy Spirit.
Jesus empowered New Testament leaders in both a natural and divine manner; in turn, these leaders facilitated a similar empowerment to the believers entrusted to their care. Due to this empowerment the first-century Mediterranean society experienced the positive transformation of individuals and communities.
Today, people, families, towns, cities, and nations seek answers to age-old problems and newly presented 21-century dilemmas. Pastors and Christian leaders need empowerment as they attempt to provide relevant solutions for personal, organizational, and societal needs. Are you empowered? Are you empowering others? What effect does your level of empowerment have on those you lead and your surrounding community?
As Christian leaders, let's ask ourselves these questions and seek ways to fill gaps we discover.
How Can We Become More Empowered and Empowering Leaders?
If we have not walked under an empowered, empowering leader it is difficult to know such behaviors ourselves. Much of what we learn, we learn from others. The good news is that as followers of Christ, we have the Scriptures with examples of empowered, empowering leaders. Look at John 21 and Acts 1 and 2 and see what treasures we can find regarding empowerment.
Natural empowerment
Jesus, who is perfect and knows everything — the good, the bad, and the ugly about humanity — still shared His leadership with His followers. In John 21:1, Jesus showed up on the shore of the Tiberias Sea after His resurrection and found a part of His team not following through with their past promises of loyalty and commitment. What did Jesus do? He surprised them with a freshly cooked breakfast and gave them insight about how they could accomplish the task (catching fish) they had been vainly seeking all night (verses 4–13).
An empowering leader believes in the potential of his or her followers, even when they have failed. Meeting those we lead at their lowest point and surprising them with acceptance and continued belief in them is refreshing and motivating.
In an after-breakfast conversation (John 21:15–17), Jesus shared His leadership with Peter. The confusing circumstances of Jesus' death and Peter's lack of follow-through on promises distracted Peter from the career-altering commission Jesus gave him of making disciples. Peter returned to his fishing boat. We see Jesus engaging Peter relationally and reaffirming that He believed Peter can successfully accomplish the work He invited him to do.
In our pastoral roles are we sometimes afraid to invite imperfect people to share in ministerial leadership functions — functions such as preaching. "But, that is what we are paid to do; we could not let others do that." We often believe people need formal Bible training and ministerial credentials before they can do such an important task. "What happens if they say something stupid?" Yes, it often takes more work, investment of time, and trust in God to empower others to participate in importantleadership functions. But the rewards and results of such empowerment are exponentially greater.
As leaders, we need to follow Jesus' example by giving people like Peter opportunities to participate in important ministry activities. Invite professionals who faithfully serve in their secular occupations or young staff members to preach in various settings. See the potential for leadership and invite those to serve in important ways. We can embrace this approach to empowerment because we trust God to grow a congregation. The potential for leading explosive Kingdom expansion is present in believers; empowerment is one key to releasing the potential.
Divine empowerment
Spiritual work requires spiritual empowerment. I propose that a spiritual work is any task or function in which the Holy Spirit participates. A business professional can consecrate his work environment to the Lord and invite the Holy Spirit to interact and utilize Christ followers to demonstrate and speak of a life that involves relationship with Jesus. Likewise, I propose that we have the potential of carrying out — without the Holy Spirit — ministerial tasks that correspond with a church organization, and these tasks simply become natural works. Those of us who been involved with full-time ministerial work for an extended time can attest to this. So, what does this mean? If we work with only our natural, physical abilities, we will achieve natural, physical results. If we want to accomplish supernatural, spiritual worth, we need the Holy Spirit's empowerment.
Acts 1:4,5, attests to this principle. Jesus instructs His disciples: "Do not leave Jerusalem, but wait for the gift my Father promised, which you have heard me speak about. For John baptized with water, but in a few days you will be baptized with the Holy Spirit." In Acts 1:8, Jesus explained, "You will receive power when the Holy Spirit comes on you; and you will be my witnesses in Jerusalem, and in all Judea and Samaria, and to the ends of the earth." Peter, a recipient of Jesus' natural empowerment in John 21, is a recipient of the Holy Spirit's empowerment in Acts 2. Peter and the disciples, according to the Book of Acts, waited in Jerusalem for the promised baptism in the Holy Spirit. Once this Baptism happened, Peter began to function with divine empowerment. In Acts 2:14–41, Peter boldly and articulately preached before thousands. The result was amazing — 3,000 people come into a saving relationship with Jesus Christ (verse 41).
The power of the Holy Spirit emboldening believers from all walks of life to unashamedly testify of Jesus continues to this day. Peter, later in his life, wrote to believers about this power: "His divine power has given us everything we need for life and godliness through our knowledge of him who called us by his own glory and goodness. Through these he has given us his very great and precious promises, so that through them you may participate in the divine nature and escape the corruption in the world caused by evil desires" (2 Peter 1:3,4).
What Level of Impact Can Empowered, Empowering Leaders Have on Their World?
A transformational level of impact awaits those leaders who embrace the concepts of natural and divine empowerment. Simply put — if our Messiah chose to empower people to carry out His eternal work throughout the past 2,000 years, how much more should we seek to practice empowerment? The longer we, as pastors and ministers of the gospel, believe that the important work of the ministry is only done by a select few who are called to vocational ministry, the longer we will minimize the potential for transformational impact that we have within our societies.
The more we demonstrate pursuit of God's presence and invitecommon believers to join us in the pursuit, the closer we will arrive to our potential impact. As we experience the empowerment of the Holy Spirit together, let us be willing to take the risk of inviting many to share in our leadership of important ministerial tasks. Communities of faith that live in an environment of such empowerment reach exponential levels of impact.
Whole-church planting movements are birthed and spread across nations out of an empowering type of environment. May we be challenged, may we be encouraged, and may we pursue empowerment with everything we have. Our nation needs and awaits spiritual leaders who will embrace and demonstrate divine and natural empowerment.
Shane M. Sokoll, MBA, assistant professor of human resource management and director of the human resource management program, Concordia University, Austin, Texas