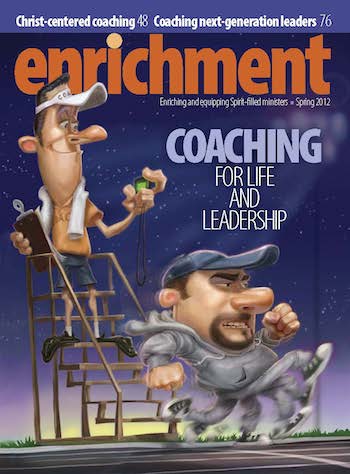 Downloads:
Which Hat Should I Wear?
by Thomas Lindberg
---
Ministers will wear many hats during their years of service. Due to the nature of their calling and work, ministers may within a month be called on to:
meet with a troubled couple and serve as their counselor.
chair a board meeting where thousands of dollars if not millions of dollars may be spent for a large expansion, and where a certain level of financial knowledge is expected.
conduct a funeral and be a human healer to hurting hearts.
officiate at a wedding and become a representative of the state to oversee a proper union.
attend a party (or large gala event) as a goodwill ambassador for the church they serve.
answer a newspaper reporter's questions about a hot-button moral issue in their city, state, or nation, and become an ethicist.
plan with their staff a special Easter event and provide creative leadership.
Et al.
As ministers, we wear many hats. Some hats fit us better than others, but we must wear a variety during our lifetime. Let me ask: What is the most important hat you will wear? The answer to that question will field several answers, but I am persuaded from a long and careful study of the Scriptures that the supreme task of the minister is to preach God's Word. Let's briefly examine the evidence.
God called Moses to be the great emancipator of Israel. But listen to Moses' words in Deuteronomy 5:5: " 'At that time I stood between the Lord and you to declare to you the word of the Lord, because you were afraid of the fire and did not go up the mountain.' " How did the people respond? They released their leader to God and said, " 'Go near and listen to all that the Lord our God says. Then tell us whatever the Lord our God tells you. We will listen and obey' " (Deuteronomy 5:27). Preaching was primary for Moses.
Consider Jeremiah. God told him, " 'Before I formed you in the womb I knew you, before you were born I set you apart; I appointed you as a prophet to the nations.' "
" 'Ah, Sovereign Lord,' I said, 'I do not know how to speak; I am only a child.' "
"But the Lord said to me, 'Do not say, "I am only a child." You must go to everyone I send you to and say whatever I command you. Do not be afraid of them, for I am with you and will rescue you,' declares the Lord."
"Then the Lord reached out his hand and touched my mouth and said to me, 'Now, I have put my words in your mouth' " (Jeremiah 1:5–9). Jeremiah's No. 1 priority from God was to preach.
In the New Testament, Jesus' final challenge to His band of disciples was to, "Go into all the world and preach the good news to all creation" (Mark 16:15). The apostle Paul twice instructed Timothy not to neglect his preaching ministry: "Until I come, devote yourself to the public reading of Scripture, to preaching and to teaching" (1 Timothy 4:13). Also, "Preach the Word; be prepared in season and out of season; correct, rebuke and encourage — with great patience and careful instruction" (2 Timothy 4:2). One must conclude that a call to ministry includes a call to preach.
Sometimes a church member will say of his minister, "He's a very good pastor, but he's a poor preacher." Such a statement is an underhanded compliment at best, although it may be spoken sincerely. To say a Pentecostal minister is a good pastor but a poor preacher is deeply insulting. It's like saying that a surgeon has good bedside manners, but he does not operate very well. Preaching must be a priority for every Pentecostal pastor. He must learn to communicate God's Word with clarity and skill.
But how should we preach? This is the continuing question. The Scottish preacher James Stewart (who was named one of the top 10 most effective preachers in the 20th century) set the target for preaching. He wrote that genuine, Spirit-filled preaching should "quicken the conscience by the holiness of God, feed the mind with the truth of God, purge the imagination by the beauty of God, open the heart to the love of God, and devote (capture) the will to do the purpose of God."1 Any preacher who aims at those five items will hit his mark.
What must be in your heart and mind to be a biblical preacher? In the opening chapters of 1 Corinthians, Paul wrote an autobiography that allows us to look inside his preaching mindset. In these two chapters he reveals at least four essentials every preacher (that includes you) must possess.
A Clear Calling
Paul opens 1 Corinthians by saying he was "called to be an apostle of Jesus Christ by the will of God" (1 Corinthians 1:1). Later, in the same chapter, he acknowledged that, "Christ did not send me to baptize, but to preach the gospel" (verse 17). What's implied by the word send in the latter verse? Included is the compelling thought that God both calls and controls the preacher. Paul sensed a clear calling.
No believer is immune from the attacks of the enemy and the world. It seems, however, the preacher has a bigger and brighter target on his chest at which the devil takes aim. One way a minister can survive and overcome those attacks is to have a clear calling from God. Every seasoned preacher knows at times people will twist and turn their words against them for evil. People watch their actions more closely than others. The slightest misstep can bring unjust slander. The devil delights in stirring up the dog kennels of hell, and then release some of his mutts to hound and howl at the heels of preachers. What's one remedy for victory? Realize you have a clear calling from God.
For over 20 years I have sat on credentialing committees and had the joy of interviewing candidates for ministry. Without exception we have asked each one to describe their call from God to the ministry. Why? Because we want to pry? No. A clear call from the Lord is essential for the person of God.
Preacher, a clear calling will also give you boldness (not meanness). Too many preachers today use the third person pronoun rather than the second person pronoun when making pointed application. For example, instead of saying, "In light of this truth you need to repent," they say, "we need to repent." Saying "you" is not arrogance; it is knowing that you are a God-called spokesman for the Lord to His people. Furthermore, a direct word from the pulpit to the pew can be life changing.
For example, I have the collection of sermons Billy Graham preached in 1969 Madison Square Garden Crusade in New York City. Mr. Graham, a man with a clear calling, was very direct as he preached, especially as he concluded his sermons. As he ended "The Giants You Face," Graham used the words "you" or "your" 34 times in the last 90 seconds of his sermon. Preacher, it's vital that you realize you have a clear calling from God.
A Magnificent Message
"We preach Christ crucified: a stumbling block to Jews and foolishness to Gentiles, but to those whom God has called, … Christ the power of God and the wisdom of God" (1 Corinthians 1:23,24). This is Paul's magnificent message; it must also be the central message of every preacher today. Let us be convinced the best sermons are those that are full of Jesus Christ. A message without Christ is like a well without water, a vehicle without fuel, or an apple tree without apples. The sermon that does not lead to Jesus Christ, our magnificent message, is one that will make the devils in hell laugh and the angels in heaven weep.
"We preach Christ," Paul asserted. So should you.
Some years ago I preached a series from those three words. It worked out like this: "We preach Christ:"
C = Coming from heaven (His birth)
H = Hanging from a cross (His death)
R = Rising from the dead (His resurrection)
I = Indwelling the believer (His presence)
S = Sending forth workers (His mission)
T = Triumphing over all (His coming)
The benefits of preaching Christ are many, but let me mention a personal one. Draw a circle around my pulpit and you have the spot where I am nearest to heaven. There the Lord has been more consciously near me than anyplace else. Often He has cheered my heart while I have preached to cheer and comfort the hearts of others. Why? Because we have a magnificent message that restores souls and renews minds — including the preacher's.
A Holy Humility
In 1 Corinthians 2:3–5, the apostle unlocked his heart: "I came to you in weakness and fear, and with much trembling. My message and my preaching were not with wise and persuasive words, but with a demonstration of the Spirit's power, so that your faith might not rest on men's wisdom, but on God's power." Feel those three words — weakness, fear, and trembling. That is holy humility.
Perhaps you have heard the story of a preacher who delivered his message exceptionally well one Sunday. Many complimented him; he was feeling great. In the car on the way to lunch he said to his wife, "I wonder how many great preachers there are in America today?"
She jarred him by continuing to look straight ahead and responding: "One less than you think."
An essential for godly preaching is to realize how utterly dependent we are on the Holy Spirit. All real preaching is rooted in a feeling of utter desperation. "God, I need You," is the common cry of the preacher.
John Piper put the preacher in his place when he wrote, "You wake up on Sunday morning and you can smell the smoke of hell on one side and feel the crisp breezes of heaven on the other. You go to your study and look down at your pitiful manuscript, and you kneel down and cry, God, this is so weak! Who do I think I am? What audacity to think that in 3 hours my words will be the odor of death to death and the fragrance of life to life (see 2 Corinthians 2:16). My God, who is sufficient for these things?"2
Every so often I meet a preacher who feels he is really quite an amazing preacher. Some even sense (or worse, say) that God "made me for this moment, for the pulpit" and feels sufficiently trained and endowed with natural gifts to write and deliver powerful sermons. Let me enter a word of warning: Watch out. In hisLectures on Preaching, Phillips Brooks said, "Never allow yourself to feel equal to your work. If you ever find that spirit growing on you, be afraid."3
Remember Paul's three words: weakness, fear, and trembling. The world rejects those traits, but heaven honors them. Every veteran preacher could name self-reliant ministers whose work profited for a time, but God had to break their self-assurance and casual use of sermon techniques.
As I write these words, I have been an ordained preacher for 30 years. I can candidly say that often my heart trembles like a leaf in a strong wind when I stand before my people to preach. Because I fear my audience? No, but I am aware that one day I must account to God whether I have presented His Word faithfully or not. In any service may hang the eternal destinies of people. That is a sobering thought to godly preachers and should produce in them a holy humility. Remember, without the Spirit's touch on your preaching, you will achieve no lasting value regardless how many people admire your logic or enjoy your illustrations or learn from your teaching. " 'Let him who boasts boast in the Lord' " (1 Corinthians 1:31).
A Christ-Confidence
Listen to Paul: "For since in the wisdom of God … God was pleased through the foolishness of what was preached to save those who believe" (1 Corinthians 1:21). Notice that Paul did not say "foolish preaching." Let our preaching be interesting, engaging, or even at times humorous, but never foolish. He did say "the foolishness of what was preached."
When examined, the act of preaching can appear rather foolish. A man or woman stands in front of a group, large or small, and for 30 to 40 minutes tells them about God, how to know Him, and how to live to please Him. In our educated culture that appears foolish to many. But mark it well — this is a God-chosen method when the preacher is God-reliant and Christ-confident.
Jesus compared the preacher to a farmer planting seed (see Matthew 13:3–23). Think about it. Once the farmer plants the seed, what more can he do than to trust God to send rain, sunshine, and wind (for cross pollination) for the seed to grow? Many times after preaching, I have walked to my study when finished praying with and meeting people. There I pray, "God, I planted good seed today in the best way I know. Now be gracious and cause it to take root, grow, and change lives." The greatest thing I can do at that point is to be Christ-confident.
I am convinced ministers should not preach without preparation. But let it also be said people ought not hear without preparation. Which do you think needs more preparation, the farmer or the soil? I believe the sower (the preacher) must come with clean hands and good seed. But I would also like the soil (the congregation) to be well plowed, well turned over, and the large clods broken up before the seed is planted. It seems to me there is more preparation needed by the ground than by the farmer, more by the hearer than by the preacher. There, too, the preacher must be Christ-confident to prepare his or her audience.
A young preacher came to me and asked: "My church is not growing as I would like. Any suggestions?"
We chatted about several areas. Then I asked, "Well, you don't expect God to use your sermon and your service every time you preach, do you?
He thought for just a second and then replied, "Well, no; not every time."
I surprised him, "Then that's one of your problems." Preacher, you must be Christ-confident every time you preach.
At the end of 2005, my friend Dr. Adrian Rogers went home to heaven. I thought about the times we prayed together, discussed preaching together, and enjoyed a meal together. I recall Adrian telling of his Christ-confident launch into ministry. He was a fine athlete and the captain of his high school football team. God had tapped him on the shoulder and called him to ministry.
At the time, Adrian lived not far from his high school football field. He told me that late one night, when all the field lights were off, he walked to the football field, wrestling with God about his call. He walked to the 50-yard line. He laid face down and prayed, "Lord, I am Yours." But internal turmoil persisted. He stood up and began to kick a small hole in the turf. Then Adrian lay down again, put his nose in that small hole and prayed, "Lord Jesus, this is as low as I am able to get. If You will use me, I will entrust whatever ministry may develop through me to You, and I will give You all the glory."
That was Adrian Rogers' defining moment. He burned every bridge and committed himself to be a Christ-confident preacher. And did God use him? Around the world God used his ministry.
Let me say God can use you also as His spokesman when you sense a clear calling, proclaim the magnificent message, maintain a holy humility, and develop Christ-confidence. That is what I call opportunity unlimited.
Thomas Lindberg, D.Min., is the pastor of First Assembly of God, Memphis, Tennessee
Notes
1. James Stewart, Heralds of God (Grand Rapids: Baker, 1972), 73.
2. John Piper, Supremacy of God in Preaching (Grand Rapids: Baker, 2004) 37f.
3. Phillips Brooks, Lectures on Preaching (Grand Rapids: Kregel, 1989), 88.