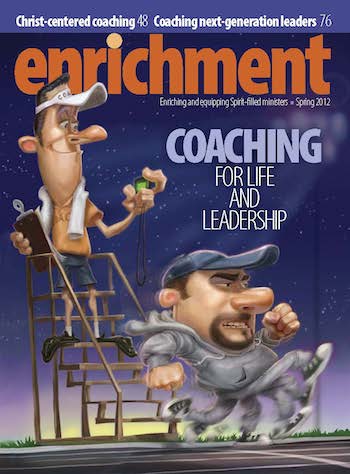 Downloads:
We Have a High Needs Child
by Gabriele Rienas
---
Q: My husband and I have two children. We are in youth ministry and have moved halfway across the country from our closest family. Our second child has always been difficult, but recently his behavioral issues have become hard to handle. Upon the doctor's recommendation we had him tested. He was diagnosed with Autism Spectrum Disorder. His case is not severe, but it is significant enough to qualify for intervention and assistance.
The people at church do not seem to understand this disorder. People, including the senior pastor and leadership, are becoming impatient with him and critical of the way I respond to him. A few people have implied that I should just be more firm with him. The final straw came when his Sunday School teacher kicked him out of class for being disruptive. This has forced me to sit in the foyer with him since he is not able to sit through the adult service. I feel alone and misunderstood.
A: Nothing touches a parent's heart like a child who struggles. Receiving a diagnosis such as this produces grief as real as if your child had just lost a limb or an eye. It has the potential to affect every area of your son's life — including his education, his social network, and his future. Obviously, it will affect your life as well. At the same time, it is not a death sentence, and his potential in life is in no way set in stone.
Verify the diagnosis by getting a second opinion. Tests can be wrong and over-diagnosis is not uncommon in our culture. It would be unfortunate to apply this label to your child without some significant testing and assessment.
First, become unified with your husband about this. You have not mentioned his response, but I am assuming he is processing as well. Because people grieve differently, it is not uncommon for spouses to respond in different ways. Sometimes one spouse embraces the knowledge, seeking to talk about it, read about it, and think about it, while the other handles it by avoiding the reality and resisting discussion and examining the problem. You can imagine the potential for frustration and misunderstanding with one another when this happens. Remember that neither way of responding is superior. They are simply different grief reactions. Give permission for your spouse to respond in his own way so the topic does not become one of tension and frustration between the two of you. Do comfort one another and work on making your relationship a safe place to process your feelings as much as is possible.
Your next order of business is to find a healthy support system. This is crucial to your survival and well-being. It could include other parents who also have children with behavioral issues or people in your world who are compassionate and caring in general. It could be a support group; a paid counselor; a wise mentor; a compassionate, self-educated friend; or a combination of these.
Do not underestimate the power of prayer. Because you will be dealing with ongoing stress, you will need unlimited prayer support. Enlist the prayers of intercessors who will continually lift your family and son to God. Ask them to pray for resilience, patience, and wisdom for your husband and you, healing and progress for your son, and grace for your family.
Along with your husband, consider sitting down with the senior pastor and leadership to have an honest conversation about your son's challenges. Be willing to listen nondefensively and explore solutions creatively.
When it comes to people in your everyday life and particularly those in the church, you will need to extend grace. You will find that some will understand and will show compassion and understanding toward you. Others will appear to be uncaring and naively opinionated, making ignorant statements about how you should handle your son's behavior. Recognize that, in most cases, they do not intend to do harm. People often speak out of their lack of knowledge and experience with these things.
Offer resources to those who seem willing to educate themselves. Perhaps your friends, your pastor, and/or other leaders would be willing to read a book or watch a video on the topic. Make yourself available to answer questions and provide explanations nondefensively and calmly.
Regarding the Sunday School expulsion, keep in mind that your son's behavior is a dilemma for everyone. Most Sunday Schools are staffed by volunteers who are not professionals. They love children and most likely care about your son but are baffled by the challenge of teaching a class while he acts out. You, more than anyone, know the challenge of directing your child's behavior. Do not be too harsh in condemning those who are unable to assist him or are reluctant to try. If a door closes, pray about your other options.
Could you attend class with your son to monitor his behavior? Would your husband or a friend alternate with you so you could occasionally attend adult services?
Maybe another parent would trade special-needs child care with you so you would not be stuck in the foyer 100 percent of the time. Would the church partially pay for his care during services?
Is God calling you to start a special-needs class?
Could you sit through a portion of the service with your child, finding ways to redirect and channel him for a shorter time so you can at least partially participate?
You are facing a life challenge that could well be stressful and unrelenting at times. God's grace will need to be an everyday part of your life and being. At the same time, your child is a gift from God, loved by God with amazing purpose for his life. Every day find God's gifts to celebrate and, together with your family and loved ones, rejoice in each victory.