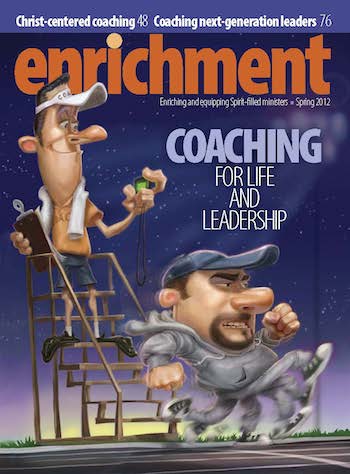 Downloads:
Transformissional Coaching
Coaching the Whole Leader
by Steve Ogne
---
John jogged into the coffee shop anxious to show me his large and colorful triple cross tattoo. He had my attention. He shared his ideas for a new kind of church. He interspersed his ideas with stories of his brokenness and how he felt others were trying to squeeze ministry out of him.
As I quizzed him about specific plans and goals, he said. "You seem to care more about what I can do than you do about me." Coaching John to start a church would be challenging.
John had already challenged my basic coaching paradigm based on performance, productivity, and effectiveness. He was more inclined toward authenticity, creativity, and relationship. As a result of coaching John, I decided to give attention to young and emerging leaders like him. This changed the way I coach everyone.
Many coaching paradigms overly focus on performance, productivity, and effectiveness. Coaching paradigms developed for business are this way by necessity. In my previous work on coaching, coauthored with Tom Nebel, we focused on starting stronger churches and growing bigger and better churches.
Coaching lay leaders often focuses on their effectiveness. At times, they may feel we are squeezing ministry out of them. Coaches may only focus on the personal life of the leader as if it was having a negative impact on ministry effectiveness.
The paradigm I present is a holistic paradigm intended to develop both the leader and his ministry while creating an authentic relationship between the coach and the leader. The new paradigm is a transformational paradigm, intended to help leaders live authentically and incarnationally while leading their ministries to connect with the culture and intentionally engage in redemptive relationships.
This new coaching paradigm focuses on a leader who is transformed through clarifying her call to ministry and cultivating personal character so she can transform surroundings by creating authentic community and connecting with the secular culture in a redemptive way.
Coaching is no longer just about effective programs and results; it is also about healthy and effective ministry leadership and relationships. A good coach focuses on the holistic development of the leader and ministry together. A good coach will seek to help the leader clarify calling, cultivate character, create community, and connect with culture. A coach may focus on only one of these areas in a coaching appointment, but the coach must routinely touch each of these areas in every coaching relationship. When seeking to identify where to begin a specific coaching conversation, you must prayerfully ask, "Where is God working in this leader at this time?"
This article introduces a holistic model of coaching I developed while coaching young and emerging leaders, but it is applicable to coaching all leaders: paid and volunteer. For experienced coaches, this article will expand their knowledge and skills. For new, inexperienced coaches, particularly pastors interested in coaching, this article pictures how they can holistically coach their paid ministry staff or volunteers; and for leaders being coached, it lets them know what they might expect from a coach.
Clarifying Call
Tom Ashbrook rightly stated at a Church Resource Ministries directors' training that coacheshelp leaders practice their "first-order calling" (being) as worshippers and followers of God, and their "second-order calling" (doing) as servants and ministers for God. Many Christian leaders are so focused on accomplishing some grand personal mission or calling that they have forgotten their first calling: to be a worshipping follower of Jesus. Some postmodern Christian leaders are so busy worshipping God and the idea of community that they cannot get anything done for the Kingdom. All Christian leaders need help discovering and fulfilling both their first and second callings.
First-order calling — Being
When coaching your leaders to fulfill their first call — to be a worshipping follower of Jesus — you serve as a spiritual director. You should encourage your leaders to slow down and practice reflection and other disciplines to rediscover the presence of God.
Many Christian leaders have no one holding them accountable for their spiritual formation while they seek to lead ministries and congregations to be followers of God. This results in the risk of ineffectiveness, emotional burnout, and moral failure. A coach who is willing to provide help and accountability in the area of a leader's first calling provides some protection from this kind of failure.
Authentic spiritual formation is one of the primary credentials for ministry. The ability to live out spiritual disciplines is essential to effectiveness. There is no list of roles and responsibilities covering spirituality. From the perspective of the postmodern church leader, a pastor who is not concerned with a leader's spiritual formation is no coach at all. In spiritual formation, it is not only essential for you to model the spiritual journey for others on your staff, it is also essential for the spiritual protection of your ministry leaders as they engage the community for the sake of the whole gospel.
Leaders who engage in community transformation and spiritual transformation of the lost are far more likely to encounter significant spiritual warfare. The devil does not want to give up territory in the secular community any more than he does in the hearts of men. He will attack, and missional leaders must protect themselves through strong spiritual disciplines and the whole armor of God. A coach with spiritual authority and discernment can encourage personal spiritual formation in a leader, but can also help identify and defend against the attacks of the devil.
Second-order calling — Doing
We describe second-order calling as a personal ministry call, or God's unique assignment for a specific leader. Leaders, young and old, volunteer and professional, struggle with their calling. Those who have been in ministry for a while lose sight of their call or begin to doubt its validity. Some lose sight of their call due to fatigue. Others lose their sense of call because of ineffectiveness or lack of results. Still others lose their sense of call and passion because they are serving in the wrong place. Volunteer leaders often lose sight of their ministry calling because the demands of career and family displace it. Finally, some leaders are at the stage of life where they are seeking to make their ultimate contribution to ministry and need help to determine what that is. As a coach, you can provide a safe place for members of your ministry team (paid and volunteer) to wrestle through the issues of their call.
New and young leaders may struggle to find their calling, whether volunteer or professional ministry. They need help to identify their gifts and passion, and understand their personality and leadership style. They need help hearing from God regarding what He desires of them, and then putting it together into a fulfilling and effective opportunity.
God has placed a call in the lives and hearts of emerging leaders. A discerning coach can help provide guidance and accountability to help define the call. A good coach will ask questions to clarify these things from within the life and experience of the leader, being careful not to inject his own sense of call, personal vision, or agenda.
Helping leaders understand and pursue their first call (spiritual formation) and their second call (personal mission) is foundational and empowering for future coaching in all areas. Strong and positive spiritual formation will protect against temptation, burnout, and moral failure. Coaching to clarify personal calling, gifting passion, and ministry fit will release energy effectiveness and increased fruitfulness. Clarifying the call is only one of four arenas when coaching your ministry staff and volunteers.
Cultivating Character
As a coach, you can help your leaders cultivate Christlike character. Character issues often hinder persons or forces them to forfeit ministry. The pressures of life and ministry often reveal character flaws. Coaching is intentional about helping leaders acknowledge character issues and cultivate character growth.
The church has often overlooked the minor character issues of its leaders in favor of their strong leadership, teaching gifts, or personality. Once people become leaders, others do not encourage them to address character issues until these issues are so great they begin to negatively affect their ministry.
Postmodern leaders often come to ministry as broken people, with visible character needs. Not only have they not developed good character, they have no desire to pretend. Authenticity is a high value item for them.
Coaching leaders who have character challenges can be very difficult. These six steps can help the leaders you are coaching:
Identify the character issue(s) negatively impacting their lives and ministries.
Identify and accept biblical references, standards, and examples.
Confess the issue(s) with their mouths to appropriate others. This will create accountability.
Seek forgiveness from those they have hurt. This will promote healing of relationships.
Identify the cause of their behaviors. This may require professional help.
Develop a plan and accountability to change their behaviors.
The coaching relationship needs to be a safe place where you, the coach, can monitor and encourage character development. The issue may be small like tardiness, poor time management, or a bad habit. It may be large, like moral failure. Either way, a coaching relationship provides a safe place.
The standard for character formation must always be Scripture. Any other standard will eventually break down. Coaches need to make sure they are not becoming the character standard. They must be careful to not settle for a cultural standard for character and emotional health. The person you are coaching may require the help of a professional counselor to address the causes of some character issues.
Creating Community
Coaches come alongside the leader and help prioritize, create, and experience authentic community, both inside and outside the church. During the years I have coached leaders for effectiveness, it is evident many strategic issues young and old leaders face in the church rise or fall on the quality and authenticity of relationships. Creating community is a greater challenge than running programs. Most problems in the church are the result of broken relationships and lack of community. Most leaders in the emerging or missional church hold the authentic community of believers as their highest value.
How do you coach leaders in your church to form and experience authentic community? First, you must practice an authentic relationship with the leaders. You must take time to listen to the stories of the leaders you coach. You must be willing to practice an appropriate level of personal vulnerability to demonstrate authenticity. As a coach, you must be willing to practice mutual hospitality with your leaders. The relationship moves to a new level when the coach, leader, and their families (where possible) share meals in their homes. Value the relationship more than the result of the relationship.
Second, as coach, you may need to help leaders define community and their expectations for community. Confusion can exist about what Christian community looks like. Unrealistic and/or unmet expectations are at the heart of most church conflicts.
Third, you must help the ministry leader model and practice authentic community in the church. This involves helping them stay in community with others, not removing themselves from community or placing themselves above or outside community.
Many pastors preach community, but do not practice it with their church. Some only practice community with friends outside of their fellowship. This usually indicates they have been burned or have some deeper spiritual or character issue.
Fourth, as coach, you can help resolve problems in the faith community. You can help your leaders maintain positive and realistic expectations for community in the church. You can help them establish time and space boundaries to protect their families. You can help your leaders create structures and environments where community can multiply. When necessary, you can provide third‑party intervention to help your leaders resolve confusion or conflict in the faith community.
Coaching young and postmodern leaders in the new paradigm will focus on creating and maintaining healthy Christian community.
Connecting With Culture
The ultimate goal of the coach in the new paradigm is to move leaders to become missional by redemptively engaging the needs of the culture. Leaders in the emerging missional church have a higher and far-reaching view of ministry than leaders in the pragmatic church. Their purpose is not just to minister to the devoted followers of Jesus that the pragmatic church seeks to produce. Instead, they desire to produce devoted followers of Jesus who engage and transform their culture, not for the sake of church growth but for the sake of the kingdom of God.
Coaches help leaders engage their culture. Sometimes this means helping your leaders meet people of the culture; helping them understand needs and accept the culture; helping them intentionally establish significant relationships in the culture; keeping them accountable for intentional investment in these relationships; helping them stop doing less significant church duties and, rather, make time to engage people from the culture; and defending them when the congregation challenges them when they focus on the lost instead of on believers. It always involves helping leaders keep a balance between the lost and the found.
I challenge every pastor I coach to invest at least 10 percent of her ministry time with lost people. Emerging leaders I know see a 10 percent investment as way too little.
Coaches help leaders visualize ministry that takes place outside the box and outside the congregation. They also help leaders identify opportunities in the culture; help leaders motivate and mobilize workers to engage in social action; and help leaders determine how to affirm and support those who are engaged in ministry outside the congregation rather than expecting them to serve inside the congregation. Sometimes coaches can help facilitate partnerships between church leaders and community leaders for spiritual ministry and community service.
Often the first step in helping leaders engage their culture is to help them establish significant relationships with secular people. This can include holding them accountable to develop intentional relationships with pre-Christian neighbors and friends. It can also include helping leaders identify circles of interest and influence where they can develop relationships. A circle of influence is anywhere a person connects regularly with the same people over a shared interest. These circles can include business groups, sports, and recreational groups.
You can coach your leaders to connect with the broader culture by helping them network with political, business, and education leaders. Second, a coach will help leaders assess the needs of the culture where they can mobilize people to make a difference. Needs exist in the sports and recreation programs of suburban communities where Christians can make a difference and develop intentional relationships. Public education needs present opportunities. One church mobilized teams to meet needs at each public school in the community.
Effective coaching will help your leaders assess the needs in their culture where they, their small group, or ministry can make a difference. This includes matching needs to the gifts and interests of leaders, groups, or churches.
Third, coaching will help your leaders initiate missional activity. This begins by helping them rearrange priorities to make time for relationships and activities. Coaches help leaders learn to cast vision.
Finally, as leaders and teams serve in the culture, it is essential they develop authentic relationships. Many will suspect or reject artificial relationships or relationships that exist only for evangelism. Engaging the culture includes two dimensions: First is serving or meeting needs as a part of God's kingdom. Second is developing intentional spiritual friendships for the sake of the gospel.
Conclusion
Most issues fall into one of these four arenas: call, character, community, and culture. Leaders who struggle with clarity of their gifts, passion, vision, commitment, or personal spiritual formation, struggle with issues related to their call as a leader or follower of Jesus. Issues regarding relationships, unmet needs, division, strife, small groups, or discipleship of believers are related to the faith community. Issues related to cultural relevance, community service, and evangelism have most to do with engaging culture. Issues of sin, behavior, habits, and personality are centered in character.