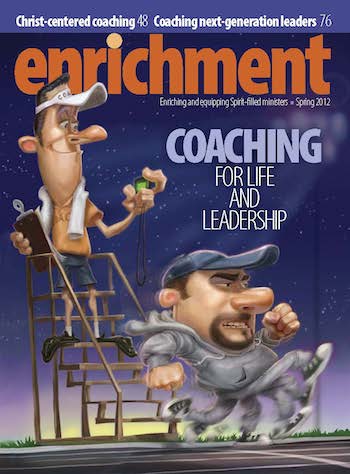 Downloads:
The Coaching Journey
How coaching became the key to one of the most fulfilling seasons of one pastor's life and ministry.
by Dwight Sandoz
---
Tom let out a frustrated sigh as he closed his Bible program and began to add notes for the day in his phone. Why did it seem like progress was so slow in the church he pastored? The people were good, faithful, kind, and supportive, but the low results and little growth were wearing on him. The outreach programs he tried had not led to strong responses. There was a nagging sense that the way he was doing ministry resembled a rough copy of several of his teachers and mentors, but it was not a true reflection of who he was. He felt he was continuing the historic ministries of the church and keeping up the expectations of the past, but he was not going anywhere nor was he developing into the kind of leader he knew God wanted him to be.
He placed the phone and computer on the stand. As he crossed the room toward the kitchen for some coffee, he saw a coaching brochure in Saturday's mail. "More denominational stuff, and it probably won't apply to me," he muttered as he picked it up and walked over and poured a cup of coffee. Out of boredom he read the opening line and bullets on the first page. The first bullet caught his attention: "Coaching is an intentional relational encounter that accelerates a person's personal and professional growth by engaging in a way that stimulates transition and transformation."
He again muttered to himself, "I do need some acceleration in my personal and professional growth." He felt like a hamster on a treadmill in this church, repeating the same things week after week. Tom thought, When was the last time I did anything for the first time? He knew God had placed more in the well of his ability than he was currently releasing, but it seemed locked inside of him.
Tom reflected on his teaching from Genesis on the image of God that dwells inside every believer. Salvation begins the process of restoring God's image. The process is supposed to continue for life. Tom's journey of ministry did not feel like the image of a glorious and creative God being displayed through him.
The inside page of the brochure opened with a short paragraph reminding him of a recent sermon he preached about the image of God: "The coaching connection facilitates and accelerates the restoration of the image of God. God allows people to determine much of the pace and process of personal transformation. In a similar manner, the coach comes alongside to help clarify choices and prepare for changes."
"Accelerates the process," he slowly said. "Now, I would certainly like to accelerate something."
Upon further reflection he thought, Clarify choices and prepare for changes. I could benefit from that. Maybe this new initiative the denomination is offering is just what I need.
His eyes returned to finish the section: "The nature of man is to get stuck in the journey, plateau, and not be restored to his rightful 'Kingdom position' or personal development. Coaching jump-starts transformation. It changes the Popeye ideology of, 'I yam what I yam' to Philippians 4:13: 'I can do all this through him who gives me strength.' "
That was him. Stuck and plateaued in his personal life and ministry. Even when he tried to implement changes into his life, he did not stick to the process. The idea of the Popeye ideology stung a bit as he reflected on his own words. "There's only so much one person can do. I am what I am." At that moment, he felt the convicting nudge of the Holy Spirit say, "Rather than expect the church to change and grow, maybe you need to make a few adjustments and grow."
Tom read the next section. The bullets described the benefits of powerful questions. He read it with a bit more interest.
"Powerful questions help the pastor:
Take time to process information from a different perspective.
Gain understanding.
Promote personal discovery.
Generate options.
Uncover obstacles.
Determine next steps."
He needed what the bullets described, but a guy cannot be too careful. Do I really want someone asking questions and interfering with my life? At that moment, he was sure the Holy Spirit was speaking to him again: "Are you becoming the person I created you to be, or are you going to remain stuck, unyielding, and cynical?"
The Holy Spirit was bringing back what Tom remembered reading when Jesus looked at Peter and Andrew and said, " 'Follow Me,' … and I will send you out to fish for people" (Matthew 4:19). Jesus was more interested in what Peter and Andrew would become than in what they were when He called them.
Coaching: A Key Piece in Ministry Development
Could the coaching relationship be a key piece toward Tom's development in that journey? Would coaching really help? Other things he had tried were not successful. How can a coach help me if he has not walked in my shoes? he thought. Tom already knew the answer. God, by His Holy Spirit, had arranged this moment to help him advance in life and ministry. Slowly he took another sip of coffee and picked up the phone.
The sound of a woman's voice on the other end of the line surprised him. A woman would never understand my personal struggles, so how could I possibly benefit from such a relationship? he mused. The woman sensed his uneasiness and politely explained that most coaches in the business world are women. Furthermore, she had also been a staff pastor with a long and successful ministry. She indicated she had an opening to coach a pastor and wondered if Tom would be interested in coaching for several months to evaluate if it was beneficial. Tom agreed to call at the appointed time the following Tuesday.
He shared the unusual events of the morning with his wife. He explained to her that a coach comes alongside another person and invites growth through questions that provide opportunity for exploration and discovery. He made clear that coaching empowers the learner to set goals and step into a path of growth and transformation. Tom's wife was well aware of his personal frustrations and encouraged him to move forward in the coaching relationship.
Tuesday, at 10 a.m., Tom dialed the coach's number. The session began with small talk and introductory comments about coaching and what it takes to help the conversation be productive. Then she asked, "What will make our conversation today the most helpful to you?"
Tom realized he would need to play an active role in the process. He remembered his frustration of trying to fulfill others' expectations and said, "I would like to do ministry in a way that reflects the uniqueness of how God created me." That statement began a series of questions and responses that gave Tom insight to his situation.
Nearing the end of their time together, the coach asked, "If you could change three things about your ministry, what would you change?"
Tom paused in reflective thought. "If I could change anything — and money, leaders, and resources were not a problem — I would change my approach to ministry," he said. "I would build the church upon relationships and not upon structure and programs." The coach asked how he would accomplish this. His answer drew from the deep well of ideas in his heart. It was like he was saying things he had always known but had never articulated.
After Tom described the other two changes he would like to see in the church, the hour was spent. Finally the coach asked, "When we talk again next month, which one of these three things will you have completed?"
Tom gave three action steps he would take to make relationships the basis for leading the church. He reflected on the past 60 minutes and felt more hope, purpose, and direction than he had for years.
In the following months, Tom looked over the notes he was compiling. He started to read everything on coaching he could find. In his notes, he was able to summarize four things he discovered about the benefits of coaching for church leaders.
First, he discovered that most leaders are on a path of growth. However, their growth is often frustrating and slow because they do not have an intentional, relational process to facilitate it. Coaching allows leaders to identify and accelerate growth in their lives and ministries because it is rooted in authentic and unconditional relationship. It removes the performance mindset that can hinder growth.
Second, Tom discovered that coaching facilitates the gift of free will that gives the pastor the freedom to choose and to change. The person being coached (PBC) sets the pace of the relationship. This is especially helpful in his church where transitions happen slower than he would like.
Third, he discovered that he possesses many solutions but often needs the coaching partner to help unlock them. The knowledge that the next conversation is coming helps the action steps of the last session become a reality in the life of the leader.
Finally, Tom discovered that coaching develops the whole person: one's ministry performance, marriage, parenting skills, and many other important areas of the pastor's life. Coaching is not a silver bullet or a fix-all for personal leadership growth. Ministry leaders may need mentors or counselors for other areas of their development. While counseling primarily looks back, the perspective of coaching looks forward and is primarily for developing healthy leaders. While counseling may be needed for healing related to past issues, coaching helps leaders find solutions and clear away the clutter.
Coaching: A Key Piece in Congregational Development
In a subsequent coaching appointment, Tom wanted to talk about how coaching could be utilized in his church in more practical and meaningful ways. He had grown weary of others thinking he was the answer man. As the questions and responses of the session developed, he had a mental picture of how coaching could be used in evangelism, discipleship, leadership training, board meetings, and even church discipline. The coaching session concluded, and Tom's assignment before the next appointment was to compare and contrast a teacher-driven model of learning with a learner-driven model and to figure out which model best facilitates learning in children and adults.
The teacher-driven model often works like this: The teacher pours truth into the student and hopes it will penetrate the student's heart and mind.
The teacher pours in.
The focus is on the teacher.
The responsibility is on the teacher.
Tom summarized that this method of teaching inadvertently inoculates the student. The student knows about the subject, but the subject material is not internalized. The student can quote Scripture but is not living the truth of Scripture. Most teacher-driven models of instruction do this to some extent.
The learner-driven model works like this: The teacher (coach) assumes that the student already has the solution.
The teacher draws out.
The focus is on the learner.
The responsibility is on the learner.
In the learner-driven (coaching) model, the teacher's questions shape the discussion and draw from the deep well of knowledge and creativity of the student. This approach brings personal ownership (the student has a deeper ownership of truth) and higher levels of commitment.
Tom concluded that a balanced approach to Christian education should incorporate the best of both models. He saw how coaching could be used in every area of the life and ministry of the church. He researched everything he could find about coaching. After several weeks, he wrote a note in his phone: "When coaching becomes a lifestyle in a local assembly, great transformation is possible. Coaching helps the congregation live out the gospel at a local level."
Conclusion
In the months that followed, Tom's life and ministry changed from frustrating to mostly fulfilling days that were a genuine reflection of the gifts and skills God had given him. Subsequently, the next year was the most fulfilling season of his life and one of the best years for the church.
The next Monday morning Tom breathed a prayer of thanksgiving for God's leading and for the renewed sense of clarity and purpose in his life and ministry. His eyes fell on a brochure for leadership training. With no skepticism, he read about an upcoming coaches' training. He made a mental note to attend. If he could help someone else experience what he had, it would certainly be worth his time and effort.