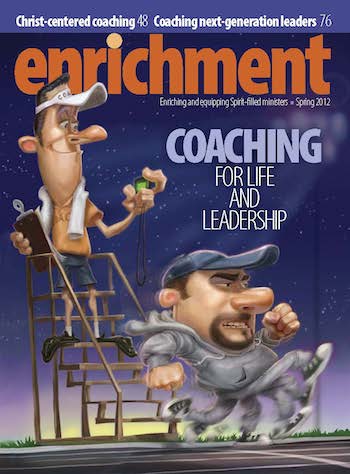 Downloads:
The Art of Coaching
Principles, Process, and Core Skills
by Linda J. Miller
---
Coaching is exploding in the business world and within the Christian community. Moving from an embryonic stage to a developed methodology, coaching is racing across denominations and ministries and is touching people at a variety of levels.
In this article I offer a coaching process that gives structure to conversations along with three core skills that are common sense, but not always common practice. These principles seem obvious — just as the process and skills are obvious — but they are not easily lived out.
Over the past 8 years seminaries and denominational conferences as well as coaches who are coaching individuals and teams have tested these principles, processes, and skills. My hope is that you will find something you can apply immediately to your ministry context, so you will experience the power of coaching for God's glory.
Foundational Coaching Principles
The coaching mindset
Pastors, counselors, and consultants have, at their core, a desire to serve God and help people solve problems and make healthier choices. Often this desire to help is focused on me as the one giving advice and on my ability to give advice and tell people what they can do differently. Coaching approaches people from a you mindset, based on the belief that the person being coached (PBC) has ideas, options, and solutions.
This allows coaches to shift into asking questions and drawing out solutions and resources that create discovery for the person being coached.
In training classes, we often hear that shifting to a PBC mindset is the biggest shift pastors and lay leaders need to make. For most, shifting to a PBC mindset comes by practicing and seeing the effectiveness of coaching. When pastors make this shift, the responsibility lies on the person being coached to hear from the Lord and think about and decide on the best approach and solutions. The result is a higher level of buy-in, commitment, and ownership of ideas and actions.
Action and forward movement
Coaching is about action and forward movement. When we coach, we want people to notice where they are and identify where they want to be. It is easy to get caught in the past. Most people like to ask, "What have you done so far?" The answer can consume time and does not move the person forward. In contrast, when we coach, we focus on the future.
The question, from a coaching perspective, might be, "What have you done in the past that can help you move forward in this situation?" This touches on the past, but stays focused on taking future actions. Coaching focuses on helping people take intentional action to move forward.
This is in alignment with Hebrews 12:1: "Therefore, since we are surrounded by such a great cloud of witnesses, let us throw off everything that hinders and the sin that so easily entangles. And let us run with perseverance the race marked out for us." We must keep an ear toward God as well as toward the person being coached so we can keep focused.
Not making others wrong
Ephesians 4:29 says, "Do not let any unwholesome talk come out of your mouths, but only what is helpful for building others up according to their needs, that it may benefit those who listen." In coaching, our desire is to help people be right. Have we corrected a detail that was not important or said something sarcastically that hurt someone? Have we put a negative label on someone, sometimes in his or her presence? Have we put others down, intentionally or unintentionally?
We want every conversation to glorify God and edify the other person. Notice how this Scripture focuses on the PBC side of the coaching mindset. This is where we want to live when we're coaching.
A learning process
In every conversation, we want the people we are coaching to learn something about themselves or their situation. We want to create awareness for the PBC that brings about learning.
The person being coached is not the only one who learns. Coaches learn what questions work or do not work. We learn ideas or options we never would have considered, yet they are the right ones for the PBC when they generate these ideas or options themselves. We learn when something we say has a different impact from what we intended. We learn that we have offered a solution that will not work when people respond, "Yes, but. …"
Being honest, even with mistakes
One way to learn is to be mindful when you make mistakes. For example, you are coaching Nick and hear yourself slipping to the me side with a comment such as, "I would not do it that way. Here is my idea. …" Stop and come back to it. You may want to apologize because you realize you have just implied there is a better way.
When coaches make a mistake, most people are shocked and grateful when we correct it. This gives others permission to make mistakes. It also shows how mistakes can strengthen relationships.
I remember a situation where a coaching relationship started out so badly neither of us was interested in meeting again. After the meeting, I tried to figure out what had happened. I called the person and asked for another meeting. When we met, I told her I was aware that our first meeting had not worked. We decided on a do-over. Recently we talked about the strength of our relationship more than 2 years after that first bad start.
When we make a mistake, we call ourselves on it, take responsibility, and clean it up. It can sound like, "That question did not come out right. Let me try again." Or, "I notice that you are much more quiet than usual. What I just said was not what I meant. Let us take time to clean this up." Or, "You have missed a couple of coaching calls. If there is something I have done that has not worked, please let me know. I am committed to cleaning it up so we can move forward."
Developing others
Ephesians 4:11–13 says, "So Christ himself gave the apostles, the prophets, the evangelists, the pastors and teachers, to equip his people for works of service, so that the body of Christ may be built up until we all reach unity in the faith and in the knowledge of the Son of God and become mature, attaining to the whole measure of the fullness of Christ."
Coaching develops others. It facilitates a way of thinking for the person being coached. Pastors, leaders, and people with oversight responsibility can use coaching within their organizations to equip others.
One way of developing people who are facing challenges is to encourage them to bring three options and one recommendation for the challenge or problem at the next meeting. This encourages them to be forward-focused and action-oriented. Then, when they are talking, we can coach them by continuing to draw out their thought process.
Getting Started in a Coaching Relationship
When we coach in ministry, people notice it is a different type of conversation. Therefore, it is important to call out the differences and expectations when getting started.
For example, you might introduce the changes you are making with your staff by saying, "I would like to start using a different approach when we meet. This will mean a couple of modifications. Until now, we have met sporadically. I take responsibility for the inconsistency. Beginning immediately, I would like to meet twice a month. In the past, I told you what to do and gave you advice. I realize this has held you back. In the future, I will be asking for your thoughts, drawing out your ideas, and encouraging you to come up with solutions, rather than jumping in so quickly with mine. I also want to be open to a different level of feedback. In the past, I have delayed or avoided saying if something is not working. I assume you have too. Let us agree that we will give feedback — going both ways — as soon as possible. I cannot promise that I will be perfect, so let me know when something is not working for you."
There are many topics to address when starting to use a coaching approach. Some of those are:
Confidentiality
Coaching considers all conversations confidential. Even so, if the PBC says something that indicates the possibility of doing harm to self or to others, or if the PBC has said anything that is a reportable item within the organization or state law, we need to exempt these from confidentiality. In addition, think carefully about confidentiality in your specific situation and have clear agreements about it.
Style and pace
Coaches need to be aware of the PBC's style and pace so they can talk about it and match it, if possible. If we already know each other, we may know the style and pace. If we have new people, we pay more attention, especially if we are coaching outside of our church or ministry.
One learning experience occurred when I was working with someone who was from a different geographical region and who spoke v-e-r-y slowly. Unfortunately, I failed to pick up the discrepancy between my pace and his. Toward the end of our first meeting, he said slowly, "I want to work with you, however, you are talking too fast for me. If the pace does not change, we cannot work together." I burst out laughing and apologized for my insensitivity. We both laughed, and from then on, I settled myself before each conversation and slowed down. We worked well together for over 2 years.
Honesty and feedback
In a real world, we base our relationships on being honest with each other and speaking the truth in love (Ephesians 4:15). When we are coaching, it is useful to talk about being honest and giving feedback to each other when needed. This models how to talk about honesty and feedback for the person you are coaching and sets the tone for other working relationships. One of the ways to address this is to say, "We both value honesty, so let us both agree to speak up when something is going on that we need to notice. If at any time something is not working for either one of us, it is our joint responsibility to address it immediately so the coaching relationship and your progress move forward smoothly."
Expectations
How often do we talk about expectations in our relationships? In my experience, not very often. With coaching, it is important to clarify what we expect of the person we are coaching and what the PBC can expect from the coach. For example, we might say, "When we are coaching, you can expect me to be fully present and focused during our meetings, and I expect the same from you. If you have something specific you want to discuss, that would be great. In fact, when we get started, I will ask you what you want to focus on during our time together. And, if I have something we need to address, I will let you know. If we have any miscommunications, let us both be responsible to address them immediately. We can focus our time on goals, strategy, tactics or anything else that will help you be successful in your role."
Logistics
Address logistics and gain agreement on these up front. For example, it is important to know if the coaching will take place by phone or face-to-face. If face-to-face, in whose office? Talk about being on time (which is common sense, but not always common practice), how much notice to give if you or the PBC needs to reschedule or cancel, and how long the meetings or calls will last.
The Coaching Process
After the agreement is in place, start coaching. Coaching is not random. It is an intentional conversation that includes the Holy Spirit with the goal of moving people forward. Some have wondered why we have a coaching process. It is a way of giving a consistent structure to the conversation and creating standardization.
There are many coaching models, but let us look at a simple process with four parts:
Connecting
Getting focused
Discovering actions that are aligned with the focus
Evaluating the actions and the direction
Connecting
People want people to connect with them and show them they care. The first part of the coaching process is connecting:
Say hello.
Greet the person you are coaching.
Ask the person about upcoming plans.
Connecting makes a world of difference. One church leader wanted me to coach him on how to improve morale on his staff. Each coaching session, I greeted him and asked about his family, some part of his week, or his upcoming weekend. During one of our calls, the subject of connecting came up. He realized that what I was doing with him (connecting) was something he was not doing with his staff. He decided to try connecting with his staff at the beginning of each meeting and at other times during the day. Morale improved quickly. He was amazed that such a small change could create such a positive shift in the attitude of others.
When we are focused on getting the job done, we can forget to take time to connect with the people with whom we are coaching and working. Even though it may take a small amount of time, connecting has huge benefits.
Getting focused
After the initial few minutes of connecting, it is time to focus. Getting focused can take up to half of a coaching session, so it is important not to be impatient. Impatience often leads to discussing the wrong topic. We know it is a wrong topic when the person leaves the conversation saying, "Oh, yeah. There's something really important that I need to talk with you about."
People often come to the coaching meeting with a variety of topics. Sometimes the conversation seems to be a swirl of thoughts and challenges. During this part of the process, it is important to narrow down the focus, just like the sand that comes through the neck of an hourglass one grain at a time.
Specific language is one of the best ways to narrow the focus. Some examples of focusing questions include:
What specifically would you like to discuss during this meeting?
What's most pressing right now?
Which of those [three] things do you want to focus on today?
What would be most useful for us to discuss first?
Discovering actions that are aligned with the focus
Once you have established the focus, draw out ideas and options that align with the specific topic. People love it when they come up with their own ideas. There is a much higher level of commitment to the actions they have identified.
As we get into discovering actions, I need to issue a warning. This is a critical place in the coaching conversation when we can navigate toward the me side of the coaching mindset. Wanting to give advice draws us in. Or, we want to share an idea because we think our idea is better. Or, we want to suggest what they need to do. Don't. Try to stay on the PBC's side by asking questions, drawing out ideas, and promoting discovery for the person you are coaching.
Questions during this part of the coaching process include:
What ideas do you have? (A great follow-up question is "What are some other ideas?")
What actions are you considering?
What else could you do?
Who could be a resource for you as you think through options?
Where else might you find ideas?
Evaluating the actions and the direction
As ideas and actions become clear, evaluate options. We want to encourage the person we are coaching to think about the focus, clarify his actions, evaluate the ramifications of his actions, and make needed adjustments. Questions might include:
What is your priority with the actions you have identified?
What challenges might you have in moving forward?
What could go wrong?
How will you know if your direction is not working or if it is going wrong?
Who else needs to be included in this direction?
Three Core Coaching Skills
The coaching process is a wonderful structure for conversations and coaching skills hold that process together.There are over 200 coaching skills, most of which we will not cover in this article. I will address three of the most important skills: deep listening, powerful questioning, and encouraging the person you are coaching. While they are simple, they are not easy. They are practical, but not often practiced.
Deep listening
We are adults. We have been listening to others our entire lives. Yet, how often are we listening deeply, desiring to hear from the Holy Spirit as well as the person to whom we are talking? Instead, we are often thinking of what we will say next or trying to think of solutions. As Tom Peters said, "Americans don't listen. They just reload." As James 1:19 says, "Everyone should be quick to listen, slow to speak and slow to become angry."
Deep listening means being present and focused. Try being present and focused for 5 minutes to see how hard it is. We have so many distractions.
Each of us has to figure out how to deal with the distractions so we can listen deeply, first to the Holy Spirit, and then to the person with whom we are talking. All other skills rest on this single proficiency.
Tips for listening deeply during coaching conversations:
Be present and focused.
Set aside distractions.
Be in an attitude of prayer and openness to the Holy Spirit.
Get comfortable with silence – times of silence are a gift we give to others.
Be aware of our own biases or judgments, and set them aside.
Powerful questioning
Layered upon deep listening is the skill of powerful questioning. The most powerful questions come in small packages with a simple shape. They are open-ended and require a detailed response. Jesus asked questions throughout His ministry. Look through the New Testament and watch for Jesus' questions. (See the sidebar, "Jesus Questions" in "Christ-Centered Coaching: Seven Benefits for Ministry Leaders" by Jane Creswell.)
When we coach, the best questions to help people move forward begin with what, how, who, when, where, and which. These encourage people to think more broadly about how they want to move forward and get into action. If we use questions that elicit a yes/no response, we limit the person's thinking.
I once asked a person, "Do you have any ideas?" As soon as the question was out of my mouth, I asked the person if I could restate the question. I then asked, "What ideas do you have?"
At the end of our meeting, I asked her about the difference in her response to the two questions. She said, "When you asked me the first question, I wanted to respond, 'No, of course, I don't have any ideas. If I did, I wouldn't be here.' When you asked the second question, I thought, I really do have ideas that I hadn't realized."
Asking "why" often puts people on the defensive and makes them feel they have done something wrong. It takes people into the past rather than focusing on ways to move ahead. Instead of asking "why," we can ask, "What's behind that decision?" Or, "Please say more about how you arrived at that conclusion to find some new ways forward."
Powerful questioning is a core coaching skill because of its ability to help people think differently and move forward. Some examples of short and simple questions include:
What options do you see?
What else? (This is a great question because it keeps the options open.)
How else might you think about this?
Who needs to be included in the decision?
Where will you find those resources?
When will you take the first action?
Which option is the best for you?
Encouraging the person being coached
Dr. John Gottman of the Gottman Institute in Seattle says that people receive seven negatives for every positive they hear. This includes children in school, married couples at home, workers in their jobs, as well as people being coached. Paul states in Colossians 2:2, "My goal is that they may be encouraged in heart." What a blessing it is to be an encourager and to change the ratio of positives and negatives for the people we are coaching.
Encouragements take some thought, but very little time. You can deliver encouragement by phone, in person, in a team meeting, or through written communication. Great encouragements focus on the other person. "The meeting you ran yesterday was so well organized. The way you invited everyone to participate worked really well. Thanks." Notice that there is no mention of "I" in the statement. Compare that encouragement to this: "I really liked the way you ran the meeting. I liked it that you invited everyone to participate." This reflects more on "me" than on the other person. When encouraging others, keep the focus on the PBC.
People are energized when they are encouraged. Good encouragements are:
genuine.
timely.
specific.
focused on the other person.
When we encourage, we are living out the prayer in Romans 15:13, "May the God of hope fill you with all joy and peace as you trust in him, so that you may overflow with hope by the power of the Holy Spirit." When we coach well, we encourage others to have hope, joy, and peace by the power of the Holy Spirit.
Next Steps
Solomon wrote in Ecclesiastes 1:9, "There is nothing new under the sun." Nothing is new in the information presented above. However, there are many places where we may want to reconsider our mindset, tighten up our coaching conversation, or improve our coaching skills. Listen to where the Lord is leading you and find at least two areas where you can improve. Start immediately. Notice the results.