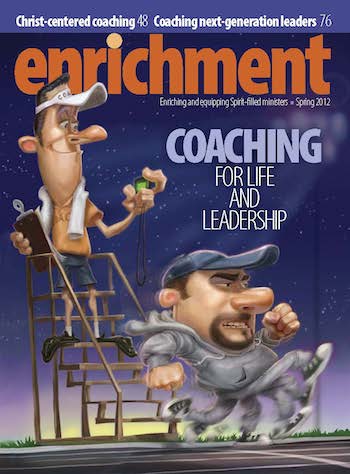 Downloads:
SIDEBAR: What is Coaching
---
Many people outside the corporate environment are not familiar with coaching. Most people only think of coaching in sports. The attitude and activities of the Olympic coach are much in alignment with an executive, corporate, or life coach. The tools and skills, however, are different. The best and simplest definition of coaching is: "Successful coaching is a mutual conversation that follows a predictable process and leads to superior performance, commitment to sustained improvement and positive relationships."1
Basic Coaching Skills Are:
Observing, listening, questioning, moving through the gap, informing, challenging, and endorsing/encouraging.
Many models exist that define the coaching process. One example of a model for the skill of moving through the gap is the "Coaching Conversation™" authored by Lee Smith and Jeannine Sandstrom (CoachWorks® International), and now utilized by Corporate Coach U in their training programs:
1. Establish Focus. Where are you now, and where do you want to be? What is missing? What needs to be achieved? Where do you want to go?
2. Discover Possibilities. What is possible? What can be done with what is known or currently "real"?
3. Plan the Action. This is the time for strategizing the way to get from where you are to where you want to be.
4. Remove Barriers. What stands in the way? How can it be removed? Remove it.
5. Recap. Go over the plan again, then, as Nike says, "just do it!"
This is the nutshell version of coaching. Obviously, this is overly simplified. Coaching is composed of many skills and techniques all focused on allowing the individual (or congregation) to achieve their very best. If you read the Exodus 18 account of Jethro coaching Moses, you will find all these steps and skills.
From 501 Building Blocks for Powerful Coaching, materials developedby Linda Miller, MCC and Jane Creswell, MCC for Coach Approach Ministries. Copyright 2010, all rights reserved. Used with permission.
Note
1. Dennis C. Kinlaw, Coaching for Commitment: Managerial Strategies for Obtaining Superior Performance (San Francisco: Pfeiffer & Co, 1993).