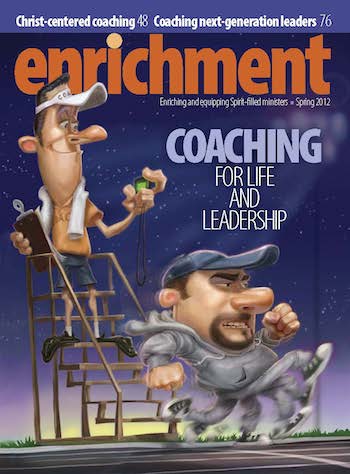 Downloads:
SIDEBAR: Tri-Alogue Coaching
The Third Person in the Coaching Conversation
by Jane Creswell
---
While a coach is also one who comes alongside, the Holy Spirit is the third person in a coaching conversation. He provides guidance to the coach and the person you're coaching. I wrote this prayer to remind myself of the Holy Spirit's role in coaching.
A Coach's Prayer
Lord, thank You for calling me to be a coach.
Let Your unconditional love flow through me.
Spotlight my sins that encumber.
Mold me into a servant leader.
Before each coaching conversation, I pray:
For boldness to be Your ambassador.
For the ones I am coaching to listen to You.
For your direction, insights, and inspiration to take action.
During each coaching conversation, I pray:
For guidance from You on what to say and how to say it.
For wisdom to know when to turn the conversation into a time of prayer.
For peace when it is time to be silent and let You do the speaking.
And beyond each coaching conversation, I pray:
For You to calm the fears of the unknown.
For You to fill in the gaps of what was not said and what was really needed beneath the surface.
For boldness to take actions that go beyond what I know how to do and outcomes I know I can control
For followers of You, Lord, and not followers of the coach.
For Christian coaches and their global impact.
For coaches everywhere who are making the ground fertile for the gospel.
May You be glorified in all I say and do.
In Jesus' name, Amen