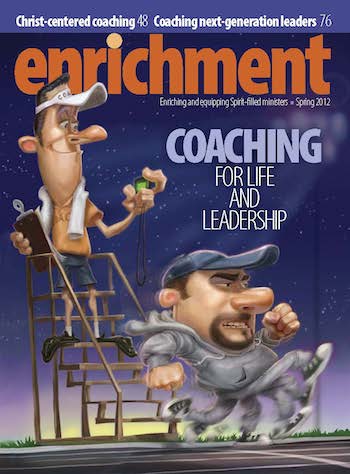 Downloads:
SIDEBAR: Learning to Use a Coach
by Eddie Hammett
---
Enlist a coach in times of confusion, transitioning, when feeling stuck, or times of great success and effectiveness. Seek a coach who is certified and trained. Interview potential coaches. Look for chemistry.
Do you feel the coach listens while you are talking?
Do you trust him/her?
Does the coach hear what you are saying?
Do you sense this coach can move you forward in your issues of concern?
What are some of the coach's success stories?
What are some of the coach's challenges?
Commit to at least six sessions with a coach. It takes time to build trust and experience momentum in the coaching relationship. Talk with the coach about:
What challenges you are facing?
Where do you experience connectedness in life?
Where do you experience fulfillment?
What drains your energy in career, relationships, etc.?
What makes you happy and energized?
What are the places in life you feel stuck or confused?
What transitions or changes are you facing with dis-ease?
What do you need from the coaching relationship to help you move forward in life, career, or relationships?
What opportunities are presenting themselves that you feel unprepared to embrace?
What skills or capacities will help you feel more prepared for the presenting opportunities or challenges?
EDDIE HAMMETT, PCC. Author of Reaching People Under 40 While Keeping People Over 60. This sidebar is taken from www.thecolumbiapartnership.com. Used with permission.