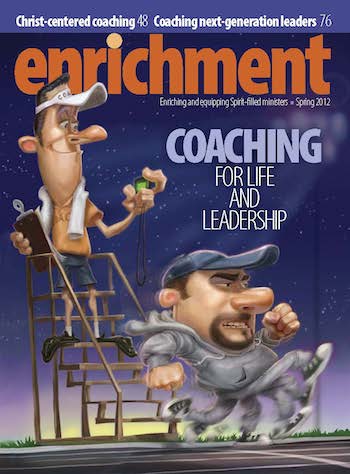 Downloads:
SIDEBAR: How to Create a Coaching Culture in Your District
by Arden K Adamson
---
Coaching is no longer merely a novel idea in the Assemblies of God. Instead, district officials and other leaders are recognizing that coaching is a bonifide skill that accelerates progress in a minister's life and ministry. Here are some districts that are creating a coaching culture.
Pennsylvania-Delaware District Superintendent Steve Tourville is leading the way in building a district-wide coaching network. The district's goal is to foster a coaching culture, encourage coach training, provide certified coaches for any church or team that desires to be coached, and encourage people to connect with a life coach. The district has helped underwrite training for over 300 people. They offer breakout sessions about coaching at their Annual Ministries Summit (district council) and Minister's Enrichment (annual retreat). A group of coaches meet monthly to foster best practices and resource each other. A website is coming soon.
Michigan District Superintendent Bill Leach appointed a chairman for the district's coaching network. The district offers coach training class 501 twice a year and class 503 annually. An ICF certified coach teaches these classes. The coaching network coaches church planters, Natural Church Development Church Health teams, district-supervised pastors/churches, and other ministers and spouses. An annual meeting with district-endorsed coaches provides opportunity to connect, inspire, and encourage.
The Oregon Ministry Network, led by Superintendent Bill Wilson and his wife, Joy, are developing a coaching culture. Wilson appointed an OMN lead coach and selected 10 people, certified through Ministry Coaching International, to assist with coaching lead pastors and associate and bivocational pastors. They offer sessions and workshops at their annual conference with opportunities to sign up for one-on-one coaching. The OMN website and network correspondence promotes the coaching culture. Approximately 15 to 20 percent of OMN pastors are in the process of being trained or have been coached.
The Minnesota district regularly trains coaches and utilizes coaching in their cadre groups, peer mentor groups, and leadership groups. The Kansas district has developed an extensive coaching culture and provides certification through CoachNet (see the EJ Online article "How One District Is Bringing a Coaching Culture to Life") at www.enrichmentjournal.ag.org. The North Texas district conducts AG Coach training seminars, as does the New York and New England districts. Other districts are also beginning training.
How does a district create a coaching culture? Here are some ideas by AG Coaching:
Contact AG Coaching at 417-862-1447 ext. 3535. We will help you tailor the process to your district's needs and desires.
District leadership needs to be supportive, understand coaching, and, if possible, make it financially feasible for training to take place.
Appoint a district coaching coordinator.
Present coaching at broad venues such as presbyter and/or district-wide functions as well as through printed or electronic communications.
Provide basic training in coaching such as Unit 501 (Building Blocks of Coaching) and Unit 503 (Coaching Through Change, Transition, and Transformation). AG Coaching offers these classes.
Encourage development of coaching skills through:

Practice coaching — encourage those trained in basic coaching to utilize their skills in their own ministry.
Create peer coaching small groups of two and three people.
Join the free AG Coaching skills webinar hosted by Sam Farina at 1 p.m. (CST) the first Thursday of each month. Contact Barb at barb@samfarina.com to receive notification and the webinar link.

Utilize coaching by connecting coaches to networks such as revitalization church pastors, church planters, leadership development groups, lead pastors, and associate pastors. Offer coaching to any leader who wishes to accelerate progress.
Provide ongoing training to improve coaching competencies. AG Coaching offers up to 10 sequential training seminars.
Encourage interested coaches to increase their skills by obtaining certification through AG Coaching. (See www.agcoaching.org).
A coaching culture can remove numerous hindrances to the work of the Holy Spirit in building the kingdom of God. AG Coaching is ready to assist you. Call AG Coaching at 417-862-1447 ext. 3535.
ARDEN K. ADAMSON, AG Coaching Task Force Leader