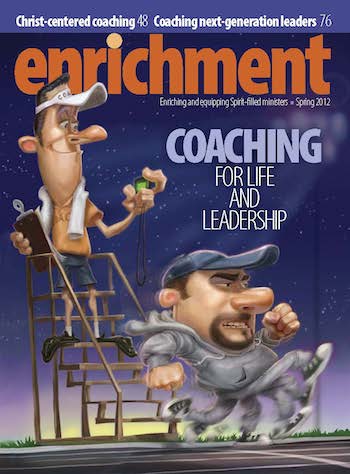 Downloads:
Introduction Coaching for Life and Leadership
by Rick Knoth
---
I have always loved and played sports. In my former days of "sports glory," I played for several coaches. Some I remember with great fondness; others have been hard to forget — and for good reason.
I most remember one of my high school basketball coaches, not for his coaching prowess and inspiring pregame talks, but rather for his tough demeanor, vulgar tone, and win-at-all-cost philosophy. He failed miserably to seize upon the team's victories and defeats as teachable moments in the lives of his players. Instead of building positive character traits — respect, responsibility, discipline, and self-worth — he dismantled players' character with fear, intimidation, and shame. Not the model coach you would want for your kids or grandkids, to be sure.
The imprint of a coach's legacy on a player's heart is not for his or her swagger or winning ways but for the courage he inspires, the character he instills, and the confidence he imparts. A great coach sets standards of excellence, learning, and improvement that encourage and motivate players to be great persons on and off the court.
Many consider the late John Wooden — a self-effacing kind of sage for both basketball and life — the greatest basketball coach in the history of the sport. Though he never stressed winning as the "be-all and end-all" of life, he did win 10 national championships, more than any other basketball coach. His "Woodenisms" have stood the test of time. Here are a few that speak to his greatness as a person and a coach:
"Ability may get you to the top, but it takes character to keep you there."
"What you are as a person is far more important than what you are as a basketball player."
"Being average means you are as close to the bottom as you are to the top."
"Make each day your masterpiece."
"Drink deeply from good books, especially the Bible."
"Make friendship a fine art."
"Build a shelter against a rainy day."
"Pray for guidance."
"Count and give thanks for your blessings every day."
The arena of high school and college athletics could certainly benefit from a few more John Woodens. Wouldn't you agree?
By now you might be asking, "Why are you devoting so much space in EJ to the topic of coaching, after all I am a pastor, not an athlete? What does coaching have to do with my life and ministry? Jesus is coming back and people are going to hell, aren't there more important topics to talk about?"
Yes, Jesus is coming back and people are going to hell. That is preciously why we need to be at the top of our game. So this issue of Enrichment highlights a different kind of coach — a life coach. We could all benefit from having an objective third-party come alongside us to help us see beyond our problems and the thousand pressing needs that crowd our days — someone to help us stay grounded and focused on the things in life and ministry that really matter — like winning people to Jesus — someone who treasures the "game" as much as we do and who is committed to our success.
Have you ever given thought to how coaching can be expressed in the ministries of your church or how coaching can personally benefit you and your staff? If not, by the time you finish reading this issue you will have a clear understanding of the role of coaching and its significance to you and your church.
The model of coaching presented in this issue is a designed alliance between a coach and a coachee, where the coaching relationship continually gives all the power back to the person being coached. A life coach believes that you have the answers to every question or challenge you may have in your life and ministry, even if those answers appear to be vague, hidden, or buried inside.
Life coaching is not the "be-all and end-all" for your ministry, but it is a very important first step to get you to the top of your game. Other support ministries like counseling, consulting, and mentoring have their rightful place at the table, and you need to utilize each one to its full potential within its proper ministry context.
We hope that after reading this issue you will either find a life coach or desire to be a coach to others. We also trust you will enjoy this issue of Enrichment as much as we have enjoyed bringing it to you.