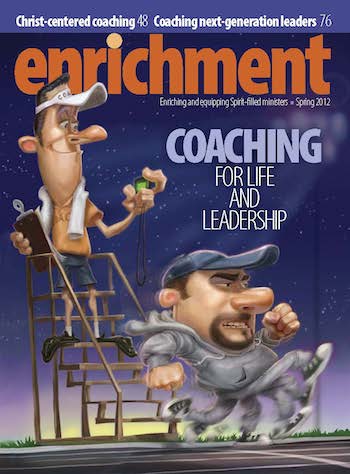 Downloads:
How One District Is Bringing a Coaching Culture to Life
---
"Where was coaching 20 years ago when we started ministry?" This is what Sarah Lehman, wife of Lead Pastor Mark Lehman, Family Life Assembly of God, Pittsburg, Kansas, said when she completed the Assemblies of God Kansas District (AGK) coach-training process. Lehman was seeing new possibilities — in fact, an entirely new way of doing ministry.
"I always felt I had to have the right answer/word to give to everyone, every time. Coaching has equipped me to draw out from people what God has already placed within them," Lehman says.
District Superintendent Terry Yancey and his wife, Karen, have a passionate vision for coaching. They had tested it in conversation with district leaders. They sensed the benefits that a districtwide coach approach could offer to district ministers. A few staff members had experienced what coaching is capable of doing. So when Karen Yancey, the Network Development director for AGK, contacted me and asked if I would serve as district Network Development Coaching Consultant, I agreed. I explored the possibilities for launching a coaching culture in the district. I had received my coaching certification with CoachNet in 2005 and was familiar with the process.
Superintendent Yancey has noted a change in his conversations as a result of his coach training, "As superintendent, I am often asked to provide answers, and a place exists for consultation. Coaching skills, however, assist me in helping others discover answers for themselves. This often produces a stronger level of confidence on their part as they navigate an issue."
AGK started almost 2 years ago. Having completed two full cycles of coach training, it has been amazing to witness the growth and widening perspective of the pastors and leaders in our district. The coaching process has birthed a more intentional path to leadership and personal development with a momentum unlike anything I have ever seen.
Dottie Dozier, Kansas Women's coordinator, explains what has happened as a result of adding coaching into existing relationships. "The best part of my coach-training experience is realizing that I can virtually use coaching in any business or ministry role. We spend time praying over the best strategy and approach needed to strengthen our women's groups."
One thing we discovered in developing a coaching culture is that coaching relationships have key components that differentiate them from other relationships. This is at the heart of our core leadership at the national level for coach training.
Arden Adamson, AG Coaching Task Force leader, says, "A healthy minister strives for quality relationships in each area. A healthy minister will remain intimate, committed, and connected with his or her family and will be unselfish in helping other ministers."
Coaching is the tool that facilitates "helping other ministers." First, the coaching relationship focuses on the person being coached. The coach has to approach the relationship in the most generous way possible. It is not about the coach; it is about the person being coached. This is the standard we have set in our training process, which is a corresponding standard for all AG Coaching through the national office.
Once a coach can commit to be about the other person's growth, the stage is set for coaching. From that point on, integrating the basic coaching skills is the only outcome that matters.
The AGK coach-training process breaks the skills needed to coach effectively into 1) listening skills, 2) thought-provoking questions, and 3) strategic action plans.
Listening skills emphasizes hearing — without judgment or interpretation — what the other person is saying. It is not easy, but it definitely is the key to effective coaching. Listening establishes the groundwork for progress because you make the effort to understand what the other person is looking to accomplish and what God has placed in his or her heart.
Thought-provoking questions dig deep. These are not garden variety, yes-or-no questions, but rather questions that raise awareness and challenge the person being coached to get something done. These questions invite a person to think about what is needed.
Strategic action plans are how a coach provides accountability. By the end of each coaching conversation, the person being coached has a to-do list to work on — complete with deadlines to accomplish targets. The simple act of writing those items down provides a checklist by which to measure progress.
Buy-in From the Top
The AGK team began the training process as soon as learning opportunities were available. The first step in launching a district-wide coaching culture for AGK was to be clear about why coaching is the right tool. What kinds of things were we hoping to use coaching to accomplish? AGK's vision for coaching included more effective relationships and better support of leaders around the district. Lehman says it has been working since the launch of the coaching culture initiative:
"It is no longer about what the Lehmans' are doing in Pittsburg, Kansas, but what Christ is doing across Kansas. It breaks down the separation and isolation sometimes experienced in ministry. Instead, we are fleshing out the "one another" commands of Scripture by being a Barnabas to fellow field workers."
This change does not happen without significant clarity of vision early in the process. At AGK, we knew what we wanted to accomplish and knew coaching could be a means to get it done. Through developing a launch plan and strategic thinking with, Superintendent Yancey and his wife, the blueprints unfolded.
We discovered that a coaching relationship affords the possibility for a vision that once seemed out of reach. A number of visions we were chasing employed implementation that was vague at best. Through coaching, these visions transformed into a process of continual discovery, revealing the steps needed to see this vision become a reality.
Speaking as a coach trainer/mentor and one who has been coached, I have not only experienced vision come to life in my leadership responsibilities, but I see this dynamic multiplied in pastors and leaders across the Kansas district.
Commit Resources to It
At AGK we made solid decisions along the way, but none was more important than to put resources behind the launch. This included identifying the initial coaching cohort. Karen Yancey and the district staff mobilized the communication channels. We built coaching into the district budget.
I learned through my experience that coach training requires commitment. The district modeled that commitment from the beginning. "It takes time and focused effort to gain certification in the AGK coaching ministry. I have felt great pleasure watching our leaders dedicate themselves to the task," says Superintendent Yancey.
Pick the Right People
The first group of 18 coaches-in-training (CITs) gathered at the AGK offices. The district staff was ready, and there was energy in the room as we took the first steps toward implementing an effective district-wide coaching culture. The 18 trainees had done significant prework, and it was time to move to actual, tangible practice. The first few steps were tentative, but soon this first cohort group was hitting their stride.
As the training progressed, two words came to mind — multiplied results. This was the common theme from each CIT: "Through coaching, I have been able to accomplish more and grow deeper than ever before in my ministry career. That pushed us into the 'I can't wait to see what's next' phase."
Dream Big, But Start Slow
At its core, coaching is like a muscle. Think about the first few times you exercise after a long layoff. It feels good to get back to working out — while you are working out. But the next day or two is no fun. Stick with it and it gets better. Before you know it, you are running faster or lifting heavier weights than you thought you could.
A new coach's first coaching experience is like that. Coaches feel good, until a little while afterward the soreness kicks in. It is natural to wonder, Why did I ask that question? or What would have happened if I'd just listened a little longer? Self-review can be pretty brutal. In fact, more than one CIT in our first cohort told his coach mentor, "I will never learn to listen first and not direct the people I coach. It is not going to happen."
But just like exercise, as each CIT stuck with it, before long the listen-first-ask-questions-later posture took hold. Today, these pastors and leaders use their coaching skills in a number of ministry applications.
Terry Yancey appreciates the 2- by-2-nature of the coaching relationship: "For me personally, the best part is having an unbiased person, committed strictly to my success, asking thought-provoking questions that help me clarify and prioritize complex decisions."
Itinerant evangelist Jonathan Wright saw that once the question-based approach sunk in, the difference was clear. "I never tire of the ah-ha moments of those being coached. To not only see them make discovery but to see them move forward in changed and new ways is the absolute best," Wright says.
Church planter Darold Bunce says, "I use coaching skills in the development of my own church staff and ministry leaders in the church where I pastor. The results have been revolutionary."
Sarah Lehman points out that her coaching has taken her into several areas. "What I am probably most excited at this moment is the opportunity to partner with a church planter, anticipating what a difference coaching can make in her progress of launching a new congregation."
AGK Coach Training centers first on discerning what the Holy Spirit is already doing. Secondly, it centers on adapting an individual's behavior so it ends up in line with the Spirit. Coaches have a chance to pray with and for the people they coach, listen closely on both a personal and spiritual level, and then provide accountability for the person as they work to live out what God is calling them to accomplish.
Wright adds, "I regularly minister in group settings such as church staff, ministerial alliances, etc., and have found that utilizing the reflect-and-refocus strategy taught in coaching to be a powerful tool in group discovery."
Wait for the Results, But Do Not Try to Predict Where The Results Will Come
Not every candidate finished the coach training process on the first try. This is not surprising. Life sometimes gets in the way. But this is significant: everyone who did not finish in the first cycle is back in the second cohort, and this time is on track toward certification.
Wright is seeing benefits he did not expect. "My coach training has been helpful when addressing congregations. It gives me the advantage of not only presenting with facts and figures, but I now have incorporated questions about what is being presented to draw more interaction from the listener. It's a conversation about what God is doing now."
Put in the Effort. The Individual Skills Are Easy; Thinking Like a Coach is a Little Harder
The coaching cohort met more frequently than what we originally thought necessary. It was as if light bulbs were going on every month as we collaborated. The vision cast by the district staff was supported and brought to life by the coaches deployed across the district ministries. It took time. The commitment by the district was to work at the skills more than the minimum requirement to ensure this would continue to serve pastors and ministry leaders, not just start another program. That effort has paid off. Now, after two cycles, we anticipate more that 30 certified coaches serving the AGK in one role or another.
The design process AGK embraced looks like this:
Develop a vision for coaching with the superintendent setting the pace.
Identify two or three leaders to champion the future of the coaching culture, including an overall coordinator.
Train the initial core group.
Expand the champion group into a coaching development team.
Equip some first-round trainees to be coach mentors (someone who coaches a coach on becoming a better coach).
Deploy coaches across the district.
Train and mentor future coaches for Kingdom impact.
Offer training for further development.
These efforts and the communication of this process have continued into the second cycle. Superintendent Yancey recently engaged a coaching relationship to help him think through leadership decisions. Several leaders from around the district have noticed changes in the way Yancey talks about coaching and its role in what the district is trying to accomplish.
Expect God to Show Up
Evangelist Wright has seen the benefits. "My experience with coaching and coach training has helped take my ministry and influence to a whole new level. Anyone who is serious about impacting others should take coach training."
Superintendent Yancey adds, "From a district leader's perspective, I am most excited about coaching enhancing our district culture of authenticity and mutual accountability. Coaching solves isolation."
The reality is God has shown up. In fact, the vision we are living out now is actually bigger than the one with which we started. AGK, in partnership with the national AG Coaching office, has made the coach-training process open to anyone who wants training. We have committed the resources primarily for our district constituents, but we desire to collaborate with national AG coaching initiative to make this opportunity available to the wider church. The AGK coach training process matches the guidelines required by AG Coaching and is equivalent to AG Proficient Coach (AGPC) training.
If you are interested in learning more about coaching or receiving coach training, visit AGK website www.agkansas.com/coach or contact AG Coaching at www.agcoaching.org.
Kevin Weaver, Network Development Coaching Consultant, Altamont, Kansas