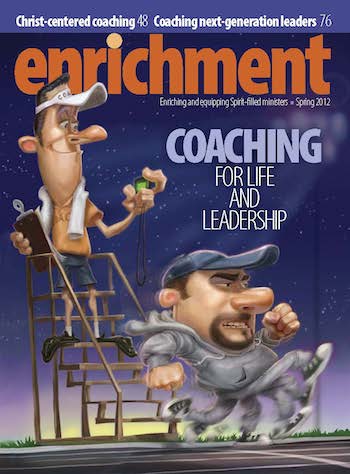 Downloads:
Coaching Next-Generation Ministry Leaders
Helping next-generation leaders make their mark on the kingdom of God.
by Sam Farina
---
"Space — the final frontier. These are the voyages of the starship Enterprise. To explore strange new worlds, to seek out new life and new civilizations, to boldly go where no one has gone before."
Each episode of the popular television series Star Trek began with those words. There have been five television versions of Star Trek, all with different captains who have different leadership styles and generational blends. The franchise started in 1966 and continues to have vibrant life and a huge following with a twelfth movie to be released in 2012. Film writers have successfully changed the story lines with culture while maintaining a never-changing mission.
This is the story of the church — same mission, but a changing crew. The new breed, next-generation leaders, who will take command on the bridge of the Kingdom's Enterprise will hear the never-changing mission proclaimed by Christ: "Therefore go and make disciples of all nations, baptizing them in the name of the Father and of the Son and of the Holy Spirit, and teaching them to obey everything I have commanded you" (Matthew 28:19,20). This is the foundation for evangelism and cross-cultural missions in Christian theology.
Next-generation ministry leaders will redesign ministry methods in churches, world missions organizations, and denominational offices as they boldly go where no one has gone before. To accomplish their mission, they will need the voices of mentors, consultants, and at times, counselors. But no matter how good they are, Andy Stanley says, next-generation leaders "without a coach will never be as good as they could be."1
This article explains how to use a coach approach to help you and your next-generation colleagues make a mark for the kingdom of God. The goal of this article is not to make you into a professional coach or even make coaching your full-time job. Throughout this article, you will see ways to do your job better. But most important, you will discover ways to help next-generation leaders do their job better by using a coach approach.
Do not assume you need a certain experience level to coach others. Some believe you need to have a certain number of years or wisdom to coach. Sometimes, lack of experience in a particular area makes the coach more objective. If you are going to engage in successful coaching of next-generation leaders, you should be actively using a coach in your own life and ministry.
Coaching Next-Generation Leaders Centers on Hearing the Holy Spirit
The key to seeing success in coaching next-generation leaders is plain: Find out what ministry God wants them to lead, then use coaching skills to move them to think for themselves in creating a time line for action and accountability.
Robert Logan in Coaching 101: Discover the Power of Coaching states, "The role of a coach is simply to help leaders find out what that looks like for him … and then help that person … figure out ways to do it. Coaching works with next-generation leaders because coaches walk alongside the leader … throughout the whole process: clarifying goals, brainstorming plans, trying them out, revising them, trying again, and coaches join in celebrating successes."2 Walking alongside next-generation church planters, pastors, missionaries, evangelists, and ministry leaders is critical to their success.
We can outline a blueprint for coaching as follows:
God's Vision and Mission
+ Scriptural Principles
+ Christ's Presence
+ The Holy Spirit (through the Holy Spirit our coaching reaches God's purpose in transformation of human hearts)
+ High Standard of Excellence as a Trained Coach
= Spirit-Empowered Coaching.3
God acts through coaching to reveal truth. This is what makes a coach approach work as a catalyst for spiritual formation, evangelism, and discipleship, as well as leadership development. Spirit-filled coaches believe that Jesus is actively working through them to help them listen and ask powerful questions to the person being coached (PBC). The Holy Spirit in every coaching conversation challenges the PBC to reach their full Kingdom potential.
George Bullard coined the phrase "full Kingdom potential" to refer to the journey whereby people progress to reach their God-given destiny. This journey begins "in response to a God-called, Christ-centric, faith-based, sense of mission and vision."4 Reaching full Kingdom potential means becoming all one is to be in Christ. It is by the Holy Spirit that coaching reaches God's purpose in the transformation of human hearts and lives. The coach approach mirrors how Early Church leaders made decisions directed by the Holy Spirit.
Paul wrote, "Run in such a way as to get the prize. Everyone who competes in the games goes into strict training. … Therefore I do not run like someone running aimlessly; I do not fight like a boxer beating the air. No, I strike a blow to my body and make it my slave so that after I have preached to others, I myself will not be disqualified for the prize" (1 Corinthians 9:24–27).
This Scripture gives another important responsibility of our coaching. All ministry leaders need a Spirit-directed coach who will, from time to time, help them assess their state of discipline. Simply stated, a suggestion for enabling a good finish for next-generation leaders is to allow your coaching to be a vehicle for helping young leaders build accountability in their spiritual lives and ministries. As a next-generation leader coach ask, "Who do you fully confide in that understands your situation? Who can warn and advise you to help you avoid pitfalls and grow throughout your lifetime of ministry? What is one way to get more energy in your life? What spiritual discipline do you need to take to the next level? How are you renewing the core of your soul?"
Coaching Helps Next-Generation Ministry Leaders Think Differently
In a recent coaching conversation, a next-generation leader was struggling to find how he would, with honor, transition the former lead pastor from ministry within the church. Three years ago the 67-year-old former leader decided to step down from the lead role and serve on the ministry team. He fully agreed to set in place the new leader as the main communicator and vision caster. Recent changes in methods of ministry met some resistance, and the former leader and his wife willingly listened to and embraced those who chose to resist.
Last week at the monthly church board meeting the board surprised the new pastor when they advised him that they needed to put a plan in place for the former leader to gracefully leave the ministry team. The next-generation leader wanted to leave the coaching conversation with some specific next steps in this transition.
The coach observed that the leader referred multiple times to a gut feeling. A four-question assessment by his coach about his past leadership successes revealed that when he followed the intuitive voice of the Holy Spirit (gut), he experienced great success. When he failed to follow the voice of the Spirit, he experienced less success and often became stuck in overanalysis. Coaching next-generation leaders may call for self-discovery assessments that give insight and lead to more confident leadership and decision making.
Next-generation leaders will often work with four generations as ministry partners and the people they are reaching with the gospel: The Silent Generation (a.k.a Traditionalists), born before 1946; Baby Boomers, born between 1946 and 1964; Gen Xers, born between 1965 and 1980; and Millennials (sometimes called Gen Y or Generation Next), born after 1981. These four generations do not always communicate well with each other.
Judith Feld, on faculty at the University of Texas at Dallas School of Management Executive Coaching program, says, "When generations fail to communicate effectively, we see a negative impact."5 This presents interesting challenges and opportunities for next-generation leaders. Coaching involves helping them think creatively about how to engage all four generations into a fully corporative, healthy ministry team.
America's 78 million baby boomers began turning 65 this year at a rate of one every 10 seconds — 3 million to 4 million per year.6 In the coming years, the Captain Picards, who have commanded, carried past leadership knowledge, and championed the church to a powerful impact in the world will retire at rates never seen before. Coaching next-generation leaders involves helping them recognize and respect the contributions of older more mature leaders. It involves encouraging next-generation leaders to help maturing generations to transition from active to less-active ministry with dignity and honor.
One need not be a student of the Pentecostal church to know that changes are occurring at an extraordinary rate, even in the Assemblies of God.7 Christian leaders are not "exempt from the radical morphing of our world, regional culture, and the church context in which we find ourselves," states Byron Klaus.8 With unprecedented change occurring, it is crucial that we come alongside next-generation leaders to encourage them toward action and change.9 This intentional journey will include helping these leaders determine the lasting internal and external changes that need to take place in the church, in the members, and within themselves.
Help next-generation leaders see the symptoms that show their need for change by asking, "What is on the surface you can see, sense, or hear?" Then help the leader focus on this situation by asking, "What are the details of what is happening?" By asking, "What is specifically causing this situation or symptoms?" you keep leaders moving forward in their thinking so they can determine the source. As coach, you must help leaders keep their eyes on the ultimate goal of coming up with their own solutions. Ask, "What are the specific actions you need to take? Who do you need to include in the actions? And what will be the timeline of those actions?"
Leadership Development Coaching of Next-Generation Ministry Leaders
Leadership development coaching builds the leader's future capabilities. James, 32, is starting his second year as lead pastor. He talks biweekly in a developmental coaching conversation. He was a youth pastor when he started his coaching journey. Over 12 months, as coach, I walked with him through many decisions, including the change to lead pastor. By using assessments that revealed his personality type, conflict style, personal values, needs, and health of the core of his soul, he was able to choose how he would best function in his lead pastor role.
In the first year of pastoring, he worked on personal shifts that needed to occur to facilitate personal growth. Coaching has included internal and external changes for James. With coaching he set a goal of attracting a certain people group. During the coaching process, he defined what attire and communication would best draw and keep that targeted people group. He is currently working on what needs to change personally and organizationally so the church can break the next growth barrier. He knows that to sustain a new level of attendance, he must put new systems, new people, and new thinking in to operation.
Many times this type of coaching prepares young ministry leaders for the next ministry career move. This style of coaching may require more time and commitment from the coach and PBC because it takes a deeper look at the person, the trajectory, and the types of growth needed.
Development is the key to increased performance and enhanced growth. Young people today are being thrust into leadership positions that require wisdom and maturity far beyond what one could expect from them, given their age and experience. Young leaders often benefit from shadow coaching, where the coach observes the leader in her day-to-day activities and gives immediate feedback. Shadow coaching may include observing the person leading a meeting, conducting one-on-one interactions with subordinates, or generally relating to peers or superiors in the organization.10
Some young ministry leaders have such a high level of confidence it borders on arrogance. Others have such a low sense of self-confidence their behavior borders on self-effacement. In Good to Great: Why Some Companies Make the Leap and Others Don't, author Jim Collins writes about "level-five leaders" — those who demonstrate a rare combination of two traits: fierce and focused resolve combined with humility.11 When everything is going well, the level-five leader assigns success to others. When things are going badly, the same leader takes full responsibility for it. Having an appropriate level of confidence means being able to be humble and give credit to others who are doing well. Leadership development coaching is highly effective in moving young ministry leaders to level-five leadership.
Focus areas for leadership development coaching might include: 1) Strategic leadership and operational leadership: Articulating vision, defining and building culture, setting strategic imperatives, understanding group dynamics, managing conflict, solving problems, and creating clear systems. 2) Blind spots: Distracting mannerisms, habits, and language. 3) On-Boarding: The process of moving into new leadership positions. 4) Assumptions and limiting beliefs: About self and others.12
Ninety-six percent of leaders who have received developmental coaching report they received objective feedback; 78 percent said they were challenged and it gave them a different perspective; 61 percent found the coach a safe sounding board; 57 percent saw things they were missing. Overall it led to better performance. They further report they have changed and are not only more skillful but also more confident, more certain of their direction, and more self-aware.13
Coaching Helps Next-Generation Ministry Leaders Resolve Life/Work Balance
One issue that often arises when next-generation ministry leaders work with coaches is work/life balance — how to juggle personal and ministry priorities. Many young leaders watched their parents suffer fatigue, illness, and divorce and they strive for a better balance. They avoid long hours and keep their work and personal lives separate. Some older leaders view them as being less driven in their work habits and less loyal. The fact is they are committed to balance. As a coach of next-generation ministry leaders, you will need to include guiding questions to help them achieve this critical work/life balance.
When coaching next-generation leaders through work/life balance, some questions you may include are: "Where does your family fit in with your work? How do you take care of your personal health? How do you feed your spiritual self? In what ways do your calendar and schedule reflect your priorities? What actions can you take to help align your personal and ministry priorities? What in your work can you minimize, eliminate, or delegate? What new habits do you need to acquire?"
Remember, coaching next-generation leaders is about change: improving skills, building better relationships, and overcoming performance problems.14 Terry Bacon and Karen Spear state, "The aim of coaching is to facilitate constructive, self-inflicted change one person at a time — not just to ward off catastrophic change imposed from without, but to help individuals maximize their potential and the contributions they can make to the ministry for which they have chosen to invest their passions and their energies."15
We must base coaching on an adult learning model. "One of the most significant findings of adult learning research is … that when adults learn something naturally instead of 'being taught,' they are highly self-directing [i.e. they feel ownership and act on it]. … What adults learn on their own initiative they learn more keenly and permanently than what they learn by being 'taught.' "16
Next-generation leaders entering ministry today differ in significant ways from previous generations. Some of those differences make coaching an especially good fit.17 Next-generation leaders are the best leaders in church history. They are the best educated, most entrepreneurial, and are highly missional.
Unfortunately, there are no home improvement or handy garden centers for growing leaders. Our world is in an instant, find-a-short-cut, microwave-quick, leader-tricks-for-dummies culture. Taking time to grow depth, breadth, and height in one's life is not necessarily a high priority in the hearts and minds of many impatient or pressured young leaders. They need you as a coach. I encourage all ministry leaders to be trained in Basic Leadership Coaching.18
Training in a coach approach to leadership means you will learn how to withhold comment and listen with curiosity to what your younger leaders bring up. You will create coach-approach team meetings full of risk-free experiments, and be open to wherever the results lead. Most of all, you will let the Holy Spirit be your Coach as you coach others to the full potential the Holy Spirit is leading them to for the 21st- century harvest.
Coach next-generation leaders as they go where no one has gone before.
Notes
1. Andy Stanley, The Next Generation Leader: 5 Essentials for Those Who Will Shape the Future (Sisters Oregon: Multnomah Publishers, 2003), 12.
2. Robert E. Logan and Sherilyn Carlton, Coaching 101: Discover the Power of Coaching (St. Charles, Illinois: ChurchSmart Resources, 2003), 23.
3. Vicki Farina.
4. George Bullard, Pursuing the Full Kingdom Potential of Your Congregation (St. Louis: Chalice Press, 2006), 9.
5. Judith Feld, Leadership in the Four-Generation Workplace, http://www.CoachNet.com. Accessed July 22, 2011.
6. Ben Mattlin, America's 78 million baby boomers will begin turning 65 next year: http://www.examiner.com/heart-health-in-los-angeles/america-s-78-million-baby-boomers-will-begin-turning-65-next-year. Accessed July 22, 2011.
7. Byron Klaus, "Lifelong Learning, Developing Excellence, and Finishing Strong," Enrichment 12, no.1 (Winter 2007): 48.
8. Ibid.
9. Madeleine Homan and Linda J. Miller, Coaching in Organizations (Hoboken, New Jersey: John Wiley and Sons, 2008), 141.
10. Ibid., 141,143.
11. Jim Collins, Good to Great: Why Some Companies Make the Leap and Others Don't (New York: Harper Collins, 2001), 36.
12. Ibid.
13. Linda Miller, research from the Ken Blanchard Company presented in February 2011.
14. Terry R. Bacon and Karen I. Spear, Adaptive Coaching: The Art and Practice of a Client-Centered Approach to Performance Improvement (Mountain View, CA: Davies-Black Publishing, 2003), xxviii.
15. Ibid.
16. Malcolm Knowles, Designs for Adult Learning (London: Routledge, 1987), 10.
17. Jane Creswell The Complete Idiot's Guide to Coaching for Excellence, (New York:Alpha Books, 2008).
18. Assemblies of God coaching hosts Basic Leadership Coach training across the United States. You can find the dates and locations at www.agcoaching.org.