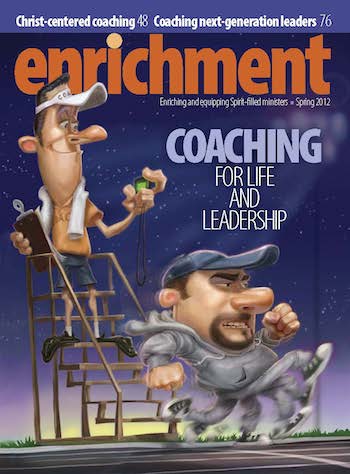 Downloads:
Coaching From the Inside
Here are important coaching principles to keep in mind when coaching your ministry leaders from the inside.
---
Brian was doing a great job as children's pastor at Trinity Assembly of God in Lutherville, Maryland, when I arrived to become the discipleship and ministries pastor. My position included overseeing the youth and children's pastors. Although Brian was gifted and talented in working with kids, in my conversations with him, it became obvious that God was shifting Brian's direction toward pastoral counseling. As a coach, who also had the role of supervisor, we worked together to discover God's plan and strategically implemented a transition. Eventually Brian went back to school to get a master's degree and is now a counselor and leads Celebrate Recovery for Trinity. Watching Brian's passion, vision, and skills converge with strategy and goal setting brings fulfillment to this coach's heart.
I delight in working with church planters, ministers, and leaders. I have coached pastors I have served under, staff I have served with, staff reporting to me, lay-leaders and workers, interns, and college students. I have experienced people finding their place of ministry and becoming engaged at a level of giftedness and passion.
People come alive when they begin to discover, operate, and excel in their gifts. Coaching is a great way to help people realize and accelerate their growth. Proverbs 20:5 says, "The purposes of a man are as deep waters, a man of understanding draws them out." Coaching reaches deep into a person's life to help them discover their God-given purpose and creates a strategic partnership to help them move forward.
When coaching leaders within the church, I adjust my definition of coaching: "Coaching is an intentional partnership, designed to encourage sustained success in the context of an authentic relationship." This working definition reminds me that the leader and I are partners, working to fulfill the vision of the church. As such, I walk alongside leaders to make vision and strategies realities. I regularly provide support, encouragement, and accountability in an atmosphere of authentic relationships, which empowers a person to reach their full potential. It amazes me how much people are looking for this investment and respond with openness and gratitude.
Keep the following in mind when coaching your ministry staff and lay leaders:
Build Authentic Relationships
People in ministry respond best to those who care about them as persons. The relationship opens the door for feedback, which I call relational capital. The healthier the relationship, the more opportunity one has to speak into the life of another.
Bob Logan and Sherilyn Carlton write, "If we skip over building a solid relational foundation in our hurry to get more accomplished, our strategy will backfire. Coaching that leaves out the relational element will be ineffective at best."1 Authentic relationships may not be possible when the coaching comes from outside the church, but it is critical when it comes from the inside.
The fastest way to build authentic relationships is to tell stories about one's life and allow leaders to share their stories. This requires a certain level of vulnerability by the coach, which speeds up trust in the relationship. I want to hear about their God story, places in their lives where God revealed himself in a significant way and touched them deeply. Asking about a leader's calling is asking about their God story. Although coaches should not take on the role of therapist or counselor, knowing about a staff member's background will help understand how the leader functions.
I also listen for patterns of behavior and consistent results. I learn about past successes and failures and connect them to the present. This is one way I help leaders become more self-aware as they identify the things God wants to change in their lives.
Furthermore, I listen for the dreams and visions leaders have as they pertain to life and ministry. They may have never spoken some dreams and visions out loud. Coaching creates a safe environment for this to happen. Although Brian was accountable to me, it was our relationship that encouraged the conversation in which he explored other ministry dreams.
Coaches can accelerate authentic relationships when they work with a leader firsthand. Praying, working, playing, sharing meals, and ministering together give the coach information not available through coaching sessions.
Think Holistically
Coaching needs to be holistic, touching all areas of life: spiritual, emotional, personal, and ministerial, because all are connected. It is difficult to coach people toward a successful ministry when they are wrestling with their relationship with God or spouse.
One simple tool to help a leader find balance is "The Wheel of Life." The Wheel of Life is available at www.mindtools.com/pages/article/newHTE_93.htm. This site provides a clear explanation on how to use this wheel. This tool helps a person find balance and identify areas of personal growth.
Being a coach in the same church gives the pastor tremendous advantage. They can watch their leaders in action in real time, seeing firsthand their advancements and challenges, and they can offer encouragement and support along with accountability. This makes the conversations much easier. The coach can say, "I noticed…" or "Talk to me about…" or ask, "What about this situation reminds you of your previous experience?"
One challenge of coaching is that the coach can only work with what the leader brings to the session. When coaching from inside, the coach has opportunity to give honest and timely feedback with more material with which to work.
Work Toward Self-Awareness
While working with Paul, a dedicated Royal Rangers leader, it became obvious his passion for that ministry was diminishing. He lacked enthusiasm and energy and became more disconnected. After talking with him a number of times, he finally said, "I resign. I need time to just sit back."
I did notice, however, that when he prayed, there was something deep and special. Through a series of questions and conversations he decided to try something new. He began a Pastors Prayer Partner ministry with renewed joy and passion. This became a life-giving ministry and served to make a significant impact on the lives of many men, including me.
Many leaders in our churches are like Paul, serving where they are not gifted or called. This breeds discontentment and burnout. This is bad for recruitment as volunteers repeat negative stories.
A coach works toward a leader's self-discovery. There are tools that help leaders discover their spiritual gifts as well as their personality profile: DISC (Dominant, Influence, Steadiness, Conscientiousness). Pastors can order these tools from www.uniquelyyou.net.
Leading From Your Strengths (www.ministryinsights.com) is another tool to assist a coach in connecting the leader to the right teams. Both resources are quick and simple online assessments giving immediate, comprehensive feedback to the coach and leader as well as useful team-building exercises.
These tools, combined with questions and observations, give coaches feedback they can use to gain insight into how God has naturally equipped the leader. From here a leader can either use the insights to advance in the same ministry or experiment with other interests.
Look for Teachable Moments
Coaching church staff and leaders also require pastors to look for, or create, teachable moments. As coaches, pastors see leaders in action, they can ask questions that help these leaders improve. One specific area of growth opportunity for many leaders is in improving their communication and people skills. Ask, "If you could rewrite the script for how you handled this, what would it look like?"
Anytime leaders experience a crisis, they have opportunity to reflect on personal growth. When life changes, it influences who we are: sometimes for the better and sometimes not. Whether the crisis is personal or ministry related, the coach can walk with the leaders he is coaching to discover the work of God in their lives.
When looking for teachable moments, I ask, "What is God teaching you about yourself through this?" If the coach has taken time to listen to the leader's stories, there is opportunity for significant growth.
I noticed one leader leaving church early, which was not his usual routine. I asked a few questions, which led to in-depth conversations. These conversations helped turn the situation around and teach valuable lessons on spiritual maturity. Observing out-of-routine behaviors allows the coach to get to root issues much faster and can lead to more efficient sessions.
Many times a coach can also create teachable moments. This combines mentoring with coaching. I had three interns for a summer, all of whom wanted to work on their public speaking. I helped each intern put together a message, pray over the message, present the message, review the message, and repeat the message. These teachable moments will serve to be beneficial in their future.
Agree on an Agenda
Coaches are not simply looking for coffee partners; they are working toward advancement, helping leaders get from where they are to where they want to go. Agreeing on an agenda sets the direction for coaching. When leaders cannot clearly identify where they want to go, it presents a major challenge for all involved. Knowing that effective coaching happens when leaders are working in areas where they are motivated, a skilled coach will help leaders reach down and find excitement, conviction, and energy for change.
"Your Change Agenda" is a resource from Transformational Leadership Coaching (See "Your Change Agenda" sidebar). It asks a series of questions within three categories: Your energy for change, God's agenda for change, and the facts of life. If leaders can determine their long-range goals, the coach can help them work backward to identify what they want to accomplish in the next 30/60/90 days.
The coach needs to work to attach the agenda to personal growth. For example, if a leader wants to grow personally in a certain area (i.e. spiritual disciplines), then the coach needs to help the leader set an agenda that will challenge that personal area as well as accomplish a specific project. A coach might ask, "As you were praying about the project, what did you learn from your study in Scripture and your time in prayer?"
Set Goals
After you determine the overall agenda, move toward setting specific goals that move a person forward. This is where the partner takes ownership and responsibility for growth and change. It also sets the agenda for the coaching conversation and requires an outcome.
John Whitmore, in Coaching for Performance: GROWing Human Potential and Purpose — The Principles and Practice of Coaching and Leadership, provides a tool to help people determine their goal and move toward it. He calls it the GROW model. He designed it to help people stay focused on sustained excellence by helping them define what they would like to accomplish and work through the specifics. The GROW model has a sequence of stages a coach can use to guide the partner toward a solution and determine realistic steps toward that solution. GROW is an acronym for:2
GOAL setting for the session, as well as short-and-long-term goals.
REALITY checking to explore the current situation.
OPTIONS and alternative strategies or courses of action.
WHAT is to be done, WHEN, by WHOM, and the WILL to do it.
A goal must cover five areas. Think of them as SMART: Specific, Measurable, Attainable, Relevant, and Time-specific.
Two questions help a person move toward action: 1) On a scale of 1 to 10, how committed are you to following through with your decision? If the answer is lower than 5, it is not likely he is committed to the goal. If it is above 5 but less than 9, a good follow-up question is: 2) What would it take for you to move that number higher? The answer to this question provides the key to helping someone succeed.
Develop a Plan
One adage says, "Failing to plan is planning to fail." Like going on a trip, we need directions or a map. A strategic plan is that map, called a "growth plan," that is a concrete, structured way a coach can help the leader move toward a goal. It leverages the coach's time by providing preplanned action steps for the leader to work on between appointments.
This plan needs to include as many details and timelines as possible to accomplish each task. It also needs to include the people and resources necessary to accomplish the goal.
Follow Up
This is the accountability stage where most people fall short. During this phase, the coach and leader evaluate the process, celebrate the victories, address the challenges, make adjustments, acquire new resources, and set new action steps.
Life is not always as smooth as we hope for and the best of plans can be derailed. Planned times of evaluation give the coach and the partner time to make midcourse corrections and work toward solutions or even set different goals.
As a coach starts and ends with the person in mind, it is important to ask what God is doing in the heart of the leader. We know that God is working to bring change. Here is the opportunity to recognize where God wants to make changes and/or challenge the person being coached to make these changes. This encourages the leader to move toward the next season with confidence.
Celebrate Generously
Celebrate. Coaches must find ways to reinforce positive growth. Whether it is through gifts, words of affirmation, or time, coaches need to recognize success. When the aforementioned interns left at the end of the summer, the church gave them ESV Study Bibles as a way to encourage them to continue to grow in their gifts. These reinforcements do not need to be extravagant. Sometimes a simple note or a public affirming word will do.
Conclusion
Coaching is a gift to ministry leaders. It says they are valuable and worth investing in. Coaching sees the potential leaders have in Christ. As pastors, we can make a difference in the lives of leaders in our churches by intentionally partnering with them, encouraging them toward excellence, and offering authentic relationships.
Notes
1. Bob Logan and Sherilyn Carlton, Coaching 101 (St. Charles, Illinois: ChurchSmart Resources, 2003), 31.
2. John Whitmore, Coaching for Performance: GROWing Human Potential and Purpose — The Principles and Practice of Coaching and Leadership, (Boston: Nicholas Brealey Publishing, 2009), 54.