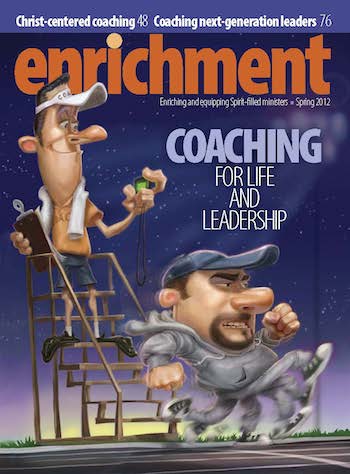 Downloads:
Biblical Foundations of Coaching
Both the Old and New Testaments give us great models, instructions, and scenarios to help us in our coaching journey.
by Tim Roehl
---
Author's introduction
Many pastors regard coaching with skepticism. Some say, "It smacks too much of business." Others say, "If coaching is about somebody barking orders to win at all costs as I see in some sports coaches, I do not want to be a part of it. Jesus was not like that." Still others remark, "Show me where you can find coaching in the Bible."
Coaching at its best is grounded in biblical principles. God's Word gives examples from which we form our understanding of mentoring and coaching.
In their simplest forms, my teammate and coauthor Steve Ogne and I define mentoring as pouring in and coaching as pulling out.
Knowing when to pour in and when to pull out are essential issues for coaches. Our joy as coaches is to see the Lord work as one leader comes alongside other leaders to help them discover how God is working in them and empowering them to be transformed into the image of Jesus so they can join Christ on His redemptive mission. We call this TransforMissional Coaching.
Divine appointments happen where relationships of a coach, a leader, and the Holy Spirit intersect. From the beginning of Creation, God designed us to be in relationship, and coaching flows out of relationships. In Spiritual Mentoring, Keith Anderson and Randy Reese note: "We discover our identity in the context of community. We learn best together with the help of other people."1
Old Testament
The Old Testament contains insights about coaching. We find one example in Moses' father-in-law Jethro, also called Reuel ("friend of God"). In Exodus 18:1–24, we find the friend of God serving God's leader as a mentor and coach in vital ways.
Jethro mentored and coached Moses by:
meeting with him (verse 7).
taking time to find out how he was doing personally (verse 7).
listening to him about the ups and downs of his journey (verse 8).
celebrating with him (verse 9).
worshipping with him (verse 12).
eating with him (verse 12).
watching him work (verse 14).
asking him probing questions (verse 15).
challenging unproductive behavior (verse 17).
giving wise counsel (verses 18–23).
Jethro is an Old Testament model of a coach and mentor. He wisely drew out what God was doing in Moses' life and poured in at the right moment to help Moses develop a plan for leading God's people in healthy ways. He was a friend of God and a friend of God's leader.
The Book of Proverbs has insights about coaching. Proverbs' pithy principles are timely. Flowing from the central theme of our need for wisdom, a number of verses remind us that wisdom comes from others as they listen, challenge, encourage, and sharpen us.
One verse that relates to the influence of one life on another is Proverbs 27:17: "As iron sharpens iron, so one person sharpens another." Textually there is evidence to suggest we need to link verse 17 with verse 19: "As water reflects the face, so one's life reflects the heart" (verse 19). One possible interpretation could be, "Just as a mirror confronts you with your public shape, so your friends confront you with the shape in which thoughts and habits like your own have grouped themselves into character." A relationship has a sharpening influence by reflecting back what a person genuinely sees in another person's heart. Seeing accurately, motives and all, becomes a starting place for genuine change.2
Proverbs 20:5 says, "The purposes of a person's heart are deep waters, but one who has insight draws them out." Purposes is translated motive in some versions. Effective coaches get below the surface so leaders can get better clarity about their motivation and actions.
Another passage related to companionship and partnership is Ecclesiastes 4:9–12: "Two are better than one, because they have a good return for their labor: If either of them falls down, one can help the other up. But pity anyone who falls and has no one to help them up. Also, if two lie down together, they will keep warm. But how can one keep warm alone? Though one may be overpowered, two can defend themselves. A cord of three strands is not quickly broken."
These verses highlight benefits of having someone walk along with you: You are more productive, you get help when you fall, you receive the comfort of companionship, and you get protection when you are under attack. The wisdom and perspective of others influences maturity and understanding. Proverbs and Ecclesiastes remind us that a companion with a listening ear, a timely word, or the ability to bring thoughts and intentions to the surface embodies relational empowerment.
New Testament
Paul gives the mandate for coaching
The apostle Paul gave a mandate for coaching in Ephesians 4:11,12: "So Christ himself gave the apostles, the prophets, the evangelists, the pastors and teachers, to equip his people for works of service, so that the body of Christ may be built up."
The Greek word katartismon, translated "equip" is also translated "prepare" or "perfect" in other versions. In his commentary on Ephesians, Francis Foulkes explains, "The word for equipping, katartismos, is not found elsewhere in the New Testament, although the corresponding verb is used of repairing something (Matt. 4:21 — in this case a fishing net); of God bringing the universe in the beginning into its intended shape and order (Heb. 11:3); and of restoring spiritual health to a person who has fallen (Gal. 6:1). It may be used, however, of perfecting what is lacking in the faith of Christians (cf. 1 Thess. 3:10; Heb. 13:21; 1 Pet. 5:10). We may say … that the word denotes 'the bringing of the saints to a condition of fitness for the discharge of their functions in the Body.' "3
Katartismos is one of the best New Testament words to describe the essence of relational empowerment of coaching. Coaching is a role that focuses on "bringing the saints to a condition of fitness," which is a function in the body of Christ. Peer coaching is part mending, part restoration, and part inspiration, which all contribute to the Body being built up.4 Coaching is an essential way to katartizontas leaders. Coaches help leaders fulfill their God-given purpose and make their ultimate Kingdom contribution.
Barnabas, a model for coaching
Of the people in the New Testament, besides Jesus, none fit the picture of a coach better than Barnabas. His name means "son of consolation or encouragement." Some have called him "Barney the Encourager."
No one had more influence in the growth of key leaders in the Early Church than Barnabas. He was willing to walk with Paul when everyone else wanted to walk away. When Paul wanted to drop Mark from the team, Barnabas stuck with the young leader who needed to work through some personal issues. So powerful and pervasive was the impact of Barnabas' ministry that his ministry to Paul and Mark brought about the growth of the Early Church.
Three passages highlight Barnabas' coaching impact. Phil Alessi depicts them this way5:
1. In Acts 9:23–31, Barnabas discerned potential in others, especially Paul.
2. In Acts 11:22–24, Barnabas discovered God at work as he worked alongside others. Note the words that describe his ministry: "News of this reached the church in Jerusalem, and they sent Barnabas to Antioch. When he arrived and saw what the grace of God had done, he was glad and encouraged them all to remain true to the Lord with all their hearts. He was a good man, full of the Holy Spirit and faith, and a great number of people were brought to the Lord."
In his coaching, Barnabas was with them; he watched and discerned what God was doing; he celebrated what God was doing; he encouraged them; he helped them stay on course to their purpose; and he was a factor in their fruitfulness. Barnabas' Spirit-filled character contributed to his coaching effectiveness
3. In Acts 11:25,26, Barnabasdeployed the potential of others. He intentionally brought Saul into a ministry situation because he knew Saul would be an asset. He and Saul taught and led the rapidly growing church in Antioch.6 When the Holy Spirit formed a new missionary leadership team in Acts 13:1–3, He designated Barnabas first on the team: " 'Set apart for me Barnabas and Saul for the work to which I have called them' " (verse 2).
As the new venture began, however, a significant shift occurred in the way the team operated. Before Acts 13:2, Luke talks about "Barnabas and Saul." After the church at Antioch sent them out, we read about "Paul and Barnabas."
Barnabas deliberately took a step back on the team as he recognized God's work in and through Paul's life. Barnabas was not only willing to sponsor Paul in ministry environments, he was also willing to let Paul take the leadership of the apostolic movement. He had seen enough of Paul's heart and the fruit of his labor to know when it was time to encourage his partner to exercise his leadership gifts. One of my favorite quotes about coaching applies to Barnabas' coaching Paul into his full potential: "The great leader is not the one in the spotlight. He's the one leading the applause."7
Jesus, our Master Coach
Above all coaches, Jesus stands supreme. His relationships with others — especially with His disciples — draw attention to many attitudes and activities we can assimilate into coaching. Keith Webb, veteran Church Resources Ministries missionary, coach, and trainer, says, "Jesus emptied himself (Matt. 20:20–28; Philippians 2:7) of power and status to become incarnational. Is there a lesson here for people of hierarchical cultures to empty themselves in order to serve, rather than to build the largest power base in order to serve? Does this also parallel an emptying of self as a coach in regard to advice giving and focusing more on drawing out the client in a Spirit-led discovery process?"8
Jesus' life is an inexhaustible supply of wisdom and insight about how to coach. He sent His Spirit to empower us to live and minister as He did.
The Holy Spirit, our internal Mentor, and Coach
The Holy Spirit lives in every Christian. Our intimate relationship with Him is the ultimate empowerment we need to coach others.
Consider these verses about the ministry of the Holy Spirit (italics highlight coaching applications and implications): "If you love Me, you will obey what I command. And I will ask the Father, and he will give you another Counselor to be with you forever — the Spirit of truth. The world cannot accept him because it neither sees him nor knows him. But you know him, because He remains with you and will be in you. I will not leave you as orphans; I am coming to you" (John 14:15–18, NIV, 1984).
The word Counselor is also translated "Helper" and "Comforter" in other versions. In Greek, the word is parakletosand has the idea of one who comes alongside.
" 'But the Counselor, the Holy Spirit, whom the Father will send Him in my name, will teach you all things and will remind you of everything I have told you' " (John 14:26).
" 'But when he, the Spirit of truth, comes, he will guide you into all the truth. He will not speak on his own; he will speak only what he hears, and he will tell you what is yet to come. He will glorify me because it is from me that he will receive what he will make known to you. All that belongs to the Father is mine. That is why I said the Spirit will receive from me what he will make known to you' " (John 16:13–15, italics added).
Webb quotes Richard Foster: "What is the purpose of a spiritual director? His direction is simply and clearly to lead us to our real Director. He is the means to open the path to the inward teaching of the Holy Spirit."8 The ministry of spiritual direction and coaching are similar. They both depend on the power of the Holy Spirit and lead to life-changing discoveries.
Both the Old and New Testaments give us great models, instructions, and scenarios to help us in our coaching journey.
Personal Application
What Old Testament examples of coaching come to your mind?
In what ways did Barnabas coach Paul?
What coaching qualities are evident in the description of Barnabas found in Acts 11:23,24?
Whom did Paul coach?
What coaching qualities did Jesus practice?
In what ways is the Holy Spirit an internal coach for you?
How will coaching help you equip the saints for ministry?
This article is edited from the chapter, "It's Biblical: Equipping the Saints for Ministry," in TransforMissional Coaching: Empowering Leaders in a Changing Ministry World by Steven Ogne and Tim Roehl. Published by B&H Books, 2008. Reprinted and used by permission.
Notes
1. Keith Anderson and Randy Reese, Spiritual Mentoring (Downers Grove, Illinois: InterVarsity Press, 1999), 21.
2. Buck Rogers, "Peer Coaching Among Australian Pastors" (Ph.D. diss., BIOLA University, 2002), 34.
3. Francis Foulkes, Tyndale New Testament Commentary, Ephesians (Downers Grove, Illinois: InterVarsity Press, 1989).
4. Rogers, 39.
5. Phil Alessi, "Natural Church Planting" training, CRM event (Myerstown, Pennsylvania), January 2004.
6. Ibid. (Los Angeles, California), July 2004.
7. Tim Roehl and Steven Ogne, Keys to Great Coaching (self-published, 2003), 4.
8. Keith Webb, Coaching Study (self-published, 2003).
9. Ibid., 10.