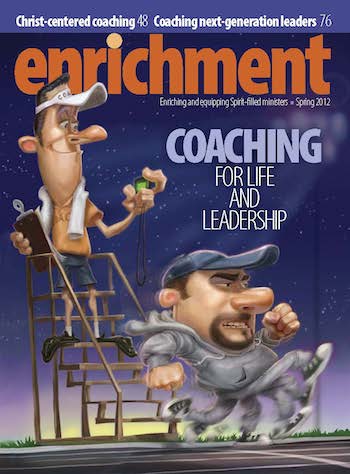 Downloads:
AG Coaching
Accelerating Ministry Progress Through Coaching
by Arden K Adamson
---
See Also:
What Is a Coach?
Most people think of sports when they hear the word coach. In Wisconsin, coach conjures up images of the legendary Vince Lombardi of the Green Bay Packers. Today, coach has become a buzzword people apply to all types of helping professions.
The more serious individuals are regarding specific endeavors, the more they need a coach. One coach usually leads beginners as a group. Amateurs usually engage a personal coach one-on-one. Professionals often have several coaches, each focusing on a different aspect of their person or endeavor.
This contrasts with many in ministry who believe enlisting a coach is a sign of weakness. Many believe they know (or should know) how to perform ministry. This assumption may arise from the fact pastors are trained to be teachers, consultants, mentors, advisors, preachers, or counselors — all telling functions. When someone shares a problem, we commonly give advice or counsel. There are shortcomings to this model.
People who attend seminars only remember a small portion of what they hear and apply even less. Telling makes the teacher appear the expert and implies the listener knows less (or little). Moreover, telling brings focus on the teller and devalues the listener.
Not everyone appreciates advice-giving, and some advice might not address a person's area of interest. Telling makes others feel they are not in control, because others are designing their activities for them. Telling makes more work for the teller because people keep coming back for more answers rather than learning to think for themselves. Finally, telling (knowledge) never changes anything; only action does.
James speaks to this when he declares, "Do not merely listen to the word, and so deceive yourselves. Do what it says" (James 1:22). Coaching reverses these issues by focusing on the person being coached (PBC), leaving the person in control to decide their destiny and put their decision into an action plan.
Coaching is a developed skill set that moves individuals in their personal and professional lives from current reality to desired outcome through a Spirit-led intentional partnership. This approach has several components. The first component is to listen carefully — beyond the words the PBC speaks, to the tone, energy, terms used, and what is not stated. The coach follows this with skillfully crafted questions that draw insights and latent ideas out of the PBC. This approach continues until the PBC designs their own action plan with timetables and a system of accountability.
Putting knowledge into action makes coaching a powerful skill to elicit change, transition, and transformation in a person's life and ministry. It is possible to coach a person forward even if the coach does not know the answer to a dilemma. In other words, coaching accelerates progress.
Coaching skills raise the leadership level of individuals who serve others. Every believer, including district officials, ministers, lay leaders, and parents can utilize this competency to advance their effectiveness. AG Coaching is dedicated to these principles and to creating a coaching culture in the local church.
What is AG Coaching?
AG Coaching (AGC) is a new initiative of the Assemblies of God for raising the leadership level of ministers and laypeople by developing a coaching culture within the local church. AGC exists to enable leaders to accelerate progress in ministry wherever they serve. To accomplish this, AGC has created a process to train ministers and laypeople in coaching skills and to certify those who desire certification.
The Standard for Coaching
The International Coach Federation (ICF) sets the premier standard for coaching excellence. Organizers formed this organization in 1995 to certify coaches. Today it has over 15,000 members and 7,200 credentialed coaches. ICF is unique in that it does not provide training and therefore has no vested interest in certifications. According to ICF, there are 11 competencies necessary for a person to exhibit excellent coaching ability. AG Coaching is aligned with ICF competency standards because these standards honor high-quality coaching.
Training for coaches
AG Coaching provides training for individuals desiring to develop proficient coaching skills. AG Coaching uses teaching materials created by Coach Approach Ministries (CAM), because CAM designed these materials to teach coaching competencies. AG Coaching acknowledges there are many reputable coach-training schools and recognizes training from equivalent institutions. The primary concern is adequate development of the coach's skill competencies as defined by ICF.
Those interested in learning more can attend a QuickStart presentation. This 4-hour seminar introduces coaching to potential coaches and people in the church who will be coached.
AG Coaching currently provides training in three modules with each module consisting of 16 hours of instruction over 2 days.
The first module, Unit 501, is Foundations of Christian Coaching. This module introduces basic components of coaching and distinguishes it from other helping professions — counseling, consulting, mentoring, and spiritual direction. Students study conversation-and mental-shift models to help them understand strategies a coach uses with the person being coached. Activities allow participants to practice the skills they are learning.
The second module is Unit 503, Transformational Change. This focuses on change, transition, and transformation. Presented as three levels of change, this module teaches how to apply coaching skills and facilitate minor, medium, and major changes in life and ministry.
Module three, Unit 507, Coaching Teams, explains the differences between coaching individuals and groups. The coach learns the skills and models of coaching teams, committees, or other groups in local or regional venues.
Coach certification
For those desiring to obtain coach credentials, AGC offers three levels of certification. The first two AG Coaching levels acknowledge an individual's competency development on the journey to obtain the Associate Certified Coach (ACC) offered by ICF. All AG coach certificates are for 1 year and are renewable.
The first level, AG Certified Coach (AGCC) is an entry-level certification for the person who has taken initial coach training and is using coaching skills. The intent is to go on to higher coach certification. AGCC coaches exhibit the ability to guide a client through an appropriate conversation model taught in Unit 501 noted above. Requirements include:
At least 30 hours of training.
Being coached by a mentor coach.
Logging at least 15 hours of coaching experience.
An assessment resulting in a satisfactory review.
Application and fee submitted to AG Coaching.
Level 2, AG Advanced Coach (AGAC), is certification for the individual applying at least 50 to 60 percent of the fundamentals of the coaching skills required for ICF's Associate Certified Coach. AGAC requires an additional:
Fifteen hours of coach-specific training.
Fifty hours of logged coaching experience.
Five hours of work with a mentor coach.
An assessment resulting in a satisfactory review.
Application and fee submitted to AG Coaching.
The 3rd level, AG Proficient Coach (AGPC), is for the coach applying all the fundamental ICF competencies. While this credential is not the same as the ICF Associate Certified Coach credential, the intent is that the coach will exhibit the same competency skill level that he would for the ICF's ACC certification. Requirements include:
An additional 15 hours (now totaling 60 hours) of coach-specific training.
A minimum of 100 hours of logged coaching experience.
Coaching at least eight different clients, a total of 10 hours of work with a qualified mentor coach.
Two coach reference letters.
Assessment resulting in a satisfactory review.
Application and fee submitted to AG Coaching.
Mentor coach
A mentor coach is an ICF certified coach who works with other coaches desiring to improve their skills. Spending time with a mentor coach is valuable in that the learner coach can address any questions concerning the coaching process. The mentor coach might review some or all of the ICF coaching competencies, or the learner coach may coach the mentor coach for part of the session and receive helpful feedback. However utilized, this one-on-one training holds high educational value in helping the learner coach make forward progress with his skill set.
Assessing potential coaches
A team of assessor coaches evaluate each applicant according to 10 of the following 11 ICF competencies.1
Ethics and standards. (The assessor does not assess this competency.)
Establishing a coaching agreement. The coaching conversation can only move forward if the coach and PBC agree on the issue needing discussion. The coach's responsibility is to help the PBC select an issue without influencing the choice the PBC makes. At times this can take up to half of the session time.
Establishing trust and intimacy with the client. The coach must be able to create a safe and trusting atmosphere where the PBC feels fully comfortable and able to freely think and speak without criticism from the coach.
Creating presence. The coach must be fully present during the coaching conversation. It is easy for a person's mind to drift. Creating presence means that the coach is fully cognizant of what the PBC is saying and has a relationship that makes the PBC feel the coach is fully conscious of the client with a mutually spontaneous relationship.
Active listening. Many people think about what they are going to say next while someone else is talking. In doing so the listener misses much of what the other person is saying. A coach must focus completely on what the client is saying and is not saying. The coach must try to understand the context of the PBC's focus issue, recognize body language, and tone of voice, while being fully supportive of the client's agenda.
Asking powerful questions. Questions are at the heart of coaching, but only certain questions are powerful and probing. Coaches must not ask for information to satisfy their personal curiosity. They should ask questions that provoke deepening thought, reflection, and lead to new insight for the PBC. Questions that move the PBC forward are opened ended and usually begin with who, what, how, and describe.
Giving direct communication. This is one of the few times the coach tells. Direct communication is a short statement that reframes and articulates the subject matter to assist the PBC to look at the issue from a different perspective. Coaches can clarify a concept by using a metaphor, analogy, or paint a word picture.
Creating awareness. This is the goal of coaching — helping the PBC arrive at a new awareness of the subject in which they wish to move forward. At this point, information and insight converge to prompt a connecting of the dots, a new relationship between issues, or a variance of an idea that helps the PBC make progress.
Designing actions. The coach must lead the PBC to decide on action steps to take as a result of all considerations. Since nothing changes unless the PBC takes action, coaching sessions must always end with an action plan. The coach helps the PBC decide appropriate steps but should stretch the PBC by asking what new areas of learning and accomplishment might be available and then encourage the PBC to strive to accomplish them.
Planning and goal setting. An effective coach assists the PBC in creating specific, measurable, attainable, and timely goals relevant to the stated goal for that conversation. The coach and PBC evaluate the plan and make adjustments as required while they celebrate early successes to build encouragement and motivation.
Managing process and accountability. The coach demonstrates the ability to synthesize the information gained through the coaching session, keeping the PBC focused on behaviors and actions that lead forward on the focus subject.
Nobody wants to fail, but people usually do not mind failure so much if no one else knows about it. Therefore, the effective coach asks the PBC how to ensure the completion of the action plan. The PBC may select an individual for accountability or create another method, but an effective coach asks questions until the PBC has a personally satisfactory system of accountability.
As noted above, the assessor coach evaluates applicants for coach certification based on their proficiency in demonstrating ICF competencies. All competencies enable a higher quality of leadership thereby enabling others to accelerate progress in their field of service. AG Coaching is dedicated to creating this type of culture within the Assemblies of God and beyond, as God enables.
How To Contact AG Coaching
If you are interested in learning more about coaching, receiving coach training, or engaging a coach, contact AG Coaching at: www.agcoaching.org; e-mail agcoaching@ag.org, or call 1-862-1447, ext. 3535. AG Coaching is committed to helping you raise your leadership ability through coaching skills.
Note
1. International Coach Federation: http://www.coachfederation.org/research-education/icf-credentials/core-competencies/. Accessed 7/22/11.