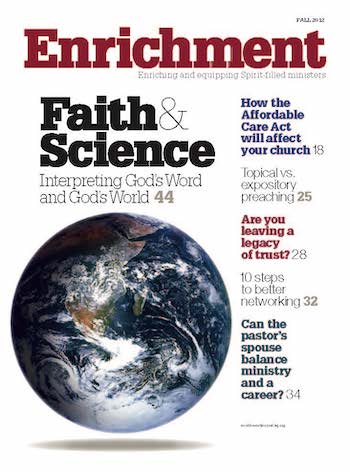 Downloads:
The Premise of Discipleship
There Can Be No Discipleship Without Relationship
by Randy Helms
---
The progression from relationship through influence to spiritual formation points to a principle concerning the premise of discipleship: There can be no discipleship without relationship.
By Randy Helms
The discussion on discipleship must begin and end with the greatest discipler of all, Jesus Christ. The Gospels show the key components of effective mentoring in how Jesus discipled His followers. These components are relationship, influence, and spiritual formation.
Jesus was intentional about building relationships with His followers. These relationships were essential in establishing influence. This influence allowed Jesus to develop those who followed Him into productive disciples who could, in return, spend their lives mentoring others. The progression from relationship through influence to spiritual formation points to a principle concerning the premise of discipleship. This premise is this: There can be no discipleship without relationship.1
Relationships
When considering the components of discipleship, we cannot overlook the importance of relationship. Jesus was the greatest teacher who ever lived. He gave life-changing words to His followers. He did not, however, disciple His followers with His great teachings. He discipled His followers by developing a relationship with them. He walked, ate, slept, and lived with them.
Jesus' approach to discipleship supports our argument that there can be no discipleship without relationship. This applies to mentoring and leadership in general. Warren Blank says, "Because the personal relationship defines the existing quality of interpersonal interaction between the leader and would-be followers, followers will not join the leader without the requisite relationship. Leadership is the relationship."2 Chip Bell seems to support this idea: "Effective mentors are like friends in that their goal is to create a safe context for growth. They are also like family in that their focus is to offer unconditional, faithful acceptance."3 Can we say that this is what Jesus did in developing a relationship with His followers?
Kouzes and Posner in, The Leadership Challenge, define leadership as a relationship between those who aspire to lead and those who choose to follow.4 It makes sense, then, that the success of both the leader and the follower hinges on the relationship they develop between them. May God help us invest the time and hard work necessary in developing the kind of relationships that will ensure productive leadership.
Jesus was intentional about developing relationships with His followers to produce trust. The key component in any relationship is trust. God emphasizes trust when He challenges us: "Trust in the Lord" (Psalm 37:3). God places further importance concerning trust as He makes it a requisite to blessing: "Blessed are all those who put their trust in Him" (Psalm 2:12, NKJV5).
Jeswald Salacuse attaches relationship trust to productivity: "Positive relationships engender trust, and trust in a leader is vital in securing desired action from followers."6 Why is trust so important? The answer is obvious when you realize how vital trust is in building the next key component — influence.
Influence
Trust in the relationship gives you the credibility to influence. Aubrey Malpurs states: "A Christian leader is a servant with the credibility and capabilities to influence people in a particular context to pursue their God-given direction."7 Jesus established His credibility by deepening His relationship with His followers.
One might ask, "Why didn't Jesus use His authority and command His followers to become productive disciples?" Demanding is ineffective in building influence. Leaders can only be as effective as their ability to develop influence their followers.
We must develop influence; we cannot demand it. Successful leaders are willing to put in the hard work to develop the kind of relationship that will produce influence, which will then motivate people to accomplish their goals. John Maxwell develops this idea with his stages of influence. He states: "Influence … doesn't come to us instantaneously. Instead it grows by stages." The progression looks like this: Modeling, Motivating, Mentoring, and Multiplying. Maxwell further supports this idea that leaders must develop and not demand influence: "Leadership (which is a specific application of influence) is at its lowest level when it is based on position only. It grows and goes to a higher level as you develop relationships with others."8 Demanding as opposed to developing influence is not only nonproductive; it can also be hazardous to your health as is humorously noted by Marshall Shelley: "I quickly found that the more a leader pressures followers to adopt an innovation, the more resistant and resentful many become. If you twist the arm of someone unmotivated to support an idea, you get an elbow in the chops."9
Peter Northhouse emphasizes influence by identifying components that are central to what he calls this "phenomenon of leadership." I have chosen three.
Leadership:
is a process.
involves influence.
involves goal attainment.
Thus, he concludes: "Leadership is a process whereby an individual influences a group of individuals to achieve a common goal."10 This is what Jesus did with His followers. Look at His application:
Is a process: Jesus spent time building a relationship with His followers.
Involves influence: The relationship gave Jesus the credibility to influence His followers.
Involves goal attainment: Jesus' influence produces spiritual formation. His followers are developed into disciples and eventually into disciple makers.
Spiritual Formation
The purpose of developing influence through a relationship is spiritual formation. What is spiritual formation? It is the growth and development of the whole person by an intentional focus on one's (1) spiritual and interior life, (2) interactions with others in ordinary life, and (3) the spiritual practices (prayer, studying Scripture, fasting, simplicity, solitude, confession, worship, etc.). In Care of Mind, Care of Spirit, Gerald G. May wrote, "Spiritual formation is a rather general term referring to all attempts, means, instruction, and disciplines intended toward deepening of faith and furtherance of spiritual growth. It includes educational endeavors as well as the more intimate and in-depth process of spiritual direction."11 This describes the interaction between Jesus and His followers. This is discipleship.
It would be a mistake not to consider the work of the Holy Spirit in this discipleship process. Jesus mentored His followers under the direction of the Holy Spirit. Jesus mentored and the Holy Spirit did the work of spiritual formation in the hearts of the disciples. In Christian spiritual formation, the focus is on Jesus. It is a life-long process, as believers desire to become disciples of Jesus and become more like Him. This would be possible because of the divine grace of the gospel and the empowering presence of the Holy Spirit. Dallas Willard writes, "Spiritual formation for the Christian basically refers to the Spirit-driven process of forming the inner world of the human self in such a way that it becomes like the inner being of Christ himself.12
How does the Holy Spirit do this work of spiritual formation? It begins in the heart of a person long before he or she comes to Christ. Discipleship begins before the born again experience that Jesus refers to in John 3. Jesus began developing the relationship with His followers long before they had a clue about regeneration. The same Holy Spirit that grows us in the Lord also draws us to Him. James Engel clearly explained this process in his book, What's Gone Wrong With the Harvest: A Communication Strategy for Church and World Evangelism. Engel uses a continuum to show the process of spiritual formation that is applicable to everyone. When I first saw this graph, I understood my own spiritual journey.
Engel Scale of Evangelism
-9 -8 -7 -6 -5 -4 -3 -2 -1 0 +1 +2 +3 +4 +5 +6 +7 +8 +9
Explanation:
-9 No effective knowledge of Christianity

-8 Initial awareness of Christianity

-7 Interest in Christianity

-6 Awareness of basic facts of the gospel

-5 Grasp of implications of the gospel

-4 Positive attitude to the gospel

-3 Awareness of personal need

-2 Challenge and decision to act

-1 Repentance and faith

0 A disciple is born.

+1 Evaluation of decision

+2 Initiation into the church

+3 Become part of the process of making other disciples

+4 Growth in understanding of the faith

+5 Growth in Christian character

+6 Discovery and use of gifts

+7 Christian lifestyle

+8 Stewardship of resources

+9 Life of prayer13
See the progression. Jesus developed a relationship with His followers that produced influence. He used this earned influence to produce the desired goal, which was spiritual formation. This was the work of the Holy Spirit in the first century, and He works the same today. The challenge is clear for all leaders. There can be no discipleship without relationship. We must do the hard work necessary to invest in the lives of our followers in a way that will produce deep trusting relationships. We must then use the influence we gained in such relationships for spiritual formation that will develop disciples. This process is then repeated in their lives and they become disciple makers. This will ensure the future of this wonderful church of Christ to the glory of God.
Randy Helms, D.Min., pastor, Glad Tidings Church, Largo, Florida.
Notes
1. Steve Lambert and Randy Helms, Connecting Points: Connecting to God and Each Other (Tampa, Florida: CP Publishing, 2005).
2. Warren Blank, The 9 Natural Laws of Leadership (New York: Amacom Books, 1995).
3. Chip R. Bell, Managing as Mentors: Building Partnerships for Learning (San Francisco: Berrett-Koehler, 2002).
4. James Kouzes and Barry Posner, The Leadership Challenge, 3d ed. (Jossey-Bass Publishing, 2002).
5. Scripture quotations marked NKJV are taken from the New King James Version. Copyright © 1982 by Thomas Nelson, Inc. Used by permission. All rights reserved.
6. Jeswald Salacuse, Leading Leaders: How to Manage Smart, Talented, Rich, and Powerful People (New York: Amacom Books, 2005).
7. Aubrey Malpurs, Being Leaders: The Nature of Authentic Christian Leadership (Grand Rapids: Baker Books, 2003).
8. John C. Maxwell, Becoming a Person of Influence (Nashville: Thomas Nelson, 1997).
9. Marshall Shelley, Empowering Your Church Through Creativity and Change: 30 Strategies to Transform Your Ministry, vol. 2. (Nashville: Library of Christian leadership, 1995).
10. Peter G. Northhouse, Leadership Theory and Practice, 3d ed. (Thousand Oaks, California: Sage Publications, 2004).
11. Gerald G. May, Care of Mind, Care of Spirit: A Psychiatrist Explores Spiritual Direction (San Francisco: Harper Collins, 1992).
12. Dallas Willard, Renovation of the Heart: Putting on the Character of Christ (Colorado Springs: Navpress, 2002).
13. James F. Engel and Wilbert Norton, What's Gone Wrong With the Harvest: A Communication Strategy for the Church and World Evangelism (Grand Rapids: Zondervan, 1975).