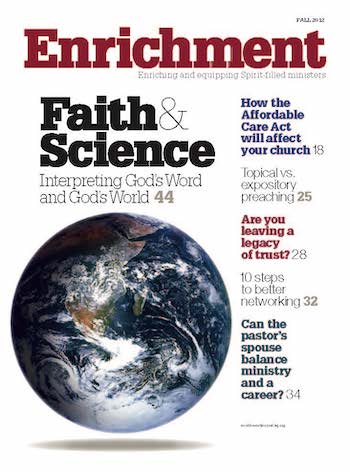 Downloads:
The Missional Church
Is your church a purveyor of religious programs designed to attract non-Christians or is it a church that strives to become part of a community and assimilates within it, sharing the community's longings, dreams, and discomforts?
by Terry Minter
---
Driving into the vast parking lot of a modern Pentecostal megachurch between 9 a.m. and 3 p.m. on Tuesdays or Thursdays, one notices a line of modestly dressed people extending from an auxiliary entrance at the side of the church. After these disadvantaged citizens enter the building, they fill out applications explaining their destitute conditions so benevolence pastors can scrutinize their circumstances and determine if they deserve to receive financial aid for rent, utilities, or food from the church pantry. This is quite different from the settings that dominated Pentecostalism in its formative years.
I remember stopping by my father's church office on the way home from high school in the 1960s and bursting into his office unannounced. My father motioned for me to wait while he completed a discussion with his friend, an area mainline church pastor. After apologizing for the interruption, I listened as the visiting minister asked, "Why doesn't your Movement have programs for the poor?"
A tongue-in-cheek answer from my Pentecostal pastor-father followed, "Look at this neighborhood; look at this building; we are the poor."
Even though that Pentecostal church included the poor, all of its parishioners were not financially disadvantaged. In fact, historian Grant Wacker surmised, "Contrary to stereotype, the typical Pentecostal convert paralleled the demographic and biological profile of the typical American in most, though not quite all, respects."1 The significant difference between traditional Pentecostals and mainline churches was that mainline churches helped the poor, but Pentecostals fully identified with them. They were the poor.
Pentecostals focused so much on the soon coming of Christ that they tended to say little about social issues, but they did not ignore the needy. Although they did not organize formal programs for ministry to the needy, they established orphanages, healing homes, divine healing revivals, and fed the hungry. They did not objectify the poor and consider them to be different from themselves.2
The Program Church
Today's Pentecostal church needs a fresh illumination from the Holy Spirit to inspire an all-encompassing revitalization among its constituents. After thriving for years as a movement "of the Holy Spirit," a large segment of Pentecostals have turned to a more program-oriented evangelism strategy. This approach involves creating effective religious programs designed to meet the needs of non-Christians in hopes of attracting them to the church. As a result, many Pentecostal churches have become purveyors of religious provisions and employ commercial tactics to advertise and attract nonchurched people to their services.
More recently, a new evangelism strategy has arisen within the Pentecostal ranks and elsewhere. This movement is led by pastors who have propagated an understanding of the church as a spiritual force that gathers its members and sends them out into the world. This approach follows the example of Christ training His disciples and sending them forth as proponents of the "good news" of the gospel. This group perceives the church to be an agent of redemption rather than an institution that attempts to draw those needing Christ to its religious gatherings. This new missional church, as some have recently designated it, has recaptured early Pentecostalism's desire to build a church that seeks to identify with the unchurched rather than organizing programs designed to draw them to their cool, innocuous, mainline churches located a safe, objective distance away from disadvantaged society. Following Christ's example, the missional church strives to become part of a community and assimilates within it, sharing the community's longings, dreams, and discomforts.
Missional Church Characteristics
Missional churches are not necessarily concerned with building massive Christian centers. Rather, their goal is to train and empower congregants to accomplish the present mission of God in the world. They do not have aspirations of creating churches solely for attracting people to their worship gatherings. Instead, missional churches believe God is constantly active among the lost in the world, and the church's major responsibility is to discover where and how to become involved in the workings of the Holy Spirit. For them, the primary purpose of church leaders is to ascertain ways of involving parishioners in God's present-day mission. In this Christian understanding, the church becomes involved in the lives of hurting humanity and finds ways to earn their trust so they can win them and assist in the process.
A biblical example of this is in the story of Jesus and the Samaritan woman in John 4. Jesus and His disciples were traveling through Samaria on their way to Galilee when He sat to relax by Jacob's well outside a small village. While Jesus was resting, the disciples journeyed to Sychcar to purchase dinner for the group. As they were walking to the hamlet, a woman from there may have passed them on her way to draw water from the well where Jesus was resting. It is possible that the disciples noticed the anguished woman as they hurried to perform a religious duty for Christ. They were, in essence, making preparations for a religious dinner that surely would be pleasing to Christ; however, in their zealous attempt to perform a religious duty for Him, they overlooked the most significant opportunity to worship Him. On their return the disciples attempted to persuade Jesus to join them in their eating and fellowship, but He refused, saying, "My food is to do the will of him who sent me and to finish his work" (John 4:34). In this narration, Jesus was training His disciples about the importance of worshipping Him by joining Him in ministering to those who needed Him. The disciples attempted to honor Christ by performing a religious duty involving the glorification of Him alone, while He considered serving and evangelizing the poor to be a more significant endeavor.
Missional Church Experiences
A program-driven church hired a youth pastor, but he felt dissatisfied with its evangelism efforts. He gathered teens and trained them to participate in activities involving the poor and misfortunate people in the community. After prayer and consideration, he initiated short-term programs to remodel homes, feed needy families, and develop a reading program in a disadvantaged neighborhood. At the end of each workday the youth pastor invited the families and neighbors where they were working to join the workers in short worship services in the work location. This pastor discovered that many people became Christians in these struggling locations, but the youth ministry grew as a result of the non-Christians who volunteered to help with the projects. For this youth group the important question changed from, "How many people are attending our services?" to "How many people do we serve?"
A pastor trained many of his members and sent them out to fulfill the mission of Christ in the community. This missional church organized into groups that ministered within the community on Wednesday nights rather than participating in a Bible study. On one occasion members of one of the teams visited a child in the hospital. They prayed quietly for the sick infant while other babies were crying loudly in the same room. After prayer, members of the team spontaneously turned to the parents of the other sick children and asked for permission to pray with their children. As the team left the hospital they excitedly called the pastor and exclaimed, "We had one of the best services of our lives tonight in the pediatric ward of the hospital." While many churches faithfully practice midweek discipleship meetings and fellowshipping with one another, this one found a way to participate with the Holy Spirit in fulfilling the mission of ministering to the needs of their community. They viewed the experience as a worship service in the pediatrics ward of the hospital.
Conclusion
Missional churches challenge and equip their parishioners to live as agents of God's grace outside the worship center and to become agents of Christ's mission on this earth. By serving their communities in their homes, workplaces, schools, and wherever humanity exists, they create encounters that win the lost and serve the community. This vision of the church is based on the concept that Christians are called to "go into the world," and it encourages them to listen to the Holy Spirit whispering in the winds of their communities.
As God's sent people, the church is to go into the world where it is established and present the good news of Jesus Christ's love by displaying God's love. This is more than organizing safe meetings in the secure suburbs or developing systems to help the poor without knowing them or their life stories. It is training the church and sending it into the world to spread God's love among all types of needy people who are without the hope of Christ.
Terry Minter D.Min., Ph.D., associate dean Southwestern Assemblies of God University, Waxahachie, Texas.
Notes
1. Grant Wacker, Heaven Below: Early Pentecostals in American Culture (Cambridge, Massachusetts: Harvard University Press, 2001), 205.
2. David D. Daniels III, "Future Issues and Social and Economic Justice" in Vinson Synan, Spirit Empowered Christianity in the 21st Century: Insights, Analysis, and Future Trends From World-renowned Scholars (Lake Mary, Florida: Charisma House, 2011), 340-45.
For Further Reading
Guder, Darrell. 1998. Church: a Vision for the Sending of the Church in North America. Grand Rapids: William B Erdmann's Publishing Company.
Newbigin, Leslie. 1998. The Gospel in a Pluralistic Society. Grand Rapids: William B Erdmann's Publishing Company.
McNeil, Reggie. 2009. Mission Already Assigns: Changing the Scorecard for the Church. San Francisco: Jossey–Bass.
Barrett, Lois Y. 2004. Treasurer of Clay Jars: Patterns in Missional Faithfulness. Grand Rapids: William B Erdmann's Publishing Company.