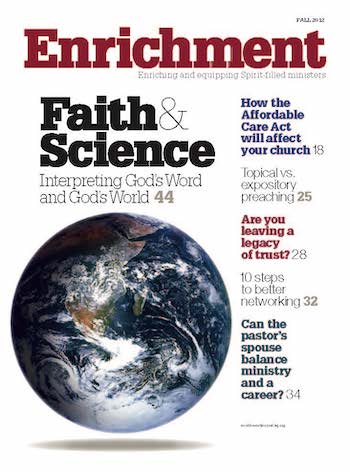 Downloads:
I'm Having Trouble Balancing Ministry and a Career
A pastor's wife struggles with guilt because her full-time job limits involvement at church.
by Gabriele Rienas
---
Q: I am a pastor's wife with two elementary school-age children. I have a corporate career that I love. It is my dream job, and with my husband's full support, I believe I am using my God-given gifts to make a difference in the business world. It also blesses our family with financial stability. The downside is that my work is full-time, requiring seasonal long hours and occasional travel. I often feel guilty that I am not as involved at church as I would like to be and therefore am not a typical pastor's wife. I wonder if I am making the right choices.
A: You are asking questions that many women ask. These are questions we periodically need to explore to keep us on track. How am I doing with the gifts, resources, and responsibilities I have?
In your situation, several points stand out:
I love my career.
It has been my dream.
I am using my God-given gifts.
It blesses our family financially.
My husband is supportive.
These are strong, positive points, and I celebrate that you are embracing God's gifts for your life. Your life can be a powerful example of one who maximizes God's individualized agenda and calling.
Because of your corporate title, you encounter people and situations that no one else would have access to in the same way. Ask God every day to use you in a way that represents Him in a compelling way. Ministry can take place in all circumstances both within and outside the structure of the church. If you believe God has placed you in your setting, embrace it every day as your calling and mission as much as your husband does when he gets behind the pulpit.
Ask God for creativity and wisdom as to how you can best represent Him. What is the best way to love the people in your office and extended work settings? How can you make a difference? How can you minister to and pray for others? You are in a position to make an incredible impact on a population that you might not be able to reach with standard methods of evangelism.
Periodically share with your church your vision and passion for your calling. Find ways to share stories of God moments and divine interventions in your corporate relationships. In this way, the congregation can take ownership of the impact God is making through you. Your husband's verbal support can also help people open up to the tremendous possibilities.
In addition to naming the good things, you expressed some angst about your current position in relation to being a pastor's wife. This reflects the ambivalence that so many women feel about getting it all right and balancing multiple roles. On top of that, you no doubt experience the pressure of ministry expectations.
First, let me deal with the term typical pastor's wife. Out of curiosity, I googled the term and the first five hits were in bold letters: "The typical pastor's wife is dead." The terminology is a bit dramatic, but the point is clear. It is quite different for us pastor's wives than it used to be — at least in most places. The expectations have softened considerably.
One pastor's wife blogs, "I think the 'typical pastor's wife' is dead. You know, that woman who had it all together, never seemed to struggle, played the piano, attended every event, and met everyone's expectations ... although she could have had some help with her wardrobe."1
On the other hand, even as we celebrate our freedom, let us remember we are responsible for embracing the roles and responsibilities God gives us at various seasons of our lives. Your husband is a pastor and this reality carries implications for you. Supporting him in his calling is a foundation to loving him well, just as you could reasonably expect him to support you. Rather than asking, "What would a typical pastor's wife do?" ask, "Taking into account the gifts and responsibilities that God has given me (i.e. my career), how can I best support my husband in what God has called him to?"
Additionally, God has called us as believers to body ministry, which means we should all be using our gifts to serve one another. You can define what this looks like in your particular church, but somehow, somewhere, you need to be contributing to the health of the body of Christ.
You need to regularly evaluate two additional areas to see if they cohabit well with your life choices. The first is the impact of your career on your children and family life. Are you giving your husband and children the attention and time they need to feel loved and secure? Second, consider your inner life: your times of solitude and intimacy with the Lord and the state and condition of your heart. How are things with your soul? How is it impacted by your career? There is nothing more important than these two things and your life choices should always be adapted to make them a priority.
Walking with God requires a learning and growing relationship that includes evaluation, self-examination, and honest questions. Maintain a heart that stays open and vulnerable to God's agenda and leading for all the seasons of your life. In the meantime, embrace fully what God has placed before you today and enjoy it with thankfulness.
Note
1. Lori Whilhite, "The Typical Pastor's Wife Is Dead." From http://www.torchleader.com/tl/2011/05/the-typical-pastors-wife-is-de.html. Accessed 17 January 2012.