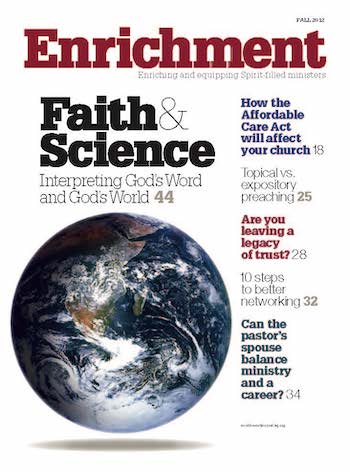 Downloads:
Don't Mess With Stress
Twenty-plus years later I reflect on my experience with big lips as the Lord shared with me two important lessons about dealing with stress.
by Mark Bryan Robinson
---
The itching sensation on the back of my hand was a new experience. I did what we all do when we have an itch — I scratched. In a short time mild swelling, which was more annoying, followed my scratching. People who seemed to know what they were talking about told me I had hives. I prided myself in being healthy, so I did not welcome any flaw in my physical health.
I continued to experience hives for several months with greater frequency and in places other than my hands. I never considered seeing the doctor. This approach worked until one day I felt itching on my lower lip. I rubbed my lips together to sooth the sensation, but that made the swelling increase. The more I rubbed my lips, the more they swelled. Soon my bottom lip became so swollen I thought the skin was going to split. I went upstairs to show my wife my big lips. I have an amazingly compassionate wife, but when she saw me she burst out laughing. We decided I had to go to the doctor.
Sitting in the waiting room, I held a Sports Illustrated in front of my face so other patients could not see my lips. When the nurse called me to see the doctor, he quickly diagnosed my condition as hives. He explained that stress caused them. This confused me because I did not feel stressed. I was serving a wonderful church in small-town America. The doctor pressed me for more details on my past 6 months. There was my final semester of college. I worked part-time and traveled in weekend ministry. My wife of less than 1 year had gone through an extended illness and ultimately had major surgery. I conducted an extended search process for my first ministry position; then graduation, relocation, and the adjustments of serving in a new church/community. I was still surprised when the doctor told me I was experiencing a stress-related condition.
Twenty-plus years later I reflect on my experience with big lips as the Lord shared with me two lessons:
First, I am not a good judge if I am experiencing extreme stress. If you had asked me if I was stressed, I would have answered, "Not really." Whether it was pride in not wanting to admit weakness, or a lack of awareness on my part, I thought I was managing life's challenges pretty well. It took a medical professional to shatter this delusion. Long-term friends who know and love you can also help in evaluating whether stress is negatively impacting you. If you are in a high-stress context, personally or professionally, do not trust your judgment in something this important.
Second, no one gets to choose how his body will react to stress. When my body reacted to the stress that had been building for months, the result was hives. While my big lips were annoying and embarrassing, there are far more serious conditions stress can cause or intensify: heart disease, diabetes, autoimmune diseases, irritable bowel syndrome, high blood pressure, and more. Persistent stress decays mental health, causing both physical problems and emotional damage. Some medical experts believe that long-term stress can even rewire the brain, leaving a person more susceptible to everyday stress and less able to cope.1
The doctor prescribed medicine for the hives, and over a period of months they finally subsided. I have never had them again. My wife and I still laugh about my big lips.
About 10 years later I noticed my stress level was increasing. This time the primary impact was more emotional than physical. I noticed a disturbing pattern surfacing. As long as I was active, and adrenalin was flowing at a high level, life was good. If I had a day off with limited activity, I fought depression-like symptoms. On vacation it would take me until about day four to finally start to feel somewhat normal. As someone with a positive outlook, it was difficult to understand how I could feel so low.
One day a friend was talking about the book, Adrenalin and Stress, by Dr. Archibald Hart. It described what I was experiencing. I decided to become a recreational runner as a way of destressing my body, and I immediately felt the positive effects. I dedicated myself to running and maintained the habit for 6 years, completing two marathons.
Several years ago, I was going through another season of high stress. Just prior to this the Holy Spirit had taught me the two lessons mentioned earlier. Before my stress levels had peaked, I once again recommitted myself to physical exercise. Now, 2 days a week I host a large group of young men, most who are far from God, and play full-court basketball for up to 2 hours. Trying to keep up with players who are 20 years younger and much more skilled wears me out. But it's all good. When I am headed to the activity center, I sometimes tell people I am going to therapy. After I have showered and rested for several hours, I feel much better. No matter how stressful the day or week has been, the edge has diminished. The soreness in my knees is nothing a few gel caps cannot handle.
I have not said much about how to spiritually deal with stress. I believe you cannot separate your physical body from your spiritual body. When we ignore our temple, or to abuse it through lack of exercise or a poor diet, we dishonor God. First Corinthians 6:19 in The Message reads: "Didn't you realize that your body is a sacred place, the place of the Holy Spirit? Don't you see that you can't live however you please, squandering what God paid such a high price for? The physical part of you is not some piece of property belonging to the spiritual part of you."
When we disregard our temple or sacred place we not only dishonor God, we significantly increase the possibility of stress-related problems.
Remember, no one gets to choose how his body will react to stress. For that reason, my encouragement to you is: Don't mess with stress. Often we cannot change the personal or professional context that is contributing to our stress level. What we can do is get regular intense exercise, where we work our cardiovascular system and break a good sweat, be careful what we eat, and get adequate sleep.
Hopefully you can avoid big lips or something far worse.
Mark Bryan Robinson is advancement director for Northwest University—Salem, Oregon, Campus, and a 2010 graduate of Assemblies of God Theological Seminary with a master's in Christian Ministry. www.markbryanrobinson.com
Note
1. Melinda Smith, M.A., Robert Segal, M.A., and Jeanne Segal, Ph.D. "Understanding Stress: Signs, Symptoms, Causes, and Effects." Help Guide. July 2009. http://www.helpguide.org/mental/stress_signs.htm