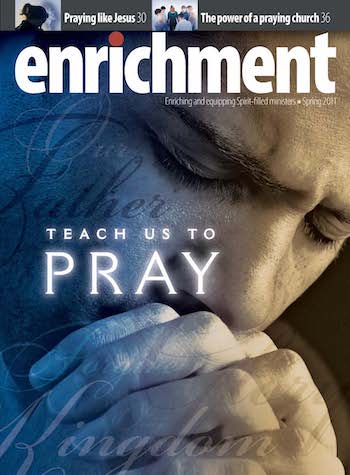 Downloads:
Up There, Down Here, Among Us, In Me
Whether from the standpoint of prayer's proper order or from our hopeful expectation, we must learn to pray the words, "your kingdom come, your will be done on earth as it is in heaven."
by George P. Wood
---
If your prayers are like mine, they are often self-centered. Much of my praying is a to-do list for God. After a lifetime of praying among other Christians, I have concluded that their prayers are largely self-centered, too.
There is nothing wrong with asking God to supply our needs. After all, Jesus, himself, teaches us to pray, "give us," "forgive us," and "deliver us" (Matthew 6:11–13). Indeed, He promises that "all these things" — meaning life's necessities — "will be given to you" by God (6:33). It is not wrong to ask for what Jesus teaches us to ask for and promises to give us.
But something is wrong with our praying when we fail to order properly the self and its needs, however real and important they are. According to Jesus, the proper order of prayer is God first, then us: "your name," "your kingdom" and "your will" (6:9,10) first; then, "give us," "forgive us," and "deliver us" (6:11–13) second. And the premise underlying Jesus' promise that God will meet our needs is the command to "seek first his kingdom and his righteousness" (6:33).
Whether, then, from the standpoint of prayer's proper order or from our hopeful expectation, we must learn to pray the words, "your kingdom come, your will be done on earth as it is in heaven" (6:10).
Prayer in Relationship
To start, we must learn to pray without ego. In Greek, ego is the first person singular pronoun, meaning "I." I is absent from the Lord's Prayer (Matthew 6:9–13), along with me and my. Instead, the first person plural pronouns our andus appear. So does the second person singular pronoun you, which refers both explicitly and implicitly to "Our Father" (6:9).
This point is spiritual, not grammatical. I (the pronoun) is absent from the Lord's Prayer, but I (the person) am not. I myself must seek the Kingdom. I myself must pray for its coming and the doing of God's will. I cannot pray by proxy. Neither can you.
But how do I conceive of myself when I pray? Am I an individual-in-isolation? The neo-Platonist philosopher Plotinus spoke of life as "the flight of the alone to the Alone." Many Christians conceive of themselves in prayer in a similarly individualistic way. "I come to in the garden alone," runs the lyric of a much loved hymn, for example.
Jesus' use of pronouns in the Lord's Prayer reaches a different conclusion. I am not an individual-in-isolation. I am an individual-in-relationship. I do not pray, "My Father." Neither do you. We pray, "Our Father." So, in prayer, we are doubly related: horizontally to one another and vertically to God. Through the Spirit of His Son, God makes it possible for us to call Him, "Abba, Father" (Galatians 4:6). In prayer, we are not alone because we are not our own. We belong to God and through Him to one another.
Furthermore, the God to whom we pray is not alone. He is "the God and Father of our Lord Jesus Christ" (Romans 15:6). Together, they pour the Holy Spirit upon believers as they pray (Luke 24:49; Acts 2:33).
Prayer, then, is not a flight of the alone to the Alone. It is a pilgrimage of Christians in community to the Holy Trinity.
Two practical actions result from how Christians conceive of themselves in prayer. First, I must pray with others. It is, of course, important to pray in solitude, as Jesus taught (Matthew 6:6) and modeled (Matthew 4:2). But corporate prayer must always complement solitary prayer. Throughout Acts, the Holy Spirit is powerfully present whenever believers gather to pray together (2:1–4; 8:14–17; 10:44–46; 13:1–3; 19:1–7).
Second, I must pray for others. Praying ego-centered prayers — as if only "me and mine" matter — repudiates the gospel. The two greatest commandments are "love the Lord your God" and "love your neighbor as yourself" (Matthew 22:37–40). Obviously, I cannot love myself without praying for the needs of me and mine. But as an individual-in-relationship, I also pray for God's priorities and the interests of my neighbor.
Prayer and Desire
Prayer is an expression of desire. We desire food, so we ask God to feed us. We desire reconciliation, so we ask God to forgive us. We desire guidance, so we ask God to lead and deliver us.
The important question is whether we align our desires. As revealed by the order of the Lord's Prayer, we should first desire the hallowing of God's name, the coming of His kingdom, and the doing of His will (Matthew 6:9,10). These vertical desires are aligned: God's name is hallowed when His kingdom comes, and His kingdom comes when His will is done. Then, we should desire what our neighbors and we need: food, forgiveness, and guidance (6:11–13). These horizontal desires are aligned with the vertical ones: God's will is done when we receive our daily bread, forgive as we have been forgiven, and experience deliverance from evil (6:11–15). Notice the holism of these desires. They are physical, social, and spiritual.
The Lord's Prayer, then, aligns our desires for God, neighbor, and self. It also aligns the desires within us for wholeness and integrity.
When we pray, "your kingdom come, your will be done, on earth as it is in heaven," we are asking God to fulfill our aligned and holistic desires. We are asking God to close the gap between heaven and earth until there is nothing but "a new heaven and a new earth, the home of righteousness" (2 Peter 3:13). Or, as John Ortberg puts it, we are asking God, "Make up there down here."
At the outset of His ministry, Jesus announced the imminent fulfillment of all our desires. "The time has come. The kingdom of God is near. Repent and believe the good news!" (Mark 1:15). For Him, the coming of the kingdom of God is good news — the gospel.
The connection between Kingdom and gospel first appears in Isaiah 52:7: "How beautiful on the mountains are the feet of those who bring good news, who proclaim peace, who bring good tidings, who proclaim salvation, who say to Zion, 'Your God reigns!' "
Both Isaiah and Jesus broadly understand God's peace, salvation, and reign. Isaiah 11:1–16 describes the Spirit-empowered Messiah (1–3) restoring justice to social relationships (3–5); making peace among all God's creatures (6–9); and redeeming and unifying all people, whether Gentile or Jew (10–16). Isaiah 61:1,2 describes the Spirit-empowered Messiah as helping the poor, healing the sick, and liberating the oppressed. Jesus cites this latter prophecy in His inaugural message at Nazareth (Luke 4:16–21) and in response to the disciples of John the Baptist when they ask whether He is indeed the Messiah (7:18–23).
Two practical actions arise from the realization that the kingdom of God is the fulfillment of all our desires. First, we must desire more. God is not interested in what the Stoics called apatheia, the elimination of desire. Rather, according to John, when Jesus chases the moneychangers from the temple, His disciples remember the saying, "Zeal for your house will consume me" (John 2:17, cf. Psalm 69:9). The problem is not desire per se but rather the lack of desire for the things God wants us to desire. We desire salvation and healing. Do we also pray for justice and peace?
Second, we must desire with expectation. In Jesus, the kingdom of God is here (Matthew 12:28). Already we experience the peace, salvation, and reign of God. Do we pray as if God is in fact "able to do immeasurably more than all we ask or imagine, according to his power that is at work within us" (Ephesians 3:20)? Or do we hedge our bets and pray double-minded and therefore unanswerable prayers (James 1:7,8)?
Prayer as Struggle
And yet, many of our expectant prayers for more of God's kingdom go unanswered.
I have spinal arthritis. Every Sunday at church I go forward and ask the elders to pray for my healing — to date, without effect. Perhaps you have a similar story. Unanswered requests are one reason prayer is such a struggle. Another reason is the spiritual warfare that characterizes our present age.
In modern parlance, kingdom is a static term, referring to a place or a realm, such as the United Kingdom or Kingdom of Saudi Arabia. In the Bible, however, kingdom is primarily an abstract and dynamic term, referring to a person's authority to reign (e.g., Luke 19:12) as well as the actions he takes to establish that reign (e.g., Matthew 12:28).
Taking these three elements together, we might define the Kingdom as God's authoritative reign, established by His powerful action, and resulting in a realm of peace and salvation for those who receive it with repentance and faith (Mark 1:15). Prayer is a struggle because creation is at war with God, rebelling against His sovereignty, resisting His power, and refusing to enter His realm.
Oscar Cullman compares our present age to the time between D-Day and V-E Day. On June 6, 1944, when the Allies land troops on the beaches of Normandy, the war in Europe was effectively over because German forces could not fight successfully on two fronts. But the Nazis fought until May 8, 1945, when they finally surrendered. At His first coming, Jesus inaugurated the Kingdom. Already, sin is being forgiven, demons are being exorcised, sickness is being healed, and death is being overcome. But evil fights on. Its ultimate defeat awaits the second coming of Jesus, when: "There will be no more death or mourning or crying or pain, for the old order of things has passed away" (Revelation 21:4). We live between the inauguration and consummation of God's victory, a time of war and struggling prayer. Why doesn't God use the divine equivalent of a "nuclear option" to end this war immediately?
In Revelation 6:9–11, the Lamb of God opens the fifth seal, and John sees "under the altar [of heaven] the souls of those who had been slain because of the word of God and the testimony they had maintained." According to John, they cry aloud, "How long, Sovereign Lord, holy and true, until you judge the inhabitants of the earth and avenge our blood?" (6:10) Instead of answering their cry for justice, God gives each of them "a white robe" and tells them "to wait a little longer, until the number of their fellow servants and brothers who were to be killed as they had been was completed" (6:11).
This macabre scene has a missional point. God delays judgment against creation's rebels because He still offers them salvation. God's Word is yet preached; witness to Him is yet given. Prayer is a struggle, then, because the Church has a mission until Jesus returns. Our mission requires godly patience: "[The Lord] is patient with you, not wanting anyone to perish, but everyone to come to repentance" (2 Peter 3:9).
One practical consequence arises from the struggle of prayer: Keep praying! Your prayers for the Kingdom may not have been answered at the present time, but they will be answered in God's timing. "And will not God bring about justice for his chosen ones, who cry out to him day and night? Will he keep putting them off?" (Luke 18:7).
Prayer for Obedience
Tony, a good friend of mine, became a wheelchair-bound paraplegic in his teens due to an accident. Raised in a Pentecostal home, he believed God would heal him. A psychiatrist thought his faith was a symptom of delusion and institutionalized him. In the "loony bin" — Tony's term, not mine — Tony discovered that God is more interested in wholeness of heart than bodily healing. So, making peace with his paralysis, Tony submitted himself to God's will and committed himself to God's service. Then God healed him.
Luke 22:39–46 tells us how Jesus prays on the eve of His crucifixion. "Father, if you are willing," He says, "take this cup from me; yet not my will, but yours be done" (22:42). Jesus desires to avoid the Cross. Indeed, His agony is so strong that "his sweat was like drops of blood falling to the ground" (22:44). And yet, He knows that God desires His obedience, so He submits His will to God's.
To pray for God's kingdom and will is to pray for the external and the internal. Tony prayed for health, but also for wholeness. Jesus prayed to avoid pain, but also to submit His will. When we pray, we ask God for the salvation, healing, justice, and peace of the entire world. But we first must pray that these graces be present in our churches and in our individual lives.
We should arise from prayer with greater unity among believers; greater commitment to the last, the lost, and the least; and greater Christlikeness of personal character. If these things aren't greater after prayer, have we really prayed at all?
God will establish His kingdom and perform His will, with or without our prayers. When He does, will we be inside the Kingdom or outside? Will we be found faithful to Him or not? Like Jesus, our prayer must always be:Not our will, but Yours be done.
Our Father, make up there down here, but also among us, and especially in me.