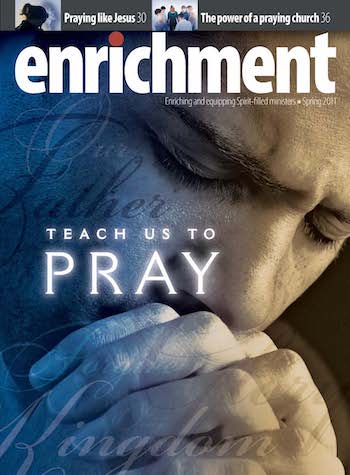 Downloads:
The Spirit in the Prevailing Church
"Deliver us from the evil one" (Matthew 6:13)
by Dick Brogden
---
Important principles on how God delivers His children from evil when they reach out to Him through prayer.
EDITOR'S NOTE: The following article may be used to supplement sermon material when teaching and preaching on demon oppression and the influence of evil in the life of the believer. This article contains important principles on how members of your congregation can wake up to, cultivate, and welcome the manifest presence of God when confronting evil in their everyday lives.
Introduction
In Matthew 6:13, Jesus teaches His disciples to pray, "Deliver us from the evil one." In Matthew 4, Jesus encounters the evil one in the desert. In that encounter Jesus refers to Scripture as He answers Satan's temptations. But there is also an implied dependence on who the Father is, and what only the Father can do. All three of Jesus' responses are God centered. We, after all, cannot deliver ourselves from evil; we desperately need God's help.
Evil is not restricted to any one place on earth. The devil and his minions wander purposely and with destructive intent in all nations and among all peoples. In some countries, such as the Sudan where I live with my family, the evil one acts quite brazenly; in other countries, he is more subtle. In all lands and at all times deliverance from evil's sinister plans is a must. The following case study from Sudan suggests principles on how God delivers us from evil when we reach out to Him through prayer.
Read the rest of this article by obtaining a downloadable PDF of the Spring 2011 issue of Enrichment journal.