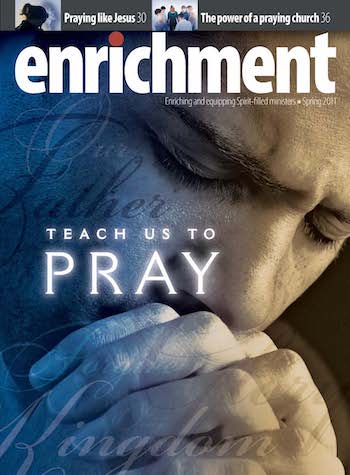 Downloads:
The Prayer That God Always Answers
by Jason Frenn
---
The Lord's Prayer, in Luke 11, is a scriptural model for helping people in your church draw closer to God through initial conversion and ongoing confession.
The deputy carefully searched my belongings then motioned me to walk through the metal detector. After the guard behind the 1-inch-thick bulletproof glass pushed the button, the 300-pound security door slammed behind me, echoing throughout the facility that held nearly 1,000 inmates. "Clear!" The guard exclaimed. It was obvious I had passed from a world of freedom into one I had never seen before. To my left and right prisoners silently stared as I made my way through the maze of the county jail.
Most of the crusades I hold are in stadiums, sports arenas, or convention centers. I have never had armed guards posted in strategic locations. However that afternoon was different. Deputies stood in towers with loaded rifles overlooking the courtyard. Jailers escorted the men into the area in single file, hands folded together just above their navels. Soon a sea of orange jumpsuits filled the common area and prisoners began to do a variety of calisthenics.
Just before officials introduced me, I glanced across the courtyard and saw men who were doing time for dealing drugs, gang violence, drunkens driving, and murder. They were young and old alike. One man in particular had a physical appearance like no other. Inmates nicknamed him "Tarzan." I've never seen a man so buff. He dropped to the ground and began to do pushups but never stopped staring at me. He never turned away. It was intimidating to say the least. He was like a lion watching for the opportune moment to attack its prey.
After a 25-minute message concluding with my testimony, I asked, "How many of you want God's forgiveness?" Over half raised their hands. Tarzan stopped his rigorous exercise regime and stood to his feet. He continued to glare at me through the chain-link fence. After 3 seconds, which seemed like an eternity, his hand shot up. That afternoon several hundred prisoners asked Christ to forgive their sin so they could begin a new life with God.
Read the rest of this article by obtaining a downloadable PDF of the Spring 2011 issue of Enrichment journal.