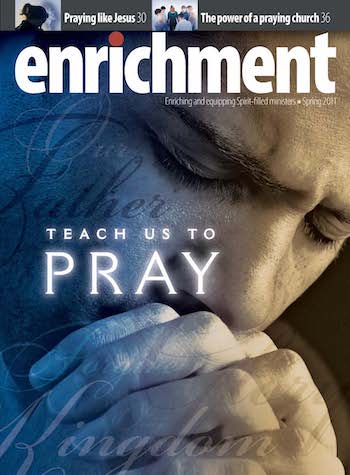 Downloads:
Lead Us Not Into Temptation
Praying for Holiness
by James T. Bradford
---
To fully appreciate the importance of the phrase "Lead us not into temptation" from the Lord's Prayer, it is helpful first to understand how temptation works in order to grasp the temptation process — the setup, the wear down, and the kill.
EDITOR'S NOTE: The following essay may be used to supplement sermon material when teaching and preaching on living the overcoming life. The essay provides valuable insights on how your congregation can pray strategically and specifically toward living a holy life.
"I can resist everything except temptation," confessed Oscar Wilde. We smile as we wince. With the simple prayer, "Lead us not into temptation," Jesus reminds us of what every human being knows all too well. Temptation is everywhere and we are all vulnerable. Often resistance seems futile and willpower feels inadequate. Erwin Lutzer got it right: "Temptation is not a sin; it is a call to battle."
Temptation is a battle because sin is more than just a choice — it is a power, a preying force. God told Cain, "Sin is crouching at your door; it desires to have you" (Genesis 4:7). To live in our world is to be surrounded by flesh-enticing influences that pull at our souls, lure our affections, and seduce our wills.
The simple prayer, "Lead us not into temptation," however, gives us hope that we do not have to fight this battle alone. Here Jesus invites us to depend on our hallowed, Heavenly Father. By praying for personal purity, we can overcome temptation and advance the front lines of holiness in our lives.
Martin Luther insightfully connects temptation and prayer this way: "God delights in our temptations and yet hates them. He delights in them when they drive us to prayer; He hates them when they drive us to despair."
But what does it mean to pray, "Lead us not into temptation"? Does God intentionally tempt us unless we ask Him not to? Is Jesus asking us to pray, "Lord, please don't set me up to be ruined"?
Read the rest of this article by obtaining a downloadable PDF of the Spring 2011 issue of Enrichment journal.