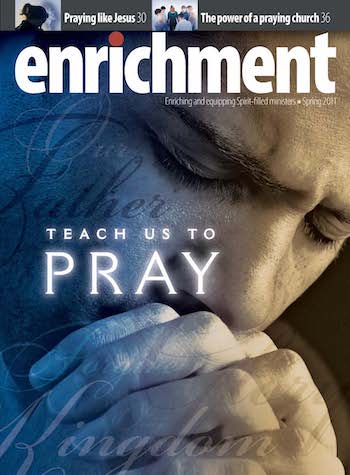 Downloads:
Interview The Power of a Praying Church
by Andrea Lathrop, Bill Miller, Jack Mourning, Scott Wilson
---
Prayer is a vital part of any church. While pastors and staff may talk about the importance of prayer, and do pray, they may not be putting the emphasis on prayer that will provide a breakthrough in their church and ministry. Scott Wilson, senior pastor at The Oaks Fellowship, Dallas, Texas, has discovered the value of prayer in opening doors of ministry and strengthening the church in its spiritual growth. George Paul Wood, director, Ministerial Resourcing, and executive editor of Enrichment journal, visited with Wilson and key leaders concerning the importance of corporate prayer.
Andrea Lathrop has been attending The Oaks for 8 years. She has been on staff as community relations and world missions pastor for just under 2 years.
Bill Miller is technical director at Red Oak High School and has attended The Oaks for 27 years. He is currently on the board of elders.
Jack Mourning, chief operating officer, has been at The Oaks for over 30 years and on staff for a year and a half.
Scott Wilson has been on staff at The Oaks for 21 years: youth pastor for 11 years, associate pastor for 2 years, and 8 years as senior pastor.
Charles Spurgeon said the condition of the church can be accurately gauged by its prayer meetings. At The Oaks, how important is corporate prayer?
Lathrop: The prayer meeting is important with the people in the church. This has been especially so in the last couple of months. When we come together corporately to pray, it's powerful. A profound sense of the grace of God rests on our prayer meetings. The impact is evident in our Sunday services.
Mourning: We have a very healthy program of prayer. Pastor Scott helps people realize that prayer is talking to God about the issues with which they are dealing. As a result, we are witnessing God's healing power in unprecedented ways. People are being healed of cancer and other serious diseases. Doctors who initially diagnose individuals with serious physical issues are afterwards saying, "I can't tell you what's happened here, but the conditions are no longer apparent."
I think of Psalm 133 about the unity God looks for when His people come together. When He finds it, He blesses.
Miller: The Spirit is moving in power as a result of our prayer meetings. About half of our Sunday School hour is spent in prayer. When my sister was diagnosed with cancer, she wanted the Sunday School class to pray for her healing. Today she is 100 percent cancer free. We have had many answers to prayer like this.
Wilson: If we are honest, I think we would agree we wished for higher attendance at the prayer meeting. In spite of an average Sunday morning attendance of over 3,000, we only have about 300 people attending the prayer meeting. Over a thousand other people are at the church during prayer meeting, but they are involved in other ministries.
How do you communicate the value of the prayer meeting?
Wilson: The most powerful, influential tool I have is my Sunday morning sermon. In almost every message I promote our prayer meeting. For example, I might say, "Last Wednesday night while I was praying, this is what God said to me." I didn't say, "Come to the Wednesday prayer meeting." I said, "Last Wednesday night God was speaking." So during the next Wednesday prayer meeting I did an 8-minute teaching on how to hear and recognize the voice of God. One of the great values of our prayer meeting is people receive something that will help their prayer life.
I sometimes announce ahead of time the theme of my message. I might say, "This week, I'm talking about the power of the blood of Jesus Christ and what it means for your life. Some of you are living beneath your potential in Christ. If you want the fullness of Christ in your life, come Wednesday night and you will get the breakthrough for which you are looking."
I also talk about personal experiences and how God touches people. This past week a guy was baptized in water. During his testimony he said, "My first time to attend the church was during a Wednesday night prayer meeting. I walked into the prayer meeting and said, 'God, if You are talking to me, let the pastor come talk to me. I want to be set free from drugs, alcohol, smoking, and get my family right.' " He is the only guy I went to that evening. The Lord told me to go talk to him.
Lathrop: People are attracted to the prayer meeting because powerful things happen when we pray together. Pastor Scott does a great job saying you need more than just this right here. He is able to get people to show up who are really hungry for more of God in their lives.
Wilson: What pastors need to understand is when communicating the value of corporate prayer, it involves more than just saying, "We had a great prayer meeting Wednesday night." That's flat. That's not vision casting.
I'm always looking for a thematic outline for each prayer meeting. For instance, in January our focus was on 2 Chronicles 7:14. I said, "This is the first month of not only a year, but of a decade. We are going to give the firstfruits of our lives by praying one week for each of the following areas: faith, family, finance, and the future. We are going to lay it down before God." We had over 500 people each of those weeks come to the prayer meeting.
What are the components of your Wednesday night prayer meeting?
Wilson: Each weekI give the staff the service schedule, even though it might change on any given Wednesday night. We always start with a time of worship, where we come into the presence of the Lord. The worship will be very expressive at times.
Following worship, we have three different, 15- to 20-minute times of prayer encouragement. These are not the same each week. In a recent meeting, I gave a word of encouragement followed by a response time where I encouraged people to find a place to pray. I said to them, "Get on your face and admit to God 'I need You.' "
The second period of encouragement centered on Communion. I said to the parents, "How awesome is it to sit at the table when your kids are happy with each other, talking and laughing and not fighting? How good is it for the Father to look down and see us loving each other and loving Him?" After we broke into groups, I said, "I want you to tell each other what you need. I want somebody in your group to pray over that need."
Following Communion, we moved into the third prayer encouragement time. I said, "Some of you need a real breakthrough. I have asked the elders and staff to come up front. For the next 15 minutes if you need God to set you free or heal you, whatever you need from God, come here and start seeking Him."
Other prayer encouragement times consist of group prayer for a variety of issues. One group will pray for our president and governmental officials on national, state, and local levels. Another group will pray about the church's community care strategy of ministering to widows and single moms. Another group will pray about sex trafficking in the state. Another group will pray for an upcoming missions trip, and so forth.
In an attractional church model, how do you incorporate aspects of corporate prayer that appeal to visitors?
Wilson: I have four ways. First, I always pray at the end of worship. Second, I always give an altar call for people to come to Christ. Third, nearly 80 percent of the time I call for a response to the message. I might say, "This is what we talked about today, and it's appropriate that you have a time to respond to the message. We can't leave today without you responding to what you have heard." Sometimes I will ask the congregation to write something down. Other times I will ask them to stand and pray. Occasionally, I will have them turn to the person next to them and pray one for another. Finally, the fourth way we incorporate prayer into our services is by having our prayer team come up front and giving people opportunity to be prayed over.
On Mother's Day I stopped and prayed four times during my message. I said, "If you feel you need God to bring provision to your life like a mom takes care of her kids, I want you to stand where you are right now." Then I asked the entire church body to stand. After they stood I said, "Everyone who is a believing, Spirit-filled person, your faith is this. I want you to simply — don't be weird, don't freak anyone out — put your hand on their shoulder and let them know you are standing and praying with them." I'm teaching our people to pray by modeling prayer.
Do you train your prayer team or do you select them because you know they know how to pray for people?
Miller: We have had prayer team training in the past, but it is not something we do regularly. Most members of the prayer team are staff or elders; they are people who have prayer lives.
Wilson: We recently met to talk about expanding the training for the prayer team and what needs to take place in the elder and prayer ministry.
What does corporate prayer look like on the leadership or board level?
Miller: The board meeting officially starts at 6:30 p.m. and can sometimes go until midnight. Pastor Scott teaches, and then we have an extended time of prayer. The teaching and prayer times must have priority before the other business of the board meeting.
Because prayer unifies, there is no animosity between board members. God has chosen to use this church because of the many ministry opportunities that have come our way. The blessing of God on this church comes from previous generations. We want to keep the blessing of God flowing to the next generation.
Every meeting Pastor Scott goes around to each person, looks them straight in the eye, and asks, "Is everything okay?" Occasionally, there's a point that needs to be clarified.
Wilson: And how do we clarify? We talk, we give information, but ultimately what we are seeking is unity. One time I said to Bill, "Are we good?" And he said, "We have some things to talk about." Bill and I met for breakfast so he could share what was on his heart.
The key to unity in leadership is praying together and committing us to stay clean before God and each other. If we are not in unity, we are not going to pray, we are not going to hear from God, and most important, we are not going to have His blessing.
Tell me about corporate prayer during staff meetings.
Mourning: Prayer during staff meetings is much the same as in the board meeting. One of the five values in our mission statement is that we are Spirit-led. So when we come up against an issue in staff meeting, we always bring it before the Lord. This prayer focus is the result of Pastor Scott's leadership. He leads us in prayer.
Recently the church needed to make a major decision. Pastor Scott said, "This is such a big thing that I don't want to make that move until every member of this staff can say, 'I have heard from God.' " That really challenges you to pray. And everyone heard from God. It was strengthening to everyone. We are encouraged to seek God and let Him direct our path.
Discuss a time you were frustrated with the pastor's leadership and the role prayer had in the resolution.
Mourning: Moving to home groups for the first time was a big change for me. It was a major shift in my thinking about how you do church. I told Pastor Scott, "You know, I'm going to jump on board with this, but I must tell you, I'm struggling and trying to figure my way through it." But through prayer, time in the Word, and conversation with people, God opened my heart and mind. The real power is in the small-group process. That is where real ministry happens.
God opened my heart and spirit to understand that He was going to do a new thing. So I told Pastor Scott, "God has helped me get past that issue, and I really feel like this is God. I really am behind it now. It's not because I like it, it's because He likes it."
How can a pastor create a culture of prayer in the congregation that cascades into the lives of leadership and individuals?
Wilson: First, you cannot call people to do something you do not do yourself. So modeling personal prayer is huge. Second, you need to create the value of prayer so you and your people believe John 15:5 is true: "Apart from me, you can do nothing." Third, preach it; live it; talk it. Fourth, not only do you exercise prayer on Sunday and Wednesday nights and in small groups, but you also create Bible studies for the week that go along with what you are teaching. Finally, invite ministry leaders from the church to join with core leadership when important decisions need prayer.
Lathrop: Anyone who leads a ministry, such as a missions trip, cannot lead unless he or she is a person of prayer. We expect this for ministry leaders. We make it clear in some of our missions manuals. One of the requirements of leadership is that the leader must open every meeting with prayer and have extended times of prayer before doing ministry outside the church.
Miller: When the church is at a crossroads, prayer draws people together, and that strengthens and makes us more unified.
What outcome are you looking for in cascading prayer where prayer cascades from leadership to every member of the church?
Wilson: Amos 3:7 says, "Surely the Sovereign Lord does nothing without revealing his plan to his servants the prophets." You have to call your top people to prayer, hear from God, and spread it from group to group.
The key to cascading prayer is not my getting up and saying, "We're going to build this building. We're going to raise $10 million dollars. We're going to do this and do that." No. What does God want us to do? So if I say, "I think I'm hearing God," I want the rest of the church to join with me to make sure I am hearing from Him. Ephesians 4:12 talks about reaching "unity in the faith." That is the outcome we are looking for in cascading prayer — unity.
Have you been involved in cascading prayer where you thought God was leading you in one direction, but the more prayer cascaded down through the organization, you started thinking, Maybe we're missing it here?
Wilson: In January 2000, we burned the mortgage on the Oak Cliff property. My dad said to the church, "This is the year of the Master's plan. We need to hear from God about the future. We are going to pray every Friday night at 7 until God speaks."
I never had in my mind that prayer was going to result in the church moving to a new location. I thought it was about, "God, what do You want us to do with the property we have?" I don't think anybody got it. I think if they had, they would have been against it at first.
Miller: That's right. Everybody was thinking about what is the master plan for Oak Cliff.
Wilson: Four months later I went to my dad's house after the Friday night prayer meeting. I was scared to tell him what I was feeling. It was like saying we need to move the temple from Jerusalem. How can you do that? Finally, I said, "Dad, what are you hearing in prayer?" He said, "What are you hearing, Son?" I said, "I'm hearing — it's weird, don't get mad — that we should keep the Oak Cliff location and go down to Red Oak and buy a piece of property and start another location there."
He said, "Son, do you know what this means?" I said, "No." He said, "Neither do I, but that is what I'm hearing as well."
Then we went to the board and said, "We've been praying. This is what we are hearing. What are you hearing?" Some of them said, "I'm hearing it." Some said, "I'd be open to hearing that."
So we started a prayer meeting every other Sunday at lunch. Finally, we told the board to pray for 2 weeks and come back and tell us what they were hearing. Once we had a peace about it in our hearts, even though we weren't sure, we thought it was big enough that we needed to share it with the entire congregation. That's when we went to the Friday night prayer meeting and started saying, "This is what we're hearing. Are you hearing this?" And it cascaded down from there.
What does Spirit-led strategic thinking look like at The Oaks Fellowship? How does corporate prayer shape this strategy?
Mourning: When I think of Spirit-led strategic thinking, I am reminded of the time when Solomon was building the temple and God anointed certain individuals with special gifts. Gifting is wonderful, but without the anointing gifts are insufficient. With the anointing we know God is doing His thing and not man. I have learned that the business mind has to take a backseat to the Spirit. The Spirit may energize the business mind, but it must happen in the Spirit's timing and under the Spirit's leadership.
Lathrop: A church gets into dangerous ground when it is not praying or the staff is not praying. Because most of the key decisions are made at the staff and board level, we must pray. It goes back to what Jack said. It is easy to tackle projects at the mind level, but if you are not Spirit-led, then you get into trouble.
I have found in my life that I need to submit to the Lord and make sure my heart is in sync with where the church is going and that I'm hearing the same thing other leaders are hearing. You need to be careful with the strategy, planning, processes, and how you are going to play this all out. You cannot move too far away from prayer. You must lay it down before God.
How has the corporate prayer life of the church changed you personally?
Wilson: I am not surprised anymore at what God does, but every day I am amazed. Because we pray and seek God, everything seems to fall in place just at the right time. As we are obedient, God brings in the people and the finances. He is always on time. I have learned to trust Him more and more.
Mourning: I have an architectural and project management background. Because of that, I served on the building committee. I had my traditional architectural ideas of what I thought the church should look like. Two architects provided us with drawings. I spotted one that I loved. It was a beautiful church with a nice steeple and gorgeous sanctuary. I was getting fired up. The Lord quickly reminded me of what He had whispered to me a couple of months earlier. He said, "You know, Son, I am bringing younger leadership into the church — younger than you — and I need you to be obedient, humble, and supportive." I said, "Well, sure, I'm going to do that."
A few months later in a planning meeting, Pastor Scott's vision of the church building began to emerge. It was not what I was thinking. Pastor Scott described a church with a mall area so the unchurched would not feel uncomfortable. He said the unchurched are resistant to a traditional church structure. I said, "You're kidding, a mall?" I was disappointed with that. Furthermore, he described the sanctuary as a black theater-style auditorium. I was struggling like crazy with his ideas.
I was frustrated as I drove home after the meeting. The Spirit of the Lord came in the car and said, "You seem to be having a little problem with this, aren't you?" I said, "Yeah. This isn't going to look like a church at all." The Lord said, "Do you remember our conversation a couple of months ago about My doing a new thing under new and younger leadership and that I need you to be on board? I remember you saying yes."
I got real quiet and said, "Wow. Is this what You were talking about?" I felt the Spirit of the Lord say, "Absolutely. Don't be fearful. Just trust and obey." It changed my heart and spirit forever.
Lathrop: I'm thankful for an organization that places an emphasis on corporate prayer. I keep thinking about how small my own personal prayer life has been at times. When I was at school, with two babies at home, working, and trying to get through the day, prayer wasn't a priority as it is now. Tuesday's staff prayer time has been a lifesaver for me.
Miller: Prayer greatly changed my life a long time ago. I was barely a Christian, let alone a hot Christian. I was working in a gas station in Fresno, California, and I got held up. It was scary. I have never had someone stick a gun in my face. The next morning in church a little old lady came up to me and asked, "What were you doing about 10 o'clock last night? I was praying for you." I said, "Yes, you were."
That is when I knew God really cares for me. Since that experience, I believe 100 percent in prayer. Now when I pray, God answers. I serve Him to the best of my ability. That's all I can do.