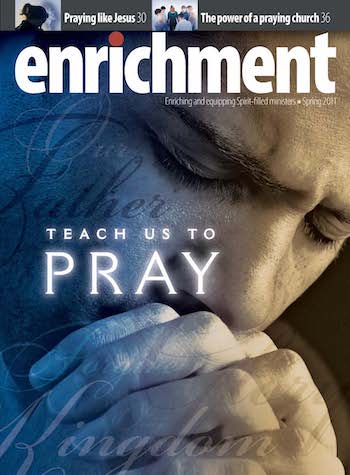 Downloads:
Conversing with God
Reflections on Prayer as Relationship With the Father and Son from Luke 11:2
by Doug Oss
---
Introduction
One recorded prayer in all of Scripture stands out above all others. Jesus made this prayer the salient prayer of His earthly ministry when He laid out the model of prayer for believers of all times, places, and circumstances. In response to a request from His disciples that He teach them to pray, Jesus responded by saying, "Whenever you pray, pray in this way" (Luke 11:2, author's translation).1 The ensuing prayer became the keystone prayer in Church history. Known from antiquity as the "Lord's Prayer," or the "Our Father," Jesus' prayer shows His disciples the way to become more closely connected to their Father through prayer (cf. Luke 11:1–4; Matthew 6:9–13).
The purpose of this article is to reflect on the prayer life of today's church in light of the Lord's Prayer, and specifically the phrase "Father, let your name be reverenced" (author's translation, Luke 11:2: Pater, agiastheto to onoma sou). After discussing this phrase and its implications for prayer, I will present ideas for pastors to use to encourage their people to pray in light of the biblical names for God.
Read the rest of this article by obtaining a downloadable PDF of the Spring 2011 issue of Enrichment journal.