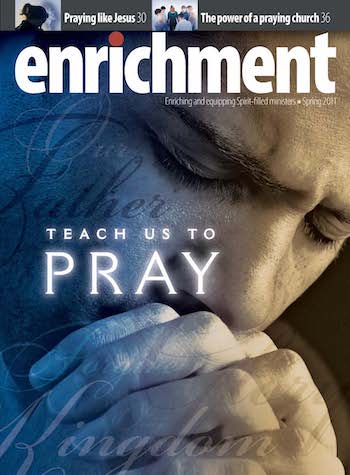 Downloads:
A Better Way to Pray - Praying Like Jesus
by George O. Wood
---
If only prayer could deliver a demoniac, how much more is prayer required when we pray for the world, the nation, the Church, and the tremendous needs faced within our communities and congregations?
By George O. Wood
"Then Jesus told his disciples a parable to show them that they should always pray and not give up" (Luke 18:1).
People sometimes ask me, "Why should I pray? The Lord knows everything that is going to happen anyway, so do my prayers make a difference?"
The fundamental answer to that question is: "Jesus told us to pray." He never asks us to do something He himself did not do.
Each of the four Gospel writers shows moments when Jesus prayed: Matthew records nine such incidents; Mark, eight; Luke, 13; and John, five. From these 35 references, there are 23 separate occasions in Jesus' 3-year ministry when the Holy Spirit pulls back the curtain on His prayer life. Let us look at them.
Key Moments
At His baptism. Luke notes: "As he was praying, heaven was opened" (3:21). During this moment of prayer, the Holy Spirit descended on Him in bodily form like a dove, and a voice spoke from heaven saying, " 'You are my Son, whom I love; with you I am well pleased.' " While the sky may not split wide while we pray nor the Spirit descend bodily, nevertheless heaven does open when we pray, the Spirit does come on us, and in prayer the Father assures us of His love.
Prior to selecting the Twelve.Jesus spent the night in the hills praying to God before He selected the disciples the next morning (Luke 6:12–16). A fascinating cross-reference is found in Matthew's account. Prior to selecting the apostles, Jesus told them to " 'ask the Lord of the harvest, therefore, to send out workers into his harvest field' " (Matthew 9:38). After this prayer, Matthew records Jesus selecting the Twelve (Matthew 10:1). I have often wondered if there is not a connection between 9:38 and 10:1. We know that Jesus had more than 12 followers: 72 (Luke 10:1), 120 (Acts 1:15), and 500 (1 Corinthians 15:6). How then did these 12 make the "cut"? I suspect they were the ones who took Jesus' request to pray seriously. While He was praying all night, they spent time praying as well. No one ever works effectively in the harvest of people unless he has prayed first for the harvest.
After His rejection at Korazin, Bethsaida, and Capernaum (Matthew 11:20–26).Jesus did mighty miracles in these three towns. Peter, Andrew, and Philip came from Bethsaida; James, John, and Matthew (Levi) came from Capernaum. Despite His mighty works in these towns, despite that half of the Twelve came from these towns — they rejected Him. This had to sting.
How do we respond when people reject us, when hard circumstances come our way? We must do what Jesus did — repair to prayer. In conversation with the Lord, our lives are refocused. We learn that His approval is more important.
At the hinge moment of recognition. The disciples had followed Jesus for 2 years, and the time had come for them to perceive His identity. Would they lay aside their preconceived idea of a political Messiah and accept Jesus' revelation of himself? The answer comes at Caesarea Philippi. It is while Jesus prays in private and His disciples are with Him that He begins to question them: " 'Who do the crowds say that I am? … Who do you say I am?' " (Luke 9:18–20).
If we desire others to come to Jesus, let us follow Jesus' pattern. That individual we are witnessing to has come to the major crossroads of life, the hinge moment that determines his earthly and eternal destiny. We must precede this moment by earnest prayer on our part.
At the high moment of revelation. Eight days after the disciples confessed Him as Christ, Jesus took Peter, James, and John with Him to a high mountain to pray. During His time of prayer He experienced metamorphosis: His face shone like the sun, and His clothes became as bright as a flash of lightning (Matthew 17:2; Luke 9:28,29). It was the only time in His ministry where His divine nature shined through His human skin.
Prayer for us can also involve times of intense exhilaration in the presence of the Lord. The baptism in the Holy Spirit is certainly such a moment when our ineffable joy is expressed in words we do not know.
At times of deep need in others.The death of their brother, Lazarus, overwhelmed Mary and Martha. Jesus had only deepened their anguish by His delay in coming. They took Jesus to the grave and He was deeply moved. He ordered the stone removed and then prayed (John 11:41,42).
We too face deep moments of sorrow with others. We stand at the bedsides of dying parishioners and friends, or at the gravesides of committal. We always pray in such a time — and regardless of the circumstances we say with Jesus, " 'I knew that You always hear me.' " The result from our prayer may be different from that with Lazarus, and that is a mystery for us. But we know He "always lives to intercede for them [us]" (Hebrews 7:25).
At the Last Supper. On the fateful evening Jesus was betrayed, He shared a last meal with those closest to Him. Despite knowing what lay before Him, He nevertheless gave thanks when He took the cup (Matthew 26:26,27).
What a lesson for us when we face adversity — as storm clouds gather in our lives, we can face them first with thanksgiving before we drink our own cup of sorrow. It is during the Passover meal that Jesus gave His high-priestly prayer (John 17). He prayed for himself (verses 1–5), for His disciples (verses 6–19), and for us (verses 20–26). The Twelve never forgot that prayer, and the people closest to us also will not forget the prayers we pray when we face hardship, suffering, and even death.
In Gethsemane. Where olives were crushed (the literal meaning of Geth-semane), Jesus himself came under great stress. Luke tells us the anguish was so great His sweat was like drops of blood falling to the ground (Luke 22:41–44). There He prayed three times, "Your will be done" (Matthew 26:36–44). He, who just days earlier raised Lazarus, now declines to extricate himself from a horrendous death. He could easily have risen from prayer, taken the quick walk eastward up the Mount of Olives, and disappeared into the Judean desert. But He stayed … for us.
There are times when we are not free to pursue our own comfort and leisure — moments when we must stick by our post of duty. What stabilizes us and gives us fortitude to remain is our life in prayer.
On the cross. The Gospels, all together, record Jesus speaking seven times from the cross. The first, fourth, and last times are prayers.
He began by praying, " 'Father, forgive …' " (Luke 23:34). He does not close His fist and shout, "I'll get even with you for this. I'll send you to hell for this." No. He opens His hand, receives the nail, and opens His heart to intercede for the very people putting Him to death. He models for us that we too must forgive our enemies.
His second prayer, the fourth "word" from the cross is, " 'My God, my God, why have you forsaken me?' " (Mark 15:34). We often call this the cry of dereliction. Remember, however, that Jesus' limited amount of breathing constricted His ability to vocalize from the cross. His words are the first words from Psalm 22 — a psalm that ends in triumph. As His death approached, Jesus lets us know He is praying Scripture. Yes, at the moment, it appears God has abandoned Him, but not for long: "He has not despised or disdained the suffering of the afflicted one. … all the families of the nations will bow down before him" (Psalm 22:24,27). We must never give in to the idea that God has abandoned us. There are moments when we feel utter darkness about us, but our end is sure. He will never leave us nor forsake us (Hebrews 13:5).
The final word from the cross is His prayer, " 'Father, into your hands I commit my spirit' " (Luke 23:46). This is the first prayer every Jewish child learns, much like we teach our children: "Now I lay me down to sleep. …" The words are found in Psalm 31:5 — except Jesus added one word to the prayer that makes all the difference — "Father." In life and in death, we can trust the Father and commit all that we are to Him.
Other Occasions
Jesus not only prayed at the key moments of His ministry, there were other times when He prayed. He prayed while it was still dark (Mark 1:35), after an exhausting schedule culminating in the feeding of the 5,000, into the evening (Matthew 14:23), and continuing all night in prayer (Luke 6:12). His frequent withdrawals to prayer tell us that He desired uninterrupted moments with the Father.
He took children in His arms and prayed for them (Matthew 19:13), prayed that the disciples receive the Spirit (John 14:16), and for the faith of His lead disciple to not fail (Luke 22:31,32).
The New Testament records three times when tears fall on Jesus' cheeks. The first such occasion is at the grave of Lazarus (John 11:35). After 3 years of ministry, Jesus had not grown calloused or clinical about human suffering. Jesus is moved with compassion by our need.
The second time we see Him praying with tears is when "he approached Jerusalem and saw the city, he wept over it" (Luke 19:41).
Finally, the writer of Hebrews says, "During the days of Jesus' life on earth, he offered up prayers and petitions with loud cries and tears to the one who could save him from death" (5:7). He wept fervently for one person, for one city, and for His own submission to the Father's will.
Jesus' Instructions Concerning Prayer
Jesus also instructed His followers in what to pray for. He told us to pray for workers in the harvest(Matthew 9:38). The problem always lies not with the shortage of people willing to come to Christ, but the shortage of workers to bring them to Him. We must address this shortage through prayer.
He told us to pray in unity with others (Matthew 18:19,20). He told us to pray in His name (John 14:13,14; 15:7; 16:23–26). Praying in His name conditions our prayer.
"Praying in His name" is not some magical formula we tack onto a prayer to get what we want. Those who pray in His name know the character of the One in whose name they pray; and, therefore, we make our requests known and leave the response to Him for either divine intervention or divine strength.
He told us to pray with faith (Mark 11:22–26), and that some things cannot be done except through prayer (Mark 9:29). God has chosen to do His work through our prayer, not without it.
Since the Lord is Sovereign, He may do anything He wants consistent with His nature. However, some things He will not do unless we pray. Remember how Jesus privately instructed the disciples: " 'This kind comes out only by prayer' " (Mark 9:29)? If only prayer could deliver a demoniac, how much more is prayer required when we pray for the world, the nation, the Church, and the tremendous needs faced within our communities and congregations?
An Example of Effective Prayer
On February 9, 1958, a young Assemblies of God pastor in a rural town in Pennsylvania was watching the late show on TV while his wife and small children were asleep. On that night he evaluated his life. How much time am I spending in front of the TV each night? he asked himself. A couple of hours at least. What if I sold the TV set and spent that time praying? The next morning he and his wife agreed to sell their TV if, after putting the ad in the paper, it sold within ½ hour after the paper hit the streets.
At the 29th minute the phone rang. "How much?"
The young pastor had not even thought of the price — but he instantly said, "$100."
The caller said, "I'll take it. I'll be there in 15 minutes."
On February 25, a late Tuesday evening near the end of his prayer time — just 2 weeks and 2 days after the decision to sell the TV — this young pastor was in his study praying and began to feel a great heaviness. He felt an urge to pick up Life magazine, but resisted at first because he didn't want to fall into a trap of reading a magazine on his prayer time. He had been fidgeting that evening — his wife and children had been away visiting grandparents in Pittsburgh. The magazine beckoned to him from his desk. Finally, he said, "Lord, is there something You want me to see?" He sat down in his brown swivel chair and opened the magazine.
He leafed along and came to a page that at first seemed to have nothing to interest him. It carried a pen drawing of a trial taking place 350 miles away in New York City — a place he had never been. The eyes of one of the seven figures in the drawing, on trial for murder caught his attention. The look in the boy's eyes was one of bewilderment, hatred, and despair. The young pastor began to cry. He said aloud to himself, "What's the matter with me?"
He looked at the picture more carefully. The boys were all teenagers. They were members of a gang called the Dragons. They had brutally attacked and killed a 15-year-old polio victim named Michael Farmer. The seven boys had stabbed Michael in the back seven times with their knives, and then beat him over the head with garrison belts. They went away wiping blood through their hair, saying, "We messed him good."
The story revolted the young pastor. It turned his stomach. And, then a thought came — Go to New York City and help those boys. On Friday morning the young pastor was in the courtroom — and the rest of the story is history. Had David Wilkerson not given himself to prayer, Teen Challenge would never have happened.
Since that time the ministry of Teen Challenge has transformed hundreds of thousands of lives. Around the world today and every day, 24,000 men and women are currently in a center being sent free by the power of Christ.
There's a needlepoint in David Wilkerson's office from his daughter, Bonnie: "My dad is famous not for who he is, but because he dared to listen when God wanted to hold conversation."
May we also listen when God wants to hold conversation. The Early Church father, John Chrysostom, expressed it eloquently and succinctly: "God can refuse nothing to a praying church."
Conclusion
Harold Lindsell expressed it well: "God cannot do some things unless we work. He stores the hills with marble, but He has never built a cathedral. He fills the mountains with iron ore, but He never makes a needle or a jet airplane. He leaves that to us. If then, God has left many things dependent on man's thinking and working, why should He not leave some things dependent upon man's praying? He has done so. 'Ask and you shall receive.' And there are some things God will not give us unless we ask. We cannot suppose that God will do for us without prayer what He has promised to do for us only through prayer."
Thus, prayer is essential for spreading the gospel.
Jesus taught, " 'Ask the Lord of the harvest, therefore, to send out workers into his harvest field' " (Matthew 9:38). Jesus modeled what He asked of others. He himself spent the entire night in prayer before He called the 12 and named them apostles (Luke 6:12–16). And, would we ever have had the opening to the Gentiles had Peter not gone up on the roof to pray — a prayer that resulted in Peter's willingness to go the house of Cornelius (Acts 10:9)? Would the first missionary journey have ever been launched had the Antioch leadership not been fasting and praying (Acts 13:1–3)? The apostle Paul urged the Colossians, "Pray for us that God may open a door for our message. … Pray that I may proclaim it clearly, as I should" (Colossians 4:3,4). Clearly the Early Church understood that a prayerless church is a powerless church. They learned well from Jesus: "Apart from me you can do nothing" (John 15:5, emphasis mine).