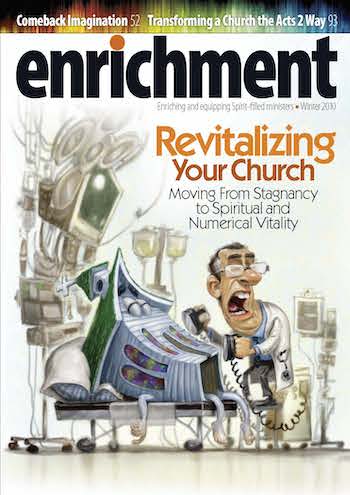 Downloads:
Turning the Tide: Becoming a Disciplemaking Church
by Joe Lyons, Dale Oquist, Jimmy White
---
Hear the complete interview. (MP3)
Many pastors claim it is easier to plant a church than to turn around a plateaued or stagnant church. Many times these churches have a system in place that makes any change difficult. But God can use pastors to revitalize these churches and bring change and growth. Recently, Joe Lyons, senior pastor, Blytheville First Assembly of God in Blytheville, Arkansas; Dale Oquist, senior pastor, Evergreen Christian Community Church in Olympia, Washington; and Jimmy White, senior pastor, Northside Church in Texarkana, Texas spoke with Rick Knoth, managing editor, Enrichment journal, about church revitalization. They discussed the issues and challenges they faced as they endeavored to revitalize their churches. They also provide hope for any pastor and church that desire to turn around their church and make it productive for the Kingdom.
Briefly describe what your church was like prior to the turnaround and what it is like today.
Oquist: When I arrived at Evergreen Christian Community Church in April 2000, the church attendance was at a 22-year low. The year before I arrived, the church did not have a pastor. It had dwindled from more than 1,000 people to 500 or 600 people. There was one child in the nursery. We now have five services, and our average attendance is just under 1,600.
Lyons: When we arrived at Blytheville First Assembly of God, the turnaround had already begun with Mark Hasting, who had served as senior pastor for 5 years. The church was averaging 100 people. The church had been in existence for over 90 years, but the longest tenured pastor in its history had been 7 years. There was a general lack of trust in pastoral leadership. A little over 7 years later we are averaging 300.
White: I arrived in Texarkana in 2004. I assembled a team and began analyzing the past decade. Northside had been in decline for 10 years. The year prior to my coming, they had averaged 185 for Sunday morning attendance. Today we have 300 in Sunday morning attendance. Our spiritual health is remarkable. Missions giving and finances have escalated every year since 2004.
What challenges did you face in the turnaround process?
Oquist: The great challenge was systemic decline. With that, at times, is a leadership crisis — winning people's trust. I continued to ask them, "Give me time; just give me time. I do not even expect you to necessarily trust me."
The crisis was not some failing, but a day-by-day eroding of trust had taken its toll. There was no momentum; no sense of morale. We asked them to give us time to build relationships to the point where they could trust us with their future.
Lyons: I faced a challenge to convince people we were not going to leave in 2 years. The average pastor in the 90-year history had stayed a little over 2 years. The congregation believed that every 2 years there was going to be a leadership change. We have been here 7 years, and it is still a challenge for some to accept the fact we are committed over the long haul.
Another challenge was to change the role of our board from a managing board to a policy-setting board. When you pastor a rural church where pastors leave every 2 years, the board takes on more of a managing role. We had to educate our board that, for us to grow, they could no longer be in a managing role.
White: Our challenge was tolead the church to reach a segment of our community we had not been reaching. There was no current structure in place to reach hurting and needy people. But through the process of change, we gained an influx of new people who had a vision for outreach and connecting to hurting and needy people.
Did anything have to die before new life could begin in the church?
Oquist: Yes.Traditionalism comes to mind. Yet, that was not our worst enemy. People were leaving because of frustration. People wanted to move ahead. People wanted to follow a vision. People wanted to make a difference. They wanted to make friends, and that was not happening. So we had to attack these two issues, traditionalism and frustration, before new life could begin.
White: For us, the old paradigms and the old structures had to die before we could go forward. I followed a founding pastor who laid a great work. But from my perception, founding pastors have a different role from those who follow. The church leadership paradigm was not necessarily wrong; but because of the existing culture, it had to die so new life could begin.
What expectations did you feel the church placed on you as a leader of change?
Lyons: Because of the lack of trust due to short-term pastors, the only expectation placed on us when we came was a commitment to stay.
White: Whether it was perceived or real, I felt huge expectations. To take a church that had been in decline for the previous decade and begin to lead it back to spiritual vitality was overwhelming. When I looked at the big picture, the visional dream was easy to capture. Implementating that dream was another story.
After a time we began a cohort process with the district. The cohort process helped our team begin to chart a course of action. People had to choose to follow the directional intent of the current leadership or exit. No pastor likes to lose people, but we felt the greater good was to build a healthy church.
What questions should a senior pastor ask himself if he wants his church to move to the next level?
Oquist: The first thing is, Can I visualize an outcome? Do I see what I want my church to look like at the end of this process? The second question is, Am I the right leader for the needs of this church at this time and this opportunity?
A funny story that goes along with this is when I was interviewed to come to Evergreen, a member of the pulpit committee made a statement. Overwhelmed by the stack of resumes the church had received, he said, "We can't get someone who wants to come to Evergreen. We have to find someone who comes kicking and screaming, digging their heels in, because they have to feel the call of God, not the desire to be here."
Lyons: The first question is, Am I the right fit? Churches can make the mistake of wanting to hire the best person, and pastors make the same mistake of wanting to go to the best church. What we are looking for is not the best church or the best pastor, but the right fit. Ask, Do I share common values with the church? Am I willing to pay the price that change brings? Am I willing to stay to see the church through the process? There is a price to pay, physically and spiritually, for a turnaround pastor.
White: A pastor must wrestle with the idea that casting his vision and living it out missionally will always cost something. So, the question a leader needs to ask is, Are you ready emotionally, physically, and spiritually to lead that process of change?
A key issue in the turnaround process is a shift in ministry philosophy from one of church growth to Kingdom growth.
Oquist: For sure! It's not what people can do for the church; it is what the church can do for people. This shift in ministry philosophy says, "What can we do for you to help you make a difference and fulfill your goals and dreams?" It gets the church back to the place of serving others rather than itself.
White: My suspicion is that a lot of people find the institutional church a drag on their spirituality. This is especially true if they encounter a leader who puts his call above the mission of the church. Churchgoers are saying, "There has to be more." The philosophy change is for pastors to reorient their focus from the institutional church to an empowered priesthood of believers who will work synergistically with other believers to live out their purpose in the context of the body of Christ with whom they are called to serve.
How do you change the mindset of a church from one that is institutional to one that is missional in its approach to ministry?
White: If the pastor is an apostolic-type leader where he feels he needs to lead all avenues of ministry, then getting people involved in the ministry of the church will be an ongoing challenge. Changing the mindset of the church from institutional to missional requires the pastor to buy into the biblical concept of the priesthood of believers in all its forms.
Oquist: Another philosophical shift that must occur is moving away from being "sanctuary centric" — unless it happens in the sanctuary, it's not real ministry. We moved away from saying what happens on Sunday morning in this big room is more important than what happens on a daily basis in your life.
As the leader of your congregation, how have you changed in terms of your values, habits, and priorities to see your church grow in health and influence?
Lyons: I committed to become a lifelong learner. This is my first pastorate, and one of the things I had to change was being willing to stand before a congregation or a board and say, "I don't know."
I had to address my style of preaching, people skills, and study habits. I had to find balance in my life so I am healthy in body, mind, and spirit. I am constantly realigning my priorities to keep a fresh relationship with God and a healthy relationship with my family.
White: My methodology has changed. This is the second church I pastored. I felt it was imperative to keep soliciting fresh eyes for this journey. Our church of 15 leaders began a process led by Alton Garrison. This helped us formulate our values as a team. We still solicit people to give us objective views of our current state of reality as a church.
Oquist: I realized right away I was as ugly as the church I was leading. I could not be afraid to admit my flaws. I realized immediately coming into this situation that I needed to change the way I did things. I am not pastoring today like I was in Wisconsin. I have moved into a different culture. The Northwest and the Northeast are two different areas that are unchurched. In Wisconsin I was in a community where people — because of the ethnic and religious makeup of the community — would react when they drove by the building. Either they liked it or they did not like it.
Now I am where when people drive by the church — our church is on this high-density corridor —they do not hate it; they do not love it. I am in an area where people do not ask what church you grew up in. In this area, you ask, "Did you grow up going to church?"
The reaction may be, "Oh, yeah, I was at a church once for a wedding," or "I was at a church once for a funeral." I had to adapt to my culture.
Identify principles that are vital to turning a church around.
White: First, analyze where the church is and what needs to change.Get your key influencers in on discussions on the need for change. Once you identify these challenges and opportunities, then begin to make necessary changes. Since 2004, we have had an annual 21 days of fasting and prayer. Because we knew the challenges and opportunities, it made those times more strategic.
Oquist: There are overriding principles that work whatever part of the country you are in. We rediscovered the reason why we turn the lights on. This required articulating a strong, clear vision. This gives people something to lay hold of. In the 18-month process, we rediscovered who we were, and we put that into words. Then we over-communicated the vision in every possible way and venue.
Another principle is to create an atmosphere of community and family so church becomes a place where people want to be, not a place they have to go to. When we first came, my wife observed that within 15 minutes everyone had cleared out of the building. Now, after every service, people just hang around. I do not stand by the door and greet people, because that encourages people to leave. I go throughout the lobby so they connect with me and with each other.
Lyons: Get the leadership to take ownership of the process. The cohort allowed us to take this journey together. Leadership took a snapshot to see where we were in the process.
We started a new membership class. This class was a key in changing the culture in our church. I taught this class. We talked about our philosophies, our purposes, our structures, and dealt with what we expected from new members coming into our church and what they can expect from us as leaders. This brought about a new level of expectation and raised the standard of becoming a member of First Assembly of God.
Finally, do not underemphasize the power of connection. Until we get individuals connected to the organization or to the body of Christ, we are not going to keep them long-term.
I hear you saying it's about relationships and connecting.
Oquist: Do people hang around? Do people love to connect with one another? There is no line for that in the Annual Church Ministries Report, but this is one way to measure church health.
Lyons: As pastors, we put too much emphasis on numbers. We need to focus on the overall health of the church. We ask, "How many came down for salvation on Sunday morning? How many people are being baptized in the Holy Spirit? How many are baptized in water? How many people are going out on Sunday nights to connect with other people? What are our Sunday School numbers?" The answers to these questions are a determining factor of how healthy we are. If we have 300 people in our Sunday service but only 50 people in Sunday School, we are not a healthy church.
What do you say to a pastor who is not feeling called to leave his church, but he is also recognizing that his church is dying and he is discouraged?
Lyons: I believe the first thing a pastor must realize is that change begins with him. Before change can take place in the congregation, change has to take place within the pastor's heart. Pastors must be committed to be lifelong learners. We must stretch ourselves and admit our mistakes.
Second, realize your people have been there longer than you. It costs them something personally when change takes place.
Third, latch onto a mentor and get a personal coach and understand the power of the network. The network can bring you information, regardless of where you are in the process. This is a key to younger guys. You cannot make it alone.
Finally, it is important to put staff and ministry volunteers in place who support our purpose and our mission statements. Often, pastors have a purpose and a mission statement, but it's just knowledge on paper. But we must put systems in place to fulfill our purpose.
White: Sometimes pastors think they have to do everything well. I know and understand because I have been in rural places where things move more slowly. Look at your mission statement and ask, "What do we do well? What do we have talent to do? What has God gifted us to do?" And then do those things.
Finally, develop yourself spiritually, emotionally, and physically. Make sure you are getting the proper nutrition and exercise.
Oquist: Our vision is not just a statement on a bulletin or a program; it is something we live. And people know we live it. You do not do revitalization to a church; you do revitalization with a church. We are all part of the process.
We must know the difference between change and changes. If change is just for change sake, you are not going to get great results. But if you change for outcome's sake, and tell people why and show them that turnaround is really about others and not about them, the turnaround will effectively serve the community. Turnaround is more about serving a community rather than evangelizing a community.
I would also say be patient. Every day is another step forward even though it may feel like you are taking steps back. At times, agree with those who disagree. People said, "I don't like this!"
I would reply, "I don't either. I don't prefer this. But I am not doing it for me. Can you help me?" The moment you agree with them, it takes away their ammunition.
Finally, manage stress. Have moments where you just release energy. Remember the power of the Word of God. I value my time by myself with the Lord, to get a word and to get something to strengthen me. In Colossians 1:28,29, Paul writes, "We proclaim Him, admonishing and teaching everyone with all wisdom, so that we may present everyone fully mature in Christ. To this end I labor, struggling with all his energy, which so powerfully works in me."