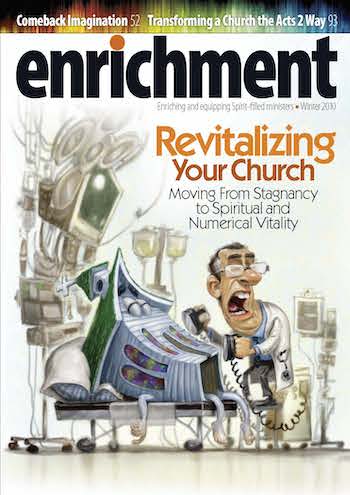 Downloads:
Strategic Planning for Leadership in the 21st Century
With the fast pace of the 21st-century world, ministry organizations must think and act strategically about their ministry for the Savior or face decline, if not extinction.
by Aubrey Malphurs
---
See Also...
In my role as senior professor at Dallas Theological Seminary I do a great amount of research, as well as teaching. As president of the Malphurs Group I travel all over the United States. As a result, I have a feel for the state of the church in America; and, it is not good. In this article I address what is wrong with the church, and then suggest what I believe is God's solution.
The Problem
The typical church is in decline
The church in America is facing a fourfold problem. The first is that it is in decline. If the typical church in America were to go to a hospital emergency room, the doctors would instantly put it on life support.
Picture the typical bell-shaped organizational cycle that depicts the life cycle of a church. First, it is born or planted and often grows rapidly the first few years. Over time, however, it begins to embrace an inward focus and eventually plateaus. At this point should the church fail to address its situation, it will begin to decline and experience a slow, painful death.
Currently, 80 to 85 percent of churches are plateaued or in decline. So what does this mean for the American church? I like to picture this as the typical dashboard on a car. When something goes wrong with the car, a red light comes on that lets you know there is a problem. It may even blink. For 80 to 85 percent of churches, the light is on and has been blinking for a while. Only this light has not gotten our attention; or, if it has, we do not know what to do about it.
The number of churched people is in decline
The second problem is that the number of churched people in America is in decline. Fewer people are showing up in our churches. We mistakenly call them the unchurched. A better term is the formerly churched because most of them have visited a church at some point in their lives; only they have not stuck with it. (See "Unchurched" sidebar.)
Pollsters like Barna and Gallup put the figure for formerly churched at around 60 percent. A number of us, however, have begun to challenge this figure. Perhaps a more accurate read is that of David Olson, who puts the figure at around 83 percent (See The American Church in Crisis. See also David Olson's article in this issue.
But whom are we talking about? Who makes up the majority of the formerly churched in America? Barna points out they are America's young people — those who are not only the future of the country, but the future of America's churches. He argues that only 29 to 34 percent of those born between 1965 and 1994 go to church. As above, I believe his figures are much too high.
America's cults and religious groups are growing
The third problem is that cults and religious groups, unlike the American church, are growing. Following are some examples: Between 1965 and 2001 the Mormon Church grew from 1,789,175 to 5,113,409, and the Jehovah's Witnesses grew from 330,358 to 990,340. Between 1990 and 2000, the number of Muslim mosques in America grew 42 percent, the number of Buddhists grew 109 percent, and the number of Hindus grew 237 percent. Some who have focused more on the church have viewed the above statistics as a lack of interest in spiritual matters on the part of people in general. But this is hardly the case. These people are most interested in spiritual matters. But they are no longer looking exclusively to the church for answers.
The church has not kept abreast of change
The final problem is that the church landscape in America is undergoing watershed change that has signaled what should be a whole new era for American Christianity. The problem is that the church — especially the more traditional churches — are not getting the message, and they are conducting business as usual. I have heard it said that if you want to know what life was like in the early 20th century, then visit some of our churches.
If we want to reach people in general and youth in particular, we must reassess how we do what we do in our churches. We must understand that the gospel is about change. If I am the same person this year as I was last year, then something is wrong with my spiritual growth. My theology of change says that the functions of the church (worship, evangelism, fellowship, service, etc.) must never change. But the forms they take (whether traditional or contemporary) must change if we are to reach the various cultures sprinkled across the North American continent.
The Solution
At the Malphurs Group we believe the solution to these problems lies in our thinking and acting strategically. In a world like ours where, for example, the amount of technological information doubles every 2 years, we have no choice if we want to have impact for the Savior. For lack of a better term we call this strategic planning. I would prefer to call it strategic envisioning, but many do not understand what that means, so I will stick to strategic planning.
With the fast pace of the 21st-century world, ministry organizations must think and act strategically about their ministry for the Savior or face decline, if not extinction. The days when leaders could fly by the seat of their pants are gone. This process, however, involves much more than thinking about our world and how to minister to it. It also includes acting strategically or in ways that make a profound spiritual difference in your community.
This was true of countless leaders throughout biblical times. They were strategic leaders. For example, Jethro taught Moses how to think and act strategically in Exodus 18. The Book of Nehemiah is all about strategic thinking and acting. The Savior thought strategically as seen in Matthew 28:19,20 and the other Great Commission passages, including Acts 1:8. And Paul was a strategic leader as seen in his three missionary journeys in Acts. Every city he visited he selected because of its strategic significance to the spread of the gospel.
But how might a church and its leaders think and act strategically in the 21st century? How can it plan strategically or do strategic envisioning? We believe such strategic thinking and acting best takes place in three phases, each of which consists of several vital steps. The phases are: the preparation for, the process of, and the practice of strategic planning. And our prayer is that your understanding and implementation of these phases will help you to be a strategic leader who thinks and leads your church strategically.
The preparation for strategic planning
First is the preparation phase. Preparation for strategic planning must precede the process of strategic planning or failure is likely. For example, in August young men all over America who desire to play football begin their preparation for the season. They engage in heavy calisthenics to get in shape physically plus they learn and run the plays. Without such preparation they would not survive when it came time to play their games. Much the same is true of the American church. (Implementation without preparation results in an abortion.) Its preparation phase involves five steps.
Step 1: Secure the support of your ministry's empowered leadership. Every church has empowered leaders. (I am using the term power here in a positive sense.) These leaders must support the strategic planning process. If they do not see the need, go no further. Your church is not ready to begin the process. Instead, ask the Spirit to prepare the hearts of your leadership for strategic envisioning.
What people make up the empowered leadership in most churches? They are the senior pastor, the ministry's governance board (if they have one), its staff as well as others such as key teachers, and a patriarch or matriarch. The preparation question you must ask is: Who among these people support the process? Some churches are led by a patriarch or a matriarch. If he or she is not behind the process, it will not likely happen. And the same is true for the lead pastor.
Step 2: Recruit a strategic leadership team. Since you, by yourself, cannot lead the entire church through the process, this team functions to represent and lead the church through the process. This involves recruiting key leaders in your ministry — what we refer to as your E.F. Hutton people. In a church, these are the senior pastor, governing board, staff, and lay leaders with strong circles of influence in the church. You want these people to be involved because their involvement means you will achieve what I refer to as process buy-in both on the part of the team and the rest of the church.
You also need to select a team leader — most often the senior pastor or one of the staff. We would advise that this person be a trained consultant in strategic planning. (We are amazed every time we work with a church to discover how much they trust and follow the leadership of a consultant. I think it is because they realize that unlike the pastor or a staff person, we have nothing to gain politically or otherwise by leading the process.) Finally, we recommend you communicate your expectations to this team, and they operate or make decisions by consensus, not compromise.
Step 3: Communicate constantly with the congregation. People must trust the strategic-planning process. One of our clichés is: "If they don't trust you, you can't lead them." Therefore, you must take every opportunity to communicate in every way possible to the rest of the church what is taking place. You may accomplish this with regular progress reports from the pulpit, updates in the bulletin, interviews of people on the SLT during a service, and so forth. I would advise you to invite non-SLT people to sit in on the meetings as well.
Step 4: Embrace a biblical theology of change. The purpose of a biblical theology of change is to guide the process. A biblical theology of change consists of three Fs: function, form, and freedom. The functions (what we do) consist of such concepts as worship, evangelism, fellowship, etc., that must never change regardless the century. We must change the forms (how we do what we do) if the church is to stay relevant to and reach its culture. The third F, freedom, says we have as much freedom in selecting the forms as the functions will take. Scripture grants us much liberty as to how we do what we do.
Step 5: Analyze your ministry. Have the SLT do a church analysis. An analysis serves to inform the process. The analysis will identify what the team believes are the church's strengths and weaknesses. How might you accomplish this? Ask the SLT what they think the church's strengths and weaknesses are. You should also look at the church's worship attendance and giving. Are you growing, plateaued, or dying? (To accomplish analysis, the Malphurs Group uses our online ministry analysis that saves much time for the team.)
Step 6: Lead your strategic leadership team through a spiritual formation process. This step addresses various spiritual issues in the church and will undergird the transformation process. The goal is to help your team establish a spiritual foundation on which they will build the strategic thinking and acting process. It consists of such practices as confession of sin, forgiveness of those who have sinned against someone on the team, reconciliation, church discipline, etc. While this is the sixth step in preparation for the process, your ministry will not leave it behind, as your team will draw heavily from it throughout the process.
The process of strategic planning
Once you have completed the preparation phase, you are ready to begin the strategic thinking and acting process. We use the term process intentionally. Our Group does not attempt to sell you on any one of the many church or ministry models that God is blessing such as the Purpose Driven church or the Willow Creek model. Instead, we take you through the process we believe they and others followed as God blessed and led them to their ministry models in building His church (Matthew 16:18). And we recommend you do the same with your team. Following Christ's church building process will lead to your own unique ministry model that is endemic to who you are — your people and where you are — your ministry community. The process consists of the following four steps.
Step 1: Values Discovery. Your core values drive your ministry. They explain why it does what it does or why it does not do what it should. They are at the very core of your identity and make up your church's DNA. Your core values are so mission critical you must discover and evaluate them in light of a biblically functioning, spiritually healthy church, such as the church at Jerusalem (Acts 2:41–47). (See "Core Values Audit" sidebar.)
Step 2: Mission Development. A vital question is: Where is your ministry going? What is it supposed to be doing according to Scripture? The biblical answer is the Great Commission. This must become your church's ministry mission. Thus you will need to develop and articulate a clear biblical mission statement for your congregation. You want it to be broad, brief, and memorable. An example: "To know Christ and make Him known."
Step 3: Vision Development. The term vision is a key buzzword in today's ministry world. (I believe, however, that a clearly articulated mission statement is as important as the vision statement.) Regardless, we believe vision is vital to your people seeing what could be — what our great God can accomplish through them (Ephesians 3:20) in your unique ministry community. Consequently, in addition to a mission statement, you need to develop a vision that provides a clear, compelling picture of your ministry's future direction. See my books, Advanced Strategic Planning and Developing a Vision for Ministry in the Twenty-First Century (Baker Book House), for some examples.
Step 4: Strategy Development. Strategy helps you accomplish several things.
First, you must explore your ministry community and identify your focus group as well as determine the size of your vision. This is an Acts 1:8 exercise that will help you discover your Jerusalem.
Second, design a process that will mold your people into Christ's disciples.
Every church must have a clear, simple pathway for making disciples that everyone in the church understands. At the Malphurs Group we use a tool called the Maturity Matrix to help congregations accomplish such a process.
Third, align and develop your staff to maximize disciplemaking. Ask, "Do we have enough staff to reach our community, and what are they doing that promotes making mature disciples?" (See "Maturity Matrix" sidebar.)
Fourth, evaluate your location and facilities in terms of reaching your focus group. Answer these questions: Are you located where you can best reach your community for the Savior? If not, what will you do about it?
Finally, address raising the finances to support this strategy. My pastor, Steve Stroope, and I have written Money Matters in Church (Baker Books) to help congregations accomplish this.
The practice of strategic planning
Third is the practice phase. Using the above process, you can develop a biblical model for your church. However, you must implement it or it will die a quick death for lack of action. The preparation phase involves two steps.
Step 1: Ministry Evaluation. Ken Blanchard wisely calls evaluation the "breakfast of champions." Evaluation is key to incremental change. It provides vital feedback that helps your ministry change and improve as it serves the Savior. It also helps you improve as a church as well as locate some of your ministry blind spots. You would be wise to design and set up a ministry evaluation process that helps you find both your strong and soft spots as you think and act strategically.
Step 2: Strategy Implementation. This is where your church happens. Implementation closes the gap between your ideas and their execution. It translates your thoughts into action. Most important to the planning process, it links strategic thinking with doing. Most of the material above addresses strategic thinking. This part addresses strategic doing. It will aid you as you address where you begin to accomplish the strategy, when, and with whom.
We advise you to recruit a strategic implementation team from the SLT for each step in the above process phase. They will take responsibility for seeing that the particular strategic step is implemented. We would also advise you to do this as early in the process as possible.
Conclusion
Perhaps as you have read this article, you have discovered that your church, like so many others across North America, is in need of some help to renew itself and think and act strategically. Why not ask for help? There is no way you can know what to do when you find yourself in such a situation. We at the Malphurs Group are available to help with this strategic process. For more information contact Jennifer Walters at 469-585-2701, check out our Web site (MalphursGroup.com), or see Aubrey Malphurs Advanced Strategic Planning, 2nd ed. (Baker Book House).