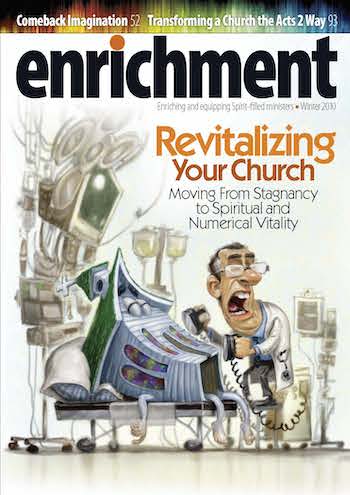 Downloads:
SIDEBAR: A Model of Personal Spirituality That Fuels Transformational Leadership
---
If your soul is weak, your leadership will be weak. A transformational leader needs a personal model of spirituality that will provide a solid foundation for ministry. There are certain means and disciplines that, if practiced, will develop, protect, and promote this personal model of spirituality.
A model of spirituality that nurtures, revives, and renews my being in ministry leadership includes the following five components:
The Experiential of God
Spirituality truly begins with an understanding that we can experience God in a personal way. One can know God by encountering God. An encounter begins when we draw near to God. If a person draws near to God, God will draw near to that person (James 4:8). I cannot make a transformational difference without daily connecting with the mind and heart of God. I will lose the cutting edge of leadership if I rely on my own ingenuity instead of God's power. Encountering God must be a built-in, natural occurrence every day.
Devotion to God
Devotion is not an activity; it is making God the center of one's thoughts. An attitude devoted to God is composed of three elements: the fear of God, the love of God, and the desire for God. The deeper my perception of God's love to me in Christ, the more profound my reverence and awe of Him. In my devotion to God, I must never forget that I was at one time an object of God's holy and just wrath, but yet He loved me so much He gave Jesus to receive that wrath in my place. It is this awareness of God's love that keeps me constantly devoted to Him and creates the desire to grow in Him.
Growth in Relationship With God
Jesus made it clear we are to grow in our spiritual life. He stated the kingdom of God will be taken away from those who did not bear spiritual fruit and given to people who will produce fruit (Matthew 21:43). Paul said train and develop yourself. When Paul spoke those words to Timothy, he felt Timothy was personally responsible for progress in his relationship with God. I need to constantly study, seek, and develop the habit of lifelong learning. I want to seek the Lord with all my heart and be discipled in a way that pleases Him.
The Gifting of God
The manifestations of the gifts, especially the Pauline charisma, play prominently in the spiritual lives of believers. The gifts symbolize at least three categories of meaning: Spirit baptism, empowerment, and edification. Spirit baptism represents a confirmation of the Spirit's presence in a person's life and an empowerment or gifting. Speaking in tongues is the initial evidence of the event of baptism in the Spirit (Acts 2:4). Spirit baptism, then, occurs initially as an event experience and continues as the process called the Spirit-filled life. When I allow this gifting of God to flow through my life daily, my personal gifts are sharper and more effective. My challenge is to reinforce the Pentecost dynamic of the gifting of God. He brings spiritual and supernatural life.
Communal Relationships in God
Spirituality includes communal relationships. Other people are integral to all aspects of one's spiritual development. God uses others in apprenticeships and mentoring. At the other end of the process, a person's life as a Christian will affect the formation of others. One must never underestimate the power of friends to draw one back to the center of true spirituality. I need to depend more and more on friends for support. I need to be more transparent and allow others to come alongside me with spiritual encouragement. I need to be willing to let others know me, so they can ask the challenging questions that will spur me on to greater spirituality. Knowing others and being known will only cause greater transformation in the kingdom of God. Iron does sharpen iron (Proverbs 27:17).
Kent Ingle, D.Min., Kirkland, Washington