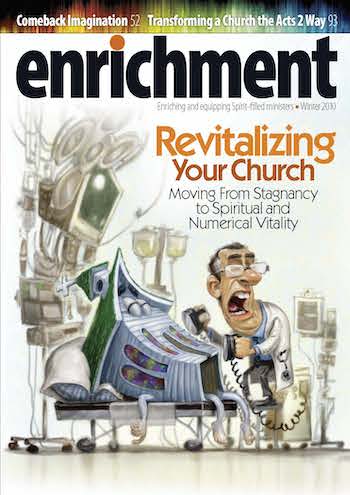 Downloads:
Helping Churches Rediscover Their Mission
by J. Melvyn Ming
---
See Also...
How hard can it be to locate the Assemblies of God church in a town of less than a 1,000? I pulled into the quick service market to ask directions, but the proprietor could not recall the church's existence although he was a longtime resident. I later discovered his business was less than one block from the church — which was marked with a clear sign and fronted the same street.
Do your church's neighbors filter out your message — and perhaps your existence — because of your presumed irrelevance to their lives?
Leaders who recognize this trend want to change their churches, but often fail to recognize that change starts first in them. W. Edward Deming said, "Nothing happens without personal transformation."
The mission discovery process for your church begins in the life of the church's leadership. Until leaders have a passion for what God wants to do through them in their community, rarely will leaders transform their church. It starts with leaders who are being missional.
Being Missional
Many complex and sometimes conflicting issues relate to being missional. There are often tensions in many of the important themes in Scripture:
grace versus judgment
faith versus works
divine strength versus human effort
be among versus be separate
the gospel is unchangeable and yet adaptable to every culture
But you must not let these tensions keep you from seeking the will and heart of God. So, what does it mean to be missional?
Being missional starts with Christ (Christology)
At points of church history, different doctrines emerged as crucial issues.
In the Early Church: the doctrines of scriptural canon and the Trinity.
In the Reformation: the doctrines of sola scriptura, salvation by faith, and the priesthood of believers.
In the Great Awakening: the doctrines of sanctification and holiness.
In the 20th century: the doctrine of the Holy Spirit (pneumatology).
Today our most crucial issue is the doctrine of Christ (Christology: John 14:6; Acts 4:12; Acts 16:30,31). Many endorse spirituality. Many will even recognize the existence of the Heavenly Father, but few in our society recognize Jesus Christ as the one and only eternal Son of God and one and only hope of eternal life as God's children.
Being missional is not about preserving tradition, history, or even distinctives. Being missional is not about a missions program or missions giving. It is about Christ. Christ makes us Christian. We live Christ's life before our world. The Holy Spirit draws people to Christ.
Christ's mission determines your mission (missiology)
What was Christ sent to do? To seek and save the lost (Luke 19:10).
In the broadest sense, the mission of the Church is that of its Founder, Jesus Christ. God has always had a mission for His people to fulfill (John 17:18; Matthew 28:18–20; Acts 1:8; 2 Corinthians 5:14,15). The Church is to do the work of Christ. Jesus declared in John 20:21 "As the father has sent me, I am sending you." You cannot make the church grow. You must partner with God.
The missional church is a community of believers who are passionately and authentically living out the mission of God in their context. You will not fulfill your mission individually or as a church if you do not have non-Christian friends you are seeking to bring to Christ. Jesus was sent into the world — not into the temple. His detractors derided Him for being a friend of sinners. To follow Him you must be guilty of the same charge.
Christ's mission determines how you define church (ecclesiology)
Jesus said, "I will build my church" (Matthew 16:18).
The Bible affirms that Jesus Christ is the Head of the Church (Colossians 1:17,18; Ephesians 1:22,23). In the Old Testament, Israel was called to reveal God's power and love to the nations by living obediently under His lordship.
How are people to see Christ today? Through Christians demonstrating life under His lordship.
My ministry is based on His mission (ministry)
Missional ministry starts with personal transformation. This involves at least three components:
Radical love and relationship with Christ (John 3:30; 1 Corinthians 2:2; Galatians 2:20; Philippians 1:21; 3:8–10).
Radical love and relationships with people (John 13:35; 1 Corinthians 13:1; Matthew 5:46–48; 1 John 4:19–21).
Sharing Christ with non-Christians in word and deed (Acts 1:8; 1 Thessalonians 2:8).
To be missional is to show Christ to your community 24/7.
Churches Rediscovering Their Mission
Leif Holmes and his leadership team at Rochester Life Assembly of God, Rochester, Washington, caught onto being on mission for God as they worked through the church-development process. In 3 years they grew from 58 to 102.
Cal Carpenter, lead pastor of Sound Life Church, Tacoma, Washington, noted: "The process that the team from Leadership Development Resources led us through gave us the tools we needed to develop and sustain the unique vision God has for us. It is a vital component to our 10 years of consecutive growth."
When church leaders start with Christ, commit to His mission, and build their ministry on radically committed love for God and people, and commitment to sharing Christ, they get excited about reaching the lost and assimilating them.
For approximately the last decade, Steve Mills and I have been working with church leadership teams to implement these goals. The 2-year process we use in helping churches rediscover their mission is shown below. We have used it effectively in every part of the country, with ethnic groups, and with churches as small as 30 and as large as 5,000. Because it is a discovery process, not a model or program, you cannot take the journey alone. You may lead a church, but you are not the church. This process only works when key leaders take the journey together and agree together about how God is leading them.
The Foundational Phase
Churches must seek to re-envision their mission and get their theology right before they consider their practices. By turning to Scripture and using key questions the church is able to discover its unique DNA. God has placed each church in a community for a reason. If churches just copy some other model or approach, they will not reach their full Kingdom potential.
This foundational phase includes five steps:
Step 1: Mission
How does Christ want His church to do His mission? What is God leading you to do? What is your mission? The key is not a banner on the wall or a slogan everyone can say. The key is that the church has real conviction about why it is here.
The work of many researchers (Thom Rainer, Kent Hunter, Thom Clegg, Lyle Schaller, and Kennon Callahan) shows that the majority of people who attend church have no clear idea what the mission of the church is. If the people of the church do not understand the mission of the church, is it any wonder churches fight about irrelevant issues?
Step 2: Church purpose
Based on Scripture, why do you exist as a church? What are the functions of His church? What functions must you do to be His church and not just a club or sect?
The purpose statement is a broad, brief, biblically based statement of what the church should be doing. It identifies the major scriptural functions of the church. It answers the question: What are the functions God intends for His church? It is critical the congregation own the functions of the church.
Church purpose statements…
describe the functions of the church;
are biblically based;
apply to all churches.
Step 3: Core values
Who has God shaped you to be? He has given your congregation certain gifts, talents, skills, relationships, and passion. How does He want these expressed in your community?
Church core values …
describe how you minister in your local church setting;
are values based;
are local church specific.
Core values are not doctrinal statements, but doctrine will influence and shape core values. These are the key or top priority principles describing who you intend to be and determining how you intend to do church. They identify the constant, passionate, and core philosophy that drives how you do ministry. Core values determine your priorities and inform your decisions. These are the non-negotiable areas of your life together that uniquely define who you are and how you choose to live as a church.
Step 4: Congregational realities
Who are you now? Who makes up your church? What are the people who attend this church like?
You want your church leadership team to discover a profile of who attends their church. What are they like (culturally, by age, ethnically, economically)? How long have they been attending? Why have people left?
You are interested in far more than who attends and how often. How are those who are part of church becoming more like Christ? Are they connected relationally with a small group? Do they have a ministry? Do they have unchurched friends?
Step 5: Community context
Most church leaders do not have an accurate picture of their community. To work with God in reaching your community you should understand who lives in your ministry area. To do this, you must think missionally.
The first thing missionaries do is learn the language and culture of the people they are trying to reach. The church in the United States must learn the language and culture of the people God is sending them to reach.
Before you move to the design and implementation phase, it is essential you know who needs the ministry of your church. You will make serious mistakes if you do not get information about your community.
What is your community like?
Who makes up your ministry area?
What are the local unchurched people like?
What are their needs and values?
What do they think of my church? Any church? Christ?
The Design Phase
The design phase includes six elements:
Element 1 — Identify your missional focus
Who is God calling you to reach? When you aim at everyone, you usually get no one.
Element 2 — Determine your primary strategy for each purpose
What is your current primary strategy for fulfilling each purpose? Is each current primary strategy what it should be? Do you need to change your primary strategies in view of your target and your work in the foundational phase?
One characteristic of healthy churches, which reach and retain the unchurched, is an intentional strategy for accomplishing the purposes of the church. To maximize impact they also tend to…
simplify the organization,
concentrate their energies, and
leverage their programming.
These churches identify their primary strategy for each purpose. They understand that they cannot do everything, but must effectively do the things (functions) God has intended. These churches focus their energy, resources, and personnel on primary strategies.
Element 3 — Develop a ministry model
How does God want you to do church? Your model is the process your church uses to accomplish your mission. It is what an outline is to an essay. It is what a map is to a journey. Your model tells how you expect a person to advance from a pre-Christian to a mature, serving Christian within the context of your church. This is your guiding approach to being a church and fulfilling your purposes in light of your core values and vision.
Many congregations have experienced model degeneration. Although all churches have models, many become ineffective much the same way an untended garden degenerates. Originally, there was a plan and purpose to the way things were arranged in the garden. However, over time, weeds, lack of water, fertilizer, and pruning cause lack of productivity.
During the 1950s, in a common church model, a visitor would come, hear the gospel in a sermon, go to the altar to receive Christ, become part of a Sunday School small group where he would make friends and be discipled, and begin to be involved in ministry and outreach. People expected the average person who became a fully devoted Christian followed this path. However, over time, Sunday School classes sometimes became lectures, and discipleship and fellowship suffered. People quit visiting to hear the gospel so evangelism didn't happen. Time pressures increased, and members spent less time in worship and ministry. In some cases, instead of pruning, weeding, and fertilizing, we have simply sprayed preservative on an out-of-shape garden. The out-of-control garden of a church may have programs growing all over the place. But programs are not a model. They do not point a person along a path toward Christian maturity. Models use programs but programs are not models.
There is no one right ministry model
Too often churches can get stuck in the forms they have always known and assume they are the New Testament model for the church. There is no single New Testament model. Biblical passages about the church are vague, intentionally it seems, and most are descriptive rather than prescriptive.
A key to transformation is to develop your church's ministry model based on your passionate love of God and His direction for His church. To be appropriate, you must guide your ministry model by your mission, integrate all five purposes of the church, and reflect your core values. It should tell how you plan to develop a person from a pre-Christian to a serving, mature Christian.
Element 4 — Organizational structure
How can you best organize to accomplish His mission? How will you align each ministry and leader to the model? What changes do you need to make in structure? Ministries and programs? Staff? Budgets?
Element 5 — Identify worship service style(s)
What style(s) of worship is appropriate for your mission? Is your current worship style appropriate to reaching your missional focus? There are many appropriate ways to worship. Once you have identified your worship style(s), you will want to bring all aspects of the worship service into alignment.
Element 6 — Identify minimum health factor from church health survey
What do you need to strengthen to reach your full Kingdom potential? This is like a yearly church physical. What about your lifestyle do you need to adjust to be healthy? The Church Health Survey reveals the factor that currently is the weakest. One way to become a healthier church is to intentionally improve the minimum health factor.
Implementation Phase
Joel Barker observes, "Vision without action is merely a dream. Action without vision just passes the time. Vision with action can change the world."
Equipped with the biblically based foundation and design for your church's ministry, you are ready for full-scale implementation. You are ready to develop a vision strategy, i.e. an action plan. Although you have relied on Scripture throughout this process, you turn to the Bible again to determine if the planning process is biblical.
Moses, Joshua, Nehemiah, David, Jesus, and Paul serve as examples of biblical leaders who practiced strategic planning.
Jesus' admonition to count the cost is a great model for planning (Luke 14:28–32). The cost, in the case of following Christ, is giving one's life for Him. And He admonishes you to realize this, so the plans you make to follow Him are with full commitment. The mission of God for your local church is meant to be that monumental — to change the eternal destiny of many in your community.
Many districts are active in the LDR Church Development Process. If your district provides a coaching process, get involved. For more information check out www.ldrteam.com.
Reflection questions:
Who is Christ and how will you explain Him to a non-Christian?
What was and is Christ's mission?
How will you know if a church is missional?