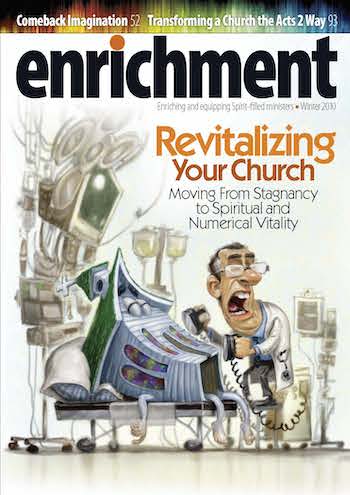 Downloads:
Eight Principles To Revitalizing Your Church
by George O. Wood
---
Many of you have read Core Values: Serving Christ's Cause With Effectiveness and Excellence, the book I wrote after I was elected general superintendent. In it I called our Fellowship to focus on these five things:
Passionately proclaim through word and deed, at home and abroad, Jesus as Savior, Baptizer, Healer, and soon coming King.
Strategically invest in the next generation.
Vigorously plant new churches.
Skillfully resource the Fellowship.
Fervently pray for God's favor and blessing as we serve Him with pure hearts and noble purpose.
If I were writing the book again, I would make one change:
Vigorously plant new churches and revitalize existing ones.
It is often more difficult to revitalize a church than plant a new one — or as someone has put it, "It's easier to birth a baby than raise the dead."
Because a task is difficult, however, does not mean we should abandon it. The Holy Spirit has infinite capacity to renew a church. We have a legion of stories about churches that have made the recovery from smoldering ashes to glowing fires.
What are the key ingredients in a turn-around church? What are the human factors God uses in revitalizing a church? I certainly do not have all the answers, but I can speak from my limited experience.
When I was 29, I became pastor of a church that had just gone through a split. We could cram about 200 people into our little A-frame sanctuary, but it was only about one-third full. The Lord helped us, and over time the church consistently grew. When I left 17 years later, the average attendance was around 1,200 and over 2,000 people claimed the church as their own.
The Lord helped us revitalize that church. I look back and see the keys the Lord used — and I believe these principles are universal.
Have a Clear Sense of God's Will
Both the congregation and I had a clear sense that it was God's will for me to become their pastor. Before the church ever contacted me, the members had dedicated a week to pray and fast that the Lord would lead them. I did not even know the church existed, but that same week, in prayer, the Lord impressed on my spirit that I would not stay much longer where I was.
Over the years I have observed church boards and congregations make significant mistakes by skipping this first step of prayer. They are tempted to look at who has the most inviting track record or resume; or whom they already know.
The place to start in church revitalization is always fasting and prayer — especially at a leadership change.
Evaluate Your Strengths
It is vital that the pastor evaluate his strengths.
I did not have much self-confidence when I made the trek from the Midwest to this small California church. But one of my mentors told me the story of a pastor whose large church sponsored seminars so other ministers and laity could learn what it takes to help a church grow.
After several years, this pastor realized that a number of churches were crashing and burning as they adopted his techniques lock, stock, and barrel. So, the next time he spoke at a conference, the pastor began with these words: "Welcome to this year's conference. Learn all you can. All our resources are available to you. But whatever you do — when you go home, do not build on my strengths or our church's strengths — build on your own strengths."
My mentor turned to me and said, "George, when you go out there — whatever you do, build on your own strengths."
That was a life-changing word. For one thing, I do not consider myself as having a lot of strengths. I have always thought of myself as a one-talent, or at best a two-talent person in the kingdom of God. I admire the five-talent people who can grow a megachurch and lead effectively.
But what this mentor told me was also freeing. I realized I did not have to be someone else. I had two strengths: teaching and leadership. I decided to focus on those. I believe also that often natural talents are on a continuum with spiritual gifts — that Spirit enablement builds on and takes us far beyond our native abilities.
The pastor of a church in need of revitalization must learn to focus on his own strengths. Do not spend a lot of time trying to shore up your weaknesses. Seek the Lord to raise up in others what you lack personally; and then, be secure enough in yourself to trust them.
Take Care of Little Things
I have humorously said you can tell the spiritual condition of a church by entering the men's restroom. It is typically the most neglected part of church facilities.
I was in my office one day praying, asking the Lord to help us as a church to grow and reach our community for Him. We were struggling with attendance and finances. During that time of prayer I felt the Spirit speak, George, if you cannot take care of the lawn, how can I trust you to take care of people?
We had a lot adjacent to the small sanctuary. The weeds were waist high. We had not been using that part of the property so we had neglected to take care of it. It was an eyesore. I called for a Saturday workday to spiffy up the place. We tore out all the weeds, tilled the ground, sowed grass seed — and watched over the next few weeks as a beautiful green lawn emerged. Believe it or not, the congregation started growing.
Take Care of the Little Ones
There were four children in the church 3 years of age and under. Two of them were ours. We had come from attending a large church with a full-scale early childhood center. But our little church had no such convenience.
My wife went into the nursery. It showed the same lack of care as the lawn. I remember dried macaroni noodles in the beds and buried in the shag carpet. The little beds looked like cages in which to keep small animals.
We cleaned out the room, painted it, got rid of the beds, and took the last $600 in the church treasury and bought attractive new beds. Then my wife installed a Dutch door. We declared the nursery off-limits to foot traffic. We hired a lady to staff the nursery, and we required that she and volunteers wear a Raggedy Ann uniform. Parents had to hand their infants over the bottom half of the Dutch door and tag the baby and diaper bag. We required a claim check when people picked up their baby or toddler after the service.
One parent was not too happy, "I know who my baby is," she exclaimed. But, my wife responded that the church was going to grow some day and we wanted to do things right from the beginning.
When we left the church 17 years later, over 200 toddlers and infants utilized the early childhood facility every Sunday morning.
I sometimes think we make church growth too hard. Start with something easy. Babies are easy. Everyone loves a baby or toddler. Teach them to sing, Jesus Loves Me. Welcome the children as Jesus did. You will be amazed at how quickly a church can turn around if it truly takes care of the little ones.
Begin To Act as Though You Are Large
Small churches must begin to act as though they are large. We were doing that with the nursery.
We make a critical mistake when we say, "Well, some day when we have more people then we will do this or that." Excel when you are small.
Here is a case in point. A pastor's time is largely his own. No one makes him punch a clock. If the church is small, it is easy to become slipshod in taking care of the work of the church.
I decided that if the men and women in my church had to get up and go to work in the morning, then I should too. The dry cleaners are open at 7 a.m. and close at 6:30 p.m., and their work is not as important as taking care of people (although I am grateful for those who do the work of dry cleaning). My point: If a business establishment is open all day, should not the church be also?
The previous pastor did not have an office at the church. I decided to open one. At first the office consisted of an empty room, a desk, and a light bulb that dangled from the ceiling. I arrived at 8 a.m. and left at 4:30 p.m. I spent most of the day in study and prayer, sprinkled with hospital calls and appointments in the community. During that first year I probably averaged about two or three phone calls a day, and they were mostly from my wife asking me how I was doing. Seventeen years later we needed a full-time employee just to answer the phone.
I realize that many of our pastors are bivocational and cannot do what I just testified to. However, whether full-time or bivocational, pastors can take care of business. They can respond to letters, e-mails, and phone calls. The church can have an answering machine.
If you are waiting to grow before you begin doing things right, you will never grow.
Put the Larger Kingdom Front and Center
The Lord dealt rather severely with me in the first year of pastoring regarding our neglect of missions. At that time our monthly missions commitments were $257; and in the first 8 months of my pastorate, we had not paid a single month's commitments. Finances were tight, and I figured we needed the money more than the missionaries.
Our deacons decided to take one Sunday's offering and pay at least two month's missionary commitments and not pay any church bills, including my salary, until those two months had been paid. That was an astronomical sum to me — $514 — and our weekly income was only between $200 and $300. We never told the congregation about that commitment, but that Sunday the offering was more than $1,300. I was amazed. The next day in prayer I asked the Lord what lesson He wanted me to learn and I heard Him say, George, I am not interested in building this church on your personality. I am interested in building it on Mine. If you put Me front and center, I will take care of you. Seventeen years later, our church was giving $45,000 a month to missions.
Staff for Growth, Not for Maintenance
Many church boards do not understand this vital principle, but our missionaries do. We do not wait until there is a national church before we send a missionary. We do not say, "Oh, when that country has enough Christians, we will send a missionary." No. We send a missionary ahead of the harvest so the sowing can begin.
Church boards may say, "You know, when we get enough youth or enough children, then we will get a youth pastor or a children's pastor." It does not happen that way. We have a great talent pool of gifted young people coming into the ministry — and they are looking for open doors. They are willing to work hard, roll up their sleeves, and sacrifice. Let us use them.
Near the end of my tenure as pastor I noticed our junior high group was small and struggling — probably about a dozen kids on a regular basis. The board was reluctant to bring on a full-time junior high pastor because our resources were stretched tight. But they took a step of faith and hired a junior high pastor. One year later we had 200 junior high kids.
Look for staff who will become missionaries within the context of your church. And do not be afraid to step out in faith. In 17 years, we never added a pastoral staff member we could afford to add; but we acted in faith with prudence and believed if we had carefully selected the right person, growth would come.
Glorify the Lord With Excellence
This principle is a catchall: Simply do things right. Glorify the Lord with excellence. Take care in planning the worship services. Do not grab a message at the last minute or off the Internet. Take time to study to show yourself approved of God, a worker who does not need to be ashamed. Do not be a paranoid or controlling leader. Remember it is the Lord's church, not yours. Hold on to things lightly. Give other people room to flourish in their gifts. Trust people. Treat others as you would like to be treated. Keep order in the house of the Lord. Do not run over people, but do not let them run over you either.
Conclusion
You have noticed that I have been talking about the human side of revitalizing churches. I did that deliberately — not in any way to diminish the fact unless the Lord builds the house we labor in vain.
I remember growing up in small Assemblies of God churches where the common prayer request was, "Lord, send a revival to our church." I thought to myself as a kid, But Lord, how could You do that? These people are so lazy that if You sent a revival it would all go away as quickly as it came. I probably was too judgmental as a preacher's kid; but there is reality in the fact God typically does not work independent of our work. It is God's work and our work.
I enjoy the story of the deacon farmer who had the new young pastor over to his home for dinner his first Sunday. While the women were getting the food ready, the farmer showed the preacher around his well-kept farm. Every time the farmer pointed with pride to the barn, or the tractor, or the well-kept fields, the young pastor would say, "Well, the Lord is so good."
Finally, the farmer deacon had enough. He said to the preacher, "Yes, I know the Lord is good, and I acknowledge that. But you should have seen this place when the Lord had it by himself."
The Lord wants us to diligently take care of the vine of His planting, the field of His choosing, and the flock of His care. Let us do well for Jesus.