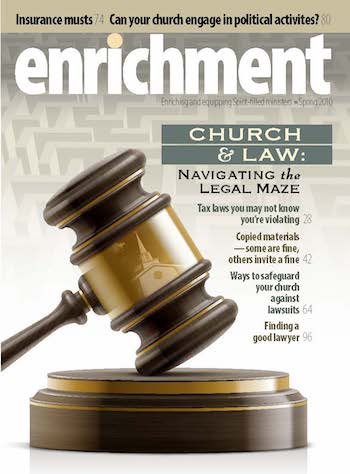 Downloads:
Where Is My Lawyer When I Need Him?
What a Pastor Needs To Ask and Expect When Securing Legal Counsel for His Church
by Dan L Holloway
---
Most pastors are quick to respond to problems within their churches, including asking for legal expertise. But some pastors avoid asking for legal protection until it is too late. Why?
Several reasons include: A pastor may be in denial, have a disdain for attorneys, have an exaggerated estimate of legal fees, may feel exposing legal difficulties may invite personal embarrassment, or hope the denomination's legal authorities are the only resources he needs.
Two conflicting and erroneous views coexist among my pastor clients. These views may negatively affect their interactions with their attorneys and the law: (1) human courts (founded on human law) belong only to this world and these courts do not respect churches and pastors; (2) human courts and human law must recognize and guard the sanctity of churches and pastors.
Read the rest of this article by obtaining a downloadable PDF of the Spring 2010 issue of Enrichment journal.