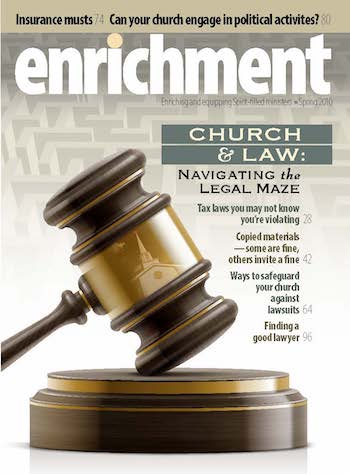 Downloads:
Strangers Among Us
How Immigration Law Affects the Church
by Ann Buwalda
---
You do not need to be a church-growth expert to notice that newcomers in the pew speak English with an accent or speak a different language. The United States absorbs 800,000 legal immigrants each year,1 as well as issues temporary permits that allow thousands to remain in the U.S. on work or student visas.
Each week we enjoy fellowship with brothers and sisters in Christ, without regard to their ethnicity. Most churches are eager to support missions and delighted to meet a believer from a country where they support a missionary. We have commonality in our joy of knowing Christ.
Until the recent upsurge of anti-immigration sentiment, knowing if our new congregant with an accent is documented or not was not a concern. Yet, experts estimate there are 8-12 million undocumented Moms and Dads in America. How should we treat the foreigners in our pews? How should we treat the foreigners in our neighborhoods who may never have heard the name of Christ? What if the Lord wants us to share the gospel with them? What if they become our friend in the process?
Although immigration has become a controversial public policy issue, the prophetic voice of the church needs to reflect the heart of God. We all agree our country needs secure borders. But does deporting Mom or Dad with no hope of returning for 10 years as punishment for being undocumented really secure our borders? Since the last effort in 2007 at reforming our immigration system — known as the McCain-Kennedy bill — failed, securing borders and enforcement has been the only policy on the table. This policy has led to random raids at homes, factories, and even nursing homes followed by swift removal without regard to family relationships.
There have been efforts to change this issue in recent months. On May 20, 2009, Democratic senators introduced The Reuniting Families Act, seeking to restore America's commitment to family unity. Opportunities for legal immigrants to reunite with their families and end decade-long waiting times for legal, family immigration would result from the bill. Yet, the bill is not comprehensive; and, for that reason is not likely to gain traction by either side of the debate of what to do with the undocumented already in our churches.
Ministering to the Immigrant in the Pew
Jesus commissioned us to bring the gospel to all nations and teach and baptize new believers. Despite the fact most of us are not career missionaries, we can participate in this Great Commission by sharing the gospel with our neighbors from all nations. God spoke about showing love and kindness to the strangers among us (Deuteronomy 10:18,19; Leviticus 19:33,34; Matthew 25:31–46). We can continuously "go" to people from other nations whom God has sovereignly placed in our lives and churches.
No church has a government-imposed duty to determine who is or is not documented — whether welcoming strangers to the worship service or offering them English as a Second Language or citizenship classes. In the course of ministry with internationals, someone may come to you asking for help in becoming legal in the United States or even disclosing abuse. Until Comprehensive Immigration Reform (CIR) legislation occurs — unless the person or his or her close relative entered the U.S. before December 2000 and had some type of permanent visa petition or labor certification filed prior to April 30, 2001 — legalization is not likely available at this time. One exception is that someone who entered the U.S. lawfully with inspection and then fell out of status can legalize if he marries a U.S. citizen — an entirely wrong motive for marriage if it is the sole motive instead of mutual love in a lifetime commitment. Pastors can hopefully discern a true marital relationship from a wrongly motivated deception.
Pastors should consider finding and referring congregants to a reputable and experienced immigration lawyer who is duly licensed to practice law (not a "notario" or other immigration service being offered by those not authorized to practice law). (See sidebar, Finding a Reputable Immigration Lawyer.)
Visit these lawyers or speak to them over the phone to discern the level of honesty. Someone claiming to be able to legalize an undocumented worker, especially before Congress passes CIR, should be able to not only explain how, but to also provide the lawful authority as to how. Having a list of lawyers will also help in the event police arrest a noncitizen in your church.
A helpful guide for temporary visitors, immigrants, and even the undocumented to know what action by the unscrupulous are abusive of their rights can be found at: http://www.travel.state.gov/pdf/Pamphlet-Order.pdf. The U.S. Department of State and the Office to Monitor and Combat Trafficking in Persons joined to produce this freely available and helpful pamphlet entitled "Are You Coming to the United States Temporarily To Work or Study." This pamphlet, in easy-to-understand English, provides an overview of basic nonimmigrant visa process information as well as information on avoiding or preventing exploitation.
Employing an undocumented immigrant in the church is off-limits. A church, like any other employer, needs to complete Form I-9 (available at www.uscis.gov) on any staff person who is "remunerated" for employment; this applies to any paid permanent, temporary, or part-time staff. Other than employment, a church is not responsible to first determine immigration documentation to permit the exercise of spiritual gifts for teaching, preaching, or other aspects of ministry. Indeed, this is good news.
Opening your church to an ethnic or language church plant also opens opportunities to minister to internationals. For those interested in embracing a church-wide focus on reaching internationals, an English as a Second Language (ESL) class is often enough to draw students to the church who may not otherwise come. Different curricula are available to provide outreach activities with ESL.2 When combined with the warmth of those seeking to help them learn English, most have open minds and hearts to listen to the gospel.
Other outreach activities to internationals include providing refugee assistance to those resettling to America, citizenship classes, and international student care and friendship. For example, a church can easily create a short seminar or program to assist permanent residents with preparing for the citizenship test by helping them learn about U.S. history and government, the Constitution, civics questions, and prepare for the examination administrated by the U.S. Citizenship & Immigration Services (USCIS). All questions and answers as well as study materials are provided by the USCIS (www.uscis.gov) at: LINK
Conclusion
God advances the gospel and rescues sinners through us. He is sending the nations to us. Jesus transferred His authority to us to share His plan with the lost. Our faith-filled efforts to befriend the foreign student or the engineer temporarily working in the United States can bear fruit.
Most cultures love to speak about religion and learn about other's beliefs. Since the mission to share the gospel is God's idea, we can eagerly engage in doing just that with the strangers among us.
Notes
1. Source: American Immigration Lawyers Association: http://www.aila.org/content/default.aspx?docid=1064
2. Suggested resources:
• www.aelweb.vcu.edu/publications/ESLKit/ESLKit_2002.pdf
Helps teachers and program administrators begin or improve an Adult ESOL program.
• www.cal.org/caela/esl%5Fresources/
Contains training materials that enable professional developers and training staff to train program staff.
• www.pca-mna.org/ESL/starterkit/index.php
Contains 27 documents in PDF or .doc format produced by the Presbyterians.
• Creating a Quality ESL Program, by Susan E. Burke. http://www.lifewaystores.com/lwstore/product.asp?isbn=1562123432&mscssid=7PL2BXNAD5B48JJBPKNBJCDLPVAK8FA1 sells
• www.pearsonlongmanusa.com offers a catalog of Adult English language learning materials and training materials that churches often use.