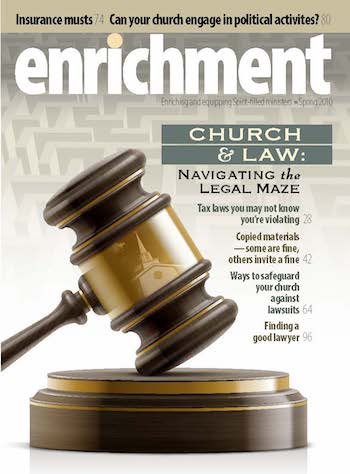 Downloads:
SIDEBAR: What If You Are Named Executor?
by John N. Vaughan
---
Often pastors never think about serving as executor of the estate of someone in their churches. It happens, sometimes to the pastor's surprise, because a person nominated him for the job in a Last Will and Testament but never told him. An executor, sometimes called a personal representative, is the party responsible to the probate court to wrap up the affairs of someone who has died. In situations where members of a congregation do not have family or friends they trust to wrap up their affairs after they die, they sometimes name their pastor in that role simply because they trust their pastor to make wise decisions on their behalf and to fulfill their distribution wishes.
Serving as executor for someone in your church may seem like a daunting task. While some estates are simple and require little effort, the job of executor can become complicated quickly. Unhappy heirs or confusing language in estate-planning documents can create difficulties, plus the process of dealing with the courts and working through asset management and distribution questions.
Pastors should consider whether they have the time and skill set necessary to complete the task before serving. The job of executor is not necessarily a difficult task, but it can be time-consuming and require a high level of organization and attention to strict deadlines. While you may feel that honoring the wishes of your church member is the best plan, in some cases it might be a good idea for a busy pastor to defer the job to someone more qualified or available to deal with the details. To help you make a prudent decision, we have assembled questions and answers to guide you.
Do I have to serve as executor?
You are under no obligation to serve if you do not wish to do so. If the Last Will and Testament does not name an alternate, the court will appoint an executor with the skills necessary to administer the estate.
If I am named as executor, can I appoint someone in my church to do the actual work?
Understanding that some individuals desire the church to be involved in wrapping up their affairs but acknowledging the reality that many pastors may be too busy to handle an estate administration, a wise estate-planning attorney will draft the executor clause to name the pastor "or his designee." Such language allows the pastor to acknowledge the request of the church member, but designates someone in the church with more time or qualifications to help. If a member of your church requests that you serve as executor and you are willing to consider the role, it would be wise to encourage him to include "or his designee" in the executor language in the Last Will and Testament just in case you cannot serve when the time arrives. In the event that language is not included, a probate judge often has discretion to allow someone named in a document as personal representative to present a nominee to perform the job.
If I decide to serve as executor, what do I need to do?
If you are named the executor of someone's Last Will and Testament, you have a duty to the court. Your job is to settle the decedent's estate in a timely and efficient fashion. You, essentially, will be the business manager for the estate and will have three main responsibilities:
Ascertain and collect the estate's assets for safekeeping.
Pay the estate's creditors and taxes.
Make distributions of assets to beneficiaries and carry out any other provisions of the Last Will and Testament.
Do I need an attorney?
Although your state law may not require you to hire an attorney to settle the estate, complications may arise that make using an attorney's expertise desirable or necessary, such as:
You have any uncertainty about the process.
There are ambiguities in the will.
Complicated financial circumstances, such as an estate that includes a business.
Contested claims or bad blood between potential heirs.
The deceased died in an accident.
Minor children will inherit property directly rather than through a trust.
There has been a second marriage.
Although an attorney will charge a fee, hiring an attorney is good protection. As executor, you can be held personally liable if there are any problems down the line such as you did not address a claim a creditor had against the estate or you missed a tax deadline. Also, you can be held personally liable if, knowingly or unknowingly, you misspend or mismanage funds from the estate. But do not worry — you will not be held responsible for any debts of the decedent that the estate cannot afford to pay.
What about executor's fee?
The executor of an estate is entitled to charge a reasonable fee for his services. However, since the executor is often a family member or close friend who is also receiving an inheritance, the executor often waives his fee since it is subject to income tax.
JOHN N. VAUGHAN, Springfield, Missouri