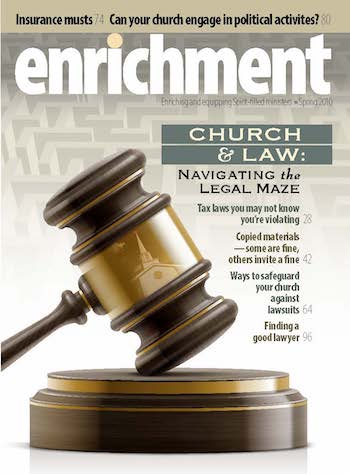 Downloads:
SIDEBAR: Helpful Resource from Peacemaker Ministries
---
Risk management is a critical issue for churches to consider. Peacemaker Ministries has included teaching on this topic in their new resource for church leaders —The Leadership Opportunity: Living Out the Gospel Where Conflict and Leadership Intersect.
The Leadership Opportunity seeks to equip church leaders to navigate those difficult waters where leadership and conflict intersect. Your core leadership team will benefit from this study that covers topics such as: the heart of a leader, building a unified leadership team, managing change, biblical accountability, and risk management.
Standard price $149. Enter this code in our online bookstore — ENRICH20 — to get a $20 discount on this resource. Or call 800-711-7118 to order using this discount. (Standard price will increase to $189 on April 1.)
For more information, visit Peacemaker.net.