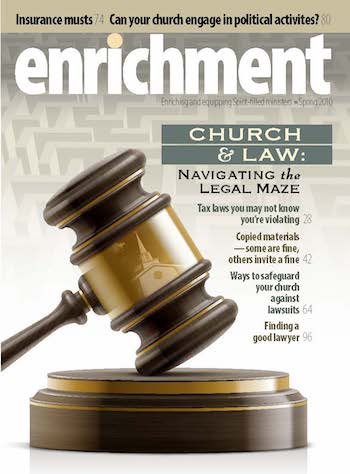 Downloads:
SIDEBAR Does Your Insurance Policy Cover Sexual Misconduct?
by Richard R. Hammar
---
Assume your church is sued because of an incident of sexual misconduct. You immediately notify your insurance company. A few days later you receive a letter from your insurer informing you there is no coverage under your insurance policy for such a claim. How would you respond? It is important to make sure you have adequate insurance prior to any lawsuit concerning sexual misconduct. Consider the following:
1. Review your insurance policy. Review your church insurance policy to see what is covered and what is not. This case illustrates the importance of knowing whether it covers sexual misconduct claims. Pay special attention to the "exclusions" mentioned in your policy. Also note any limitations on the amount of insurance available. Some insurance policies exclude any coverage for sexual misconduct claims; some provide coverage but only for the church (and not for the person engaging in the misconduct); and some limit the dollar amount available for such claims. This case illustrates that a policy covering "bodily injury" should provide the church with coverage for sexual misconduct claims — unless they are specifically excluded.
2. What if your insurer denies coverage? Don't give up. There still may be coverage, or at least a duty to defend. Ask an attorney to review your policy and provide you with an opinion regarding coverage. If the attorney concludes that coverage exists, have him contact the insurance company on your behalf.
3. Settlement agreements. Church members often are reluctant to sue their church. Some members will accept a settlement agreement with the church that stipulates that the settlement amount will be satisfied only out of the insurance proceeds. Such an arrangement relieves the church of any potential liability, minimizes adverse publicity, and relieves the plaintiff of any concern about suing his or her church. It is an approach that church treasurers and other church leaders should keep in mind when facing a potential legal claim by a church member.
4. Notify your insurer of a loss. Promptly notify your insurer of a loss and refer to the specific basis for coverage under your church insurance policy.
RICHARD R. HAMMAR, J.D., LL.M., CPA, Springfield, Missouri
Note
To view videos of Richard R. Hammar teaching on various topics, visit http://www.ag.org. Click on the AGTV link. Under "channels" choose "leadership."
To visit Richard R. Hammar's Web site, Church Law Today, go to: http://www.churchlawtoday.com/.