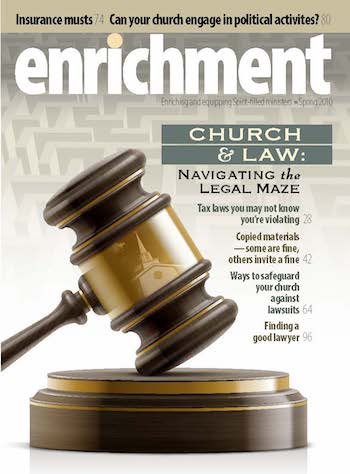 Downloads:
Insurance
What Coverage Does Your Church Need?
by Jerry J. Sparks
---
Your members, facilities, and the church's assets are the essential components of your ministry. As pastor, you need to make sure your church has adequately protected them. Though not a substitute for good risk management or safety and security safeguards, insurance is a valuable tool. Church leadership needs to understand the different aspects of insurance. Furthermore, developing a positive, open relationship with your insurance agent is critical so you can discuss your needs and situations to determine your current and ongoing needs. Your insurance agent is in the best position to clarify coverage, help you understand terminology, and keep your ministries protected. Your agent can be your best ally should the unthinkable happen.
There are basically two types of insurance: property and liability. Property covers the things you own, while liability covers the actions that could leave the church liable for damage to others' injuries, property, or reputation. Insurance companies cover automobiles under a separate policy due to a variance of the laws from state to state.
Read the rest of this article by obtaining a downloadable PDF of the Spring 2010 issue of Enrichment journal.