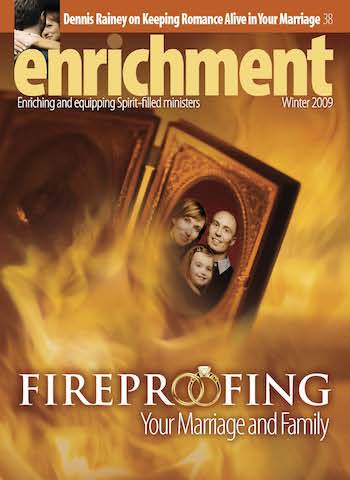 Downloads:
Ministry and Marriage
Pastors' Wives Tell All
by Gabriele Rienas
---
Hear audio interviews with three pastor's wives: Interview One, Interview Two, Interview Three. (MP3)
The statistics concerning ministry marriages are startling:
80 percent of pastors say they have insufficient time with their spouse and that ministry has a negative effect on their family.
33 percent say that being in ministry is an outright hazard to their family.
50 percent of pastors' marriages end in divorce.1
80 percent of pastors' spouses wish their spouse would choose another profession.
Most ministers' wives surveyed said the most destructive event that has occurred in their marriage and family was the day they entered the ministry.2 Especially startling is the input from pastors' wives. A high percentage wish their husbands would choose another profession. They believe that ministry is destructive to their marriage. These compelling concerns need attention.
Life in the ministry adds a particular set of challenges to a marriage relationship. Apparently, these are serious challenges. The obstacles, while not insurmountable, need careful attention because they can cause destruction.
On a mild January day four ministry wives met to compare notes on the topic of being married to a minister. Their goal was to talk about the specific challenges and benefits of this role. Tentative at first, they quickly warmed to one another and discovered their common experiences and shared lessons learned.
The group was well represented. Joyce (names have been changed) has been married for 37 years and has 2 grown children. She and her husband began as evangelists and moved on to pastoring. Recently, they left a long-term pastorate to accept a position at a new church.
Diane has been married 16 years and has 2 adolescent children. She and her husband pastor a large, prominent congregation. Previously, they held a number of associate roles spanning several years.
Abby is called to pastoral ministry along with her husband. They have worked together iin youth ministry for their entire married life of 10 years. They have been in a multistaff, suburban church for 3 years. They have 2 children under the age of 5.
Katie and her husband have been at a large metropolitan church for 3 years. They have been married 7 years and have 3 preschool children. Her husband is an associate pastor. Before this they were youth pastors in another district.
What do four ministry wives have to say about being married to a minister? Let's listen in to this ministry-wives-tell-all meeting.
To read the rest of this article order a PDF of this and other issues of Enrichment journal.